Kevin Durant's Injury Gives Steve Nash a Chance to Prove His Head Coaching Chops
It was a surprise in September 2020 when the Brooklyn Nets named Hall of Famer Steve Nash head coach. The soon-to-be 48-year-old had not coached at any level since retiring from the NBA in 2015. The closest he came was consulting with the Golden State Warriors. The results are solid; a .642 winning percentage (77–43) through Jan. 27 is the best in franchise history for coaches with at least 100 games.
The expectations were high from the start. With Kevin Durant and Kyrie Irving on the roster, the Nets were (and are) in win-now mode. Adding James Harden in January 2021 only ratcheted up the expectations. With Durant recovering from a sprained knee, Irving limited to part-time duty, and Harden managing hamstring tightness, Nash has an opportunity to put his stamp on a job some thought he did not deserve.
Steve Nash freely admitted he jumped the line
Many commentators decried the move when the Brooklyn Nets hired Steve Nash despite a paucity of coaching experience. ESPN's Stephen A. Smith said Nash was hired ahead of more qualified candidates.
To his credit, Nash agreed with that assessment. But he also pointed to his long career as a point guard. And he surrounded himself with experienced assistants. Jacque Vaughn, who replaced Kenny Atkinson on an interim basis to close out the 2019–20 season and previously coached the Orlando Magic, was retained.
Nash also brought in Mike D'Antoni, a veteran of 16 seasons as a head coach in the NBA with a career record of 672–527. Their association goes back nearly two decades to when Nash was the floor leader for D'Antoni's "Seven Seconds or Less" Phoenix Suns teams in the mid-2000s.
Not only was Nash a first-time head coach, but he also took over for a team with enormous expectations. Kevin Durant was healthy. So was Irving. It wasn't quite championship-or-bust for the Nets last season. But it was close.
With Kevin Durant ailing, Steve Nash can put his fingerprints on the job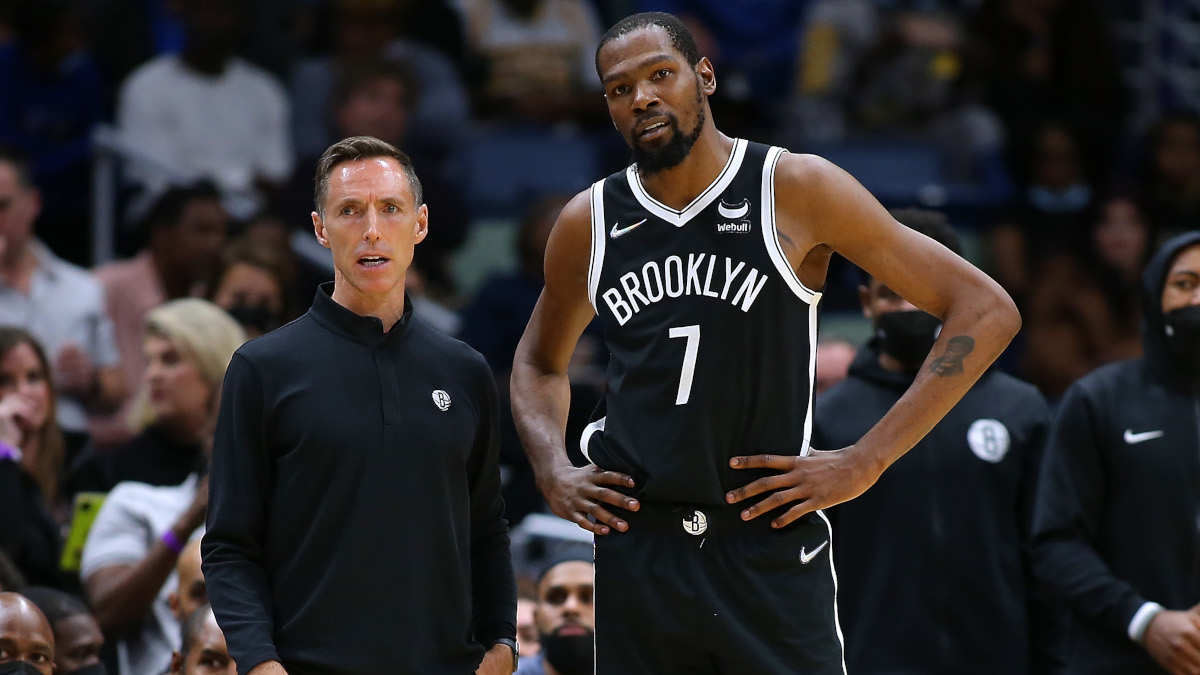 After Brooklyn Nets general manager Sean Marks acquired Harden, the Brooklyn Nets had three superstars. But fate flicked its often-fickle finger at first-year coach Steve Nash.
His roster had three superstars, but his available player list from night to night seldom did. The Durant-Harden-Irving trio played together only eight times in the regular season. In 12 postseason games, the trio was intact for only six. That includes Game 1 against the Milwaukee Bucks in the Eastern Conference semifinals when Harden exited after just 43 seconds.
As it turns out, Nash hadn't seen nothin' yet. Irving was gone for more than two months after Brooklyn decided not to keep him around as a part-time player. The organization relented in December, but the Big Three played together just twice before Durant hurt his knee on Jan. 15.
Since Kevin Durant's injury, Brooklyn is 2–4 and has lost three straight. Harden missed their Jan. 26 loss to the Denver Nuggets with a tight hamstring. Additionally, Joe Harris remains out after ankle surgery, Nic Claxton just returned from his hamstring woes, and veteran Paul Millsap is on his way out of the organization.
Instead, Nash relies on Patty Mills playing more than 30 minutes a game and is frequently leaning on rookies Cam Thomas, Day'Ron Sharpe, and two-way player Kessler Edwards.
It's an opportunity for the inexperienced coach to show his mettle. He has to juggle rotations more than expected, is asking players to go above and beyond their anticipated roles, and is navigating Blake Griffin's reduced effectiveness after he played so well last season.
Nash is battling enormous expectations without Kevin Durant available
Having a superstar-laden roster is a mixed blessing for a coach. Steve Nash of the Brooklyn Nets is learning this lesson the hard way, particularly since Kevin Durant got hurt.
After all, to a specific subset of NBA observers, any coach can win with superstars. Critics often discredit Phil Jackson for having first Michael Jordan and Scottie Pippen and later leaning on Shaquille O'Neal and Kobe Bryant. Miami Heat boss Erik Spoelstra's accomplishments still get glossed over by many because he won his two titles with LeBron James, Dwyane Wade, and Chris Bosh in tow.
Coaching in a players' league is a thankless task. Ask Frank Vogel. When the Lakers won the 2020 NBA title, it was because of James and Anthony Davis. As they've struggled this season, it's all Vogel's fault in the minds of many.
Nash coaches intuitively at times, particularly in late-game situations. He rolls with the hot hands rather than leaning on a set rotation in crunch time. But there are also moments where his inexperience shows. In an early-season loss at home to the Miami Heat, Spoelstra's defensive adjustments and sideline out-of-bounds plays were at a level Nash couldn't match.
Even if the Brooklyn Nets win the NBA title this year, Steve Nash will be but a passenger on the train pulled by his superstar trio (or at least Kevin Durant and Harden and sometimes Irving — sort of like how the letter "y" is sometimes a vowel). But if he can navigate the team through this extended period without Durant, maybe he can begin to erase the notion that he didn't deserve the gig.
Statistics courtesy of Basketball Reference.
Like Sportscasting on Facebook. Follow us on Twitter @sportscasting19.
RELATED: NBA Trade Deadline: The Dallas Mavericks Are In Perfect Position to Make a Move For Kyrie Irving and Alter the Course of the 2021–22 Season