Kevin Durant Isn't the Leader of Team USA, According to His Former Coach
It doesn't take more than a glance at USA Basketball's roster for the 2020 Tokyo Olympics to see the elite player of the bunch. The roster has many great players, but Kevin Durant stands above the rest. However, a current Team USA assistant coach said it's not accurate to call Durant the team leader. Instead, that role belongs to Durant's former teammate with the Golden State Warriors, Draymond Green.
USA Basketball took some lumps early in its exhibition schedule, losing to Nigeria and Australia to open their slate of pre-Olympics warmups. But they righted the ship with a blowout win over Argentina and a hard-fought win over Spain, the current FIBA Basketball World Cup champions. Kevin Durant and Draymond Green have a complicated history from their time together in the Bay Area, but it is a history that includes two NBA titles.
Draymond Green and Kevin Durant often resembled a pair of siblings
The dynamic between Draymond Green and Kevin Durant was easy to recognize for anyone ever dealing with a competitive brother. It's the sort of relationship where you love the guy, but there are also times when you hate him.
That was evident with Green and Durant, who had several very public disagreements during games. That was culminated by a standoff between the two after the fourth-quarter buzzer in a November 2018 game. Durant wanted the ball for the last shot. Green ignored him, eventually losing the ball. The game went to overtime, where the Warriors lost. Reportedly, the incident spilled over into the locker room after the game.
Green wound up serving a one-game team-imposed suspension over the incident, but observers pointed to the set-to as the trigger point for Durant's free-agent departure the following summer. Durant, of course, has never confirmed that theory. But that didn't stop it from gaining significant traction.
Now that the former teammates and combatants are back together again, it will be interesting to see the Kevin Durant-Draymond Green dynamic in Tokyo.
Warriors coach says Draymond Green has emerged as Team USA's leader
Golden State Warriors coach Steve Kerr is in his first Olympics as an assistant to USA Basketball head coach Gregg Popovich. However, Kerr was on the bench in China two years ago when Team USA finished seventh at the FIBA Basketball World Cup.
Kevin Durant and Draymond Green, however, have been Olympics teammates before. Both were on the gold-medal-winning squad in Rio de Janeiro in 2016. Durant is seeking his fourth Olympic gold medal after playing for victorious USA Basketball squads in 2008 and 2012.
Kerr said he's enjoying seeing Green and Durant playing together again, per KGO-TV in San Francisco.
"It's been great for us to be together again and to watch Kevin and practice, and Draymond has been tremendous. We feel like we're gonna go into Tokyo with, with a lot of momentum."

Steve Kerr
As for the leadership question, Kerr didn't hesitate about Green's status.
"He is our leader. He's the guy who's talking to everybody in the huddle during the timeouts; he's the one bringing everybody in. Draymond could not be in a better place mentally. He's so happy to be here; he's having so much fun."

Steve Kerr
As for the talented former teammates, Kevin Durant and Draymond Green came from different directions into the NBA. That could fuel some of the friction.
Kevin Durant was always going to be a superstar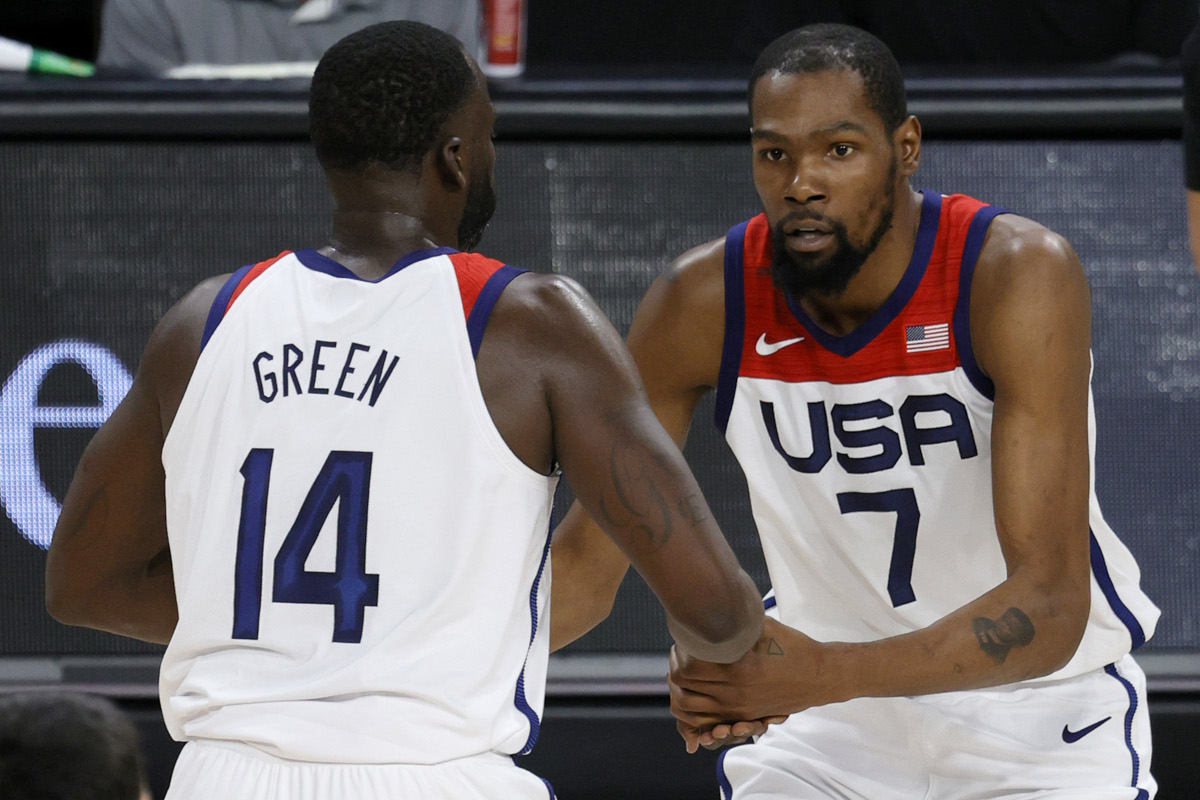 Coming off his 13th NBA season, Kevin Durant will be 33 in September. On the other hand, Draymond Green just finished his ninth year in the league and turned 31 in March. Durant's career doesn't include the 2019–20 season he missed with his ruptured Achilles'.
Green was a decorated player as a senior at Michigan State. Durant became the first freshman ever to win consensus national player of the year honors at Texas five years earlier. Durant was the No. 2 overall pick when he entered the NBA draft in 2007. Green went fifth in the second round, 35th overall, in 2012.
Durant was an immediate NBA star, earning Rookie of the Year honors in 2007–08. Two years later, he won the first of his four scoring championships. As a rookie with the Warriors, Green averaged 2.9 points and 3.3 rebounds in 13.4 minutes a game and didn't become a full-time starter until his third season.
Both players want to win and are passionate about it. But coming from such vastly different basketball backgrounds must make it difficult for Kevin Durant and Draymond Green to see things the same way.
Statistics courtesy of Basketball Reference.