Are Kevin Durant, James Harden, Kyrie Irving, and the Brooklyn Nets Already Even More Terrifying Than Last Season?
The Brooklyn Nets brought in both Kevin Durant and Kyrie Irving prior to the 2019 campaign. They put even more fear into the rest of the league when they acquired James Harden at the beginning of last season. The moves paid off as the Nets finished second in the Eastern Conference.
Brooklyn easily dispatched of the Boston Celtics in the first round of the playoffs and moved on to play the Milwaukee Bucks in round two. One can make a relatively easy argument that Brooklyn should have beaten the eventual NBA Champions. Harden was injured during the first minute of the first game of that series. Irving's season ended in the second quarter of game four.
Durant put the Nets on his back, coming within a pinkie toe of sending Brooklyn to the Eastern Conference Finals. Brooklyn's big three might have come away with an NBA title in their premier season if they were at full strength.
Somehow, though, with three superstars and three max contracts on their roster already, Brooklyn found a way to become an even bigger threat in the East after nabbing two talented players in the 2021 NBA Draft and shopping from the bargain bin during the early days of free agency.
Joining Durant, Harden, and Irving are LSU's Cam Thomas and North Carolina's Day'Ron Sharpe
During last year's playoff run, Brooklyn had two major issues: A lack of offense outside its stars and a lack of size on the interior. Thomas and Sharpe help in both those areas.
Thomas' isolation scoring ability will fit perfectly with the Nets' core. He simply gets buckets. According to The Ringer, Thomas scored 23 points per game in his one season at LSU. He also averaged just 1.4 assists per game. He's a gunner, but that's all Brooklyn needs him to be at this point in his development.
Sharpe may be an even more crucial acquisition for the Nets. Blake Griffin played the most minutes as a "big" during last year's playoff run at 26.5 minutes per game. Griffin is listed at 6-foot-9. Nic Claxton was the only player who could be considered a legitimate center and saw the floor in the playoffs. He averaged 10.8 mpg.
While he didn't put up huge stat lines during his lone season in Chapel Hill, Sharpe's best attributes are his defense, rebounding, and effort. And at nearly 7-feet tall and 260 pounds, that's all Brooklyn requires in a big.
Brooklyn may not be finished retooling its roster around Durant, Harden, and Irving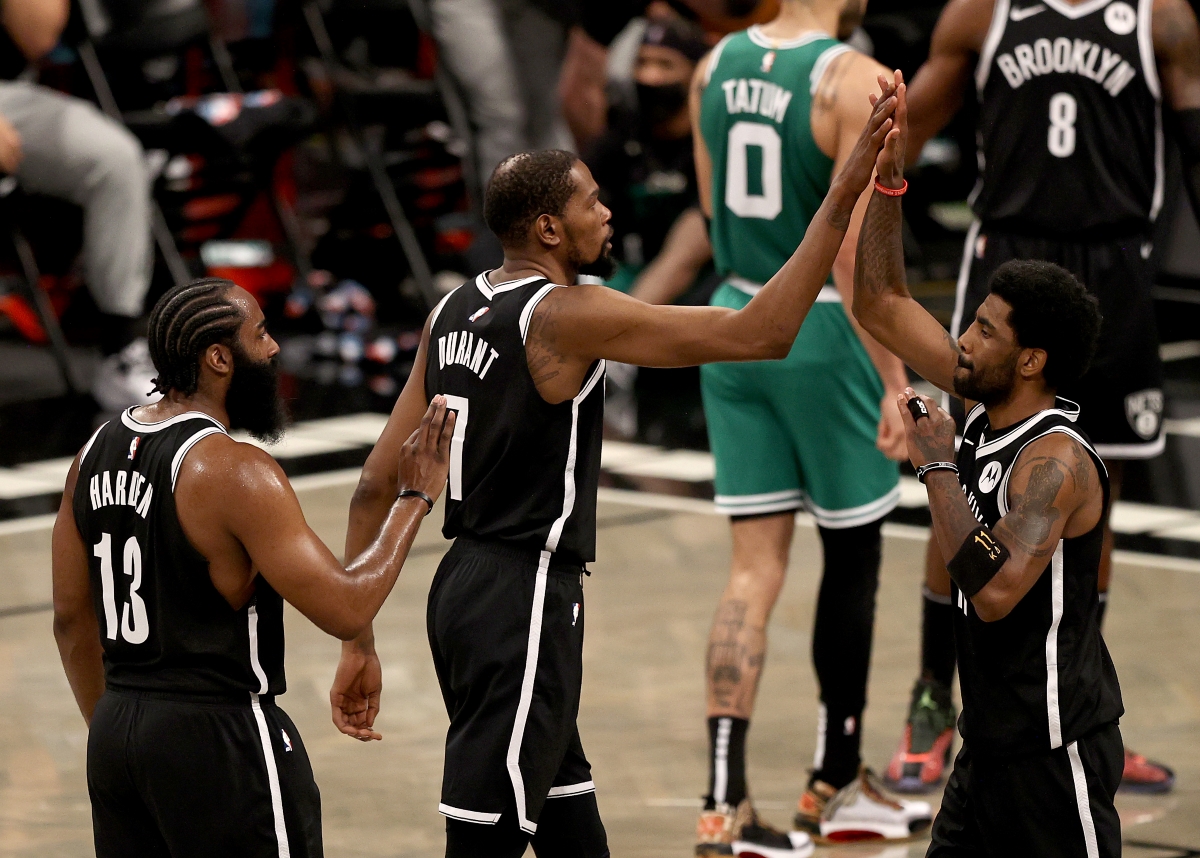 The Nets joined the NBA's free agency frenzy this week as well, while Durant has been off doing his own thing, bringing aboard former San Antonio Spurs point guard Patty Mills. While he won't move the needle as a huge acquisition, Mills is a steady veteran who will provide experience, leadership, and shooting off the Nets' bench.
According to CBSSports, Brooklyn is also on the verge of a sign-and-trade deal that will send point guard Spencer Dinwiddie to the Washington Wizards. Likely to be the most expensive team in the NBA next season in terms of the salary cap and luxury tax, the Nets have other moves to make, but a core roster is beginning to take shape.
Brooklyn's rotation around Durant, Harden, and Irving could end up being even more explosive and terrifying than it was last season
The lineup that saw the most minutes for the Nets last season consisted of Irving, Harden, Durant, Joe Harris, and Bruce Brown. Jeff Green joined that core four the most often, but he's since moved on to Denver. Landry Shamet also played consistent minutes around Brooklyn's stars, but he was sent packing in the trade that eventually landed Sharpe.
Some form of Irving, Harden, Durant, Harris, and Griffin will soak up a ton of minutes. Mills can spell either of the backcourt stars, Claxton could get more playing time up front, and the Nets still have Brown, a versatile player they often deployed as a small-ball center. That rotation doesn't include Thomas or Sharpe, who will slot in on the wing and the interior, respectively. Both rookies can fill needs in Brooklyn's rotation but won't be asked to play major roles early.
The Nets' will always go as far as their three stars can take them. But Brooklyn now has a more well-rounded roster and insurance policies if (when) Durant, Harden, and Irving need a break. That should be a frightening thought for the rest of the NBA.
All stats courtesy of NBA.com unless otherwise noted.