Kevin Durant and James Harden Played a Significant Role in a Franchise-Altering Nets Decision
The Brooklyn Nets are prepared to begin the 2021-22 NBA season without Kyrie Irving. Did Kevin Durant and James Harden leave Kyrie in the dust, and will it have implications for ongoing contract negotiations?
Nets manager Sean Marks made a sweeping announcement about Irving's availability on Tuesday morning amid Uncle Drew's continued resistance to the COVID-19 vaccine. Marks declared that Irving would not participate with the team on a part-time basis, thus endangering Kyrie's season.
Interestingly, both Durant and Harden played a significant role in the decision-making process leading to the Nets ruling Irving out. Their involvement could totally alter the future of the organization.
Kevin Durant and James Harden met with Nets management to discuss Kyrie Irving's playing status
Kevin Durant and James Harden reportedly were both directly involved in determining Kyrie Irving's playing status.
Adrian Wojnarowski of ESPN (h/t Alec Sturm of NetsDaily) reported that KD and The Beard met with Marks and Nets governor Joe Tsai to discuss Irving's role this upcoming season. Kyrie's unwillingness to receive the COVID-19 vaccine would make him ineligible for Nets home games and thus making him a part-time player.
Initially, there seemed to be some optimism that Irving could be convinced to receive the vaccine, with Durant looming large behind the scenes. But KD apparently failed to persuade Uncle Drew, forcing him to resort to other drastic measures.
It might sound presumptuous to suggest both Durant and Harden agreed the Nets should sit Irving until he is fully eligible to play. Yet it also feels like a practical certainty that Brooklyn would not have made this decision unless KD and The Beard signed off.
Star players have ample sway in roster construction and management decisions in this era. Does anyone really believe the Nets still would have held Irving out had Durant and Harden demanded they let him play a part-time role?
Maybe the two Nets stars are trying to force Irving's hand. But it's hard to ignore the idea that they feel they can still win without their star point guard.
KD and The Beard likely believe a Nets team without Irving can still be successful
Kevin Durant and James Harden are supremely confident individuals. They don't seem to mind the challenge of playing without their All-Star point guard, if it comes to that.
The Nets' declaration essentially means Kyrie Irving is ineligible to play until he gets vaccinated. Given Irving's concerns about the vaccine, Brooklyn could be without him for some time. Durant and Harden are unbothered by that notion.
Brooklyn still almost made it past the eventual champion Milwaukee Bucks despite missing Kyrie and running out a hobbled Harden in the latter half of the series. It stands to reason, then, that they believe in their status as one of the NBA's top dogs, especially with Harden feeling healthy again.
The confidence is far from unfounded. The Nets likely will win their fair share without Uncle Drew. Yet that determination probably means big change is on the horizon next summer.
"Big Three" no more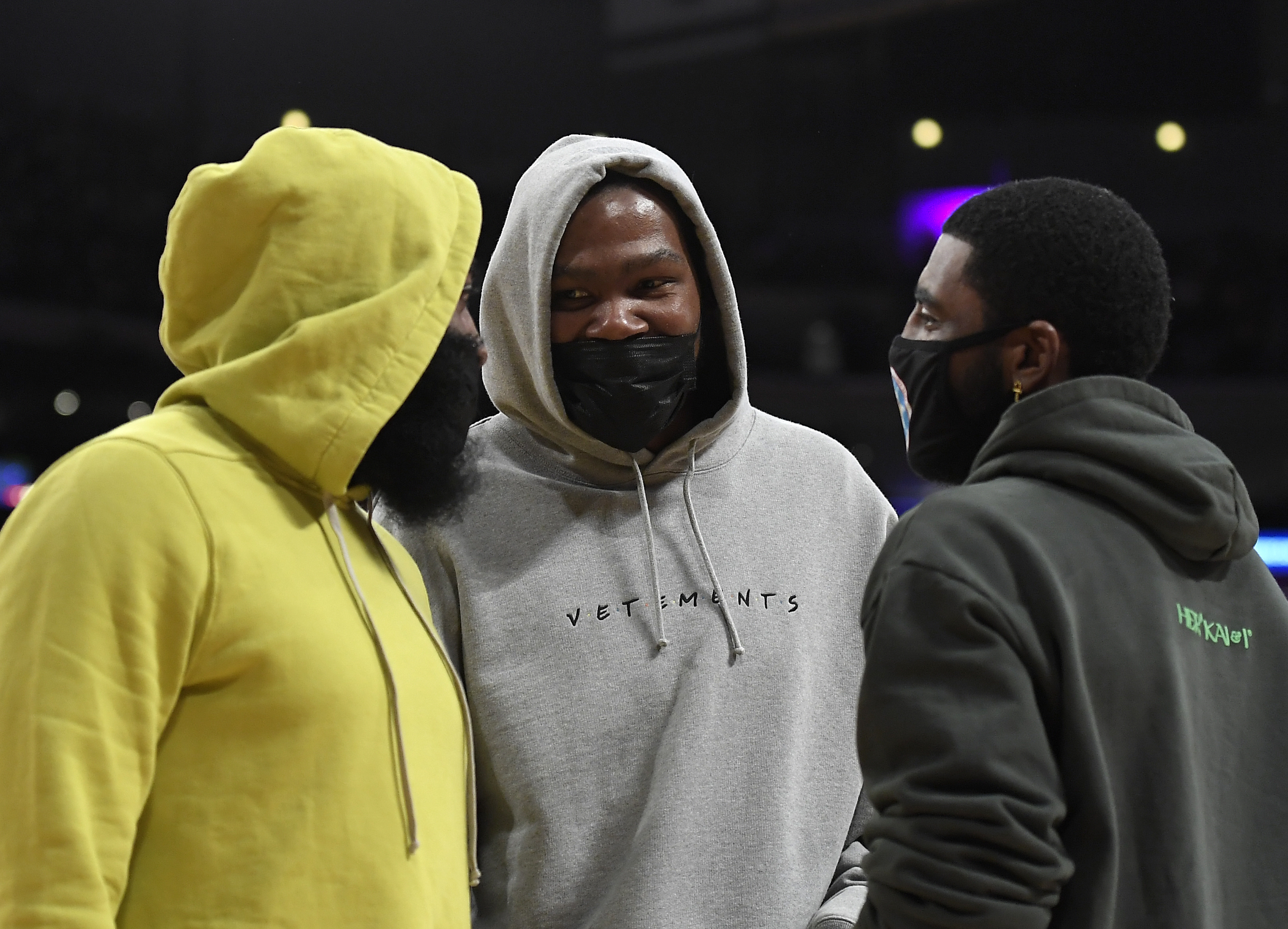 Brooklyn began the offseason with the idea they'd preserve their "Big Three" and thus maintain a championship core for years to come. Kevin Durant signed his extension, and Sean Marks offered optimism about the Nets coming to terms on deals with James Harden and Kyrie Irving.
Fast forward a few months, and the future of the organization is far less certain. Neither Harden nor Irving has signed an extension. Now, it seems unclear whether Kyrie will ever play for Brooklyn again.
The seven-time All-Star previously suggested he only wanted to play for the Nets. But Irving could feel alienated after his co-stars elected to move on without him. There might not be an incentive to return to Brooklyn.
Kyrie could elect to get vaccinated and rejoin his band of brothers. Or, a split between Irving and the Nets may result in Harden getting a huge bag.
Regardless, Brooklyn's "Big Three" does not appear nearly as unified as it may have been in the past.
RELATED: The Brooklyn Nets Just Dealt Kyrie Irving a Potentially Career-Ending Blow With an Explosive Power Move