Kevin Durant Just Announced He's Creating the NBA's $500 Million Fraternity
Kevin Durant had about as good a weekend as anyone ever has. First, he led Team USA to its fourth consecutive Olympic gold medal in Tokyo. Then he signed a contract extension with the Brooklyn Nets that will take him into some exclusive company.
How exclusive? Durant is on target to become the first NBA player ever to pass a significant milestone. Let's put it this way. The NBA is a long way from when players had to have jobs during the offseason to make ends meet.
Where does Kevin Durant fit in terms of all-time NBA earnings?
Kevin Durant is currently the fifth-highest paid player in NBA history. Counting his guaranteed money for 2021–22, Durant has brought in roughly $306.17 million.
Two retired players are still lingering in the top five. The late Kobe Bryant is No. 4 on the list with career earnings of $323.31 million. Kevin Garnett is second at $334.3 million.
Phoenix Suns point guard Chris Paul comes in third at $330.71 million. The runaway leader, of course, is LeBron James. His career earnings through next season are $387.38 million.
Seven of the top 10 are still active, including Russell Westbrook, James Harden, Carmelo Anthony, and Blake Griffin. The only other retiree listed is Shaquille O'Neal, who earned $286.34 million over his 19 seasons.
Durant's total does not include the $3,125 he earned for his gold-medal performance in Tokyo. U.S. Olympians receive $37,500 per gold medal, according to CNBC. But in team sports, the bonus is divided equally among the athletes.
The new extension pushes Kevin Durant into unmarked territory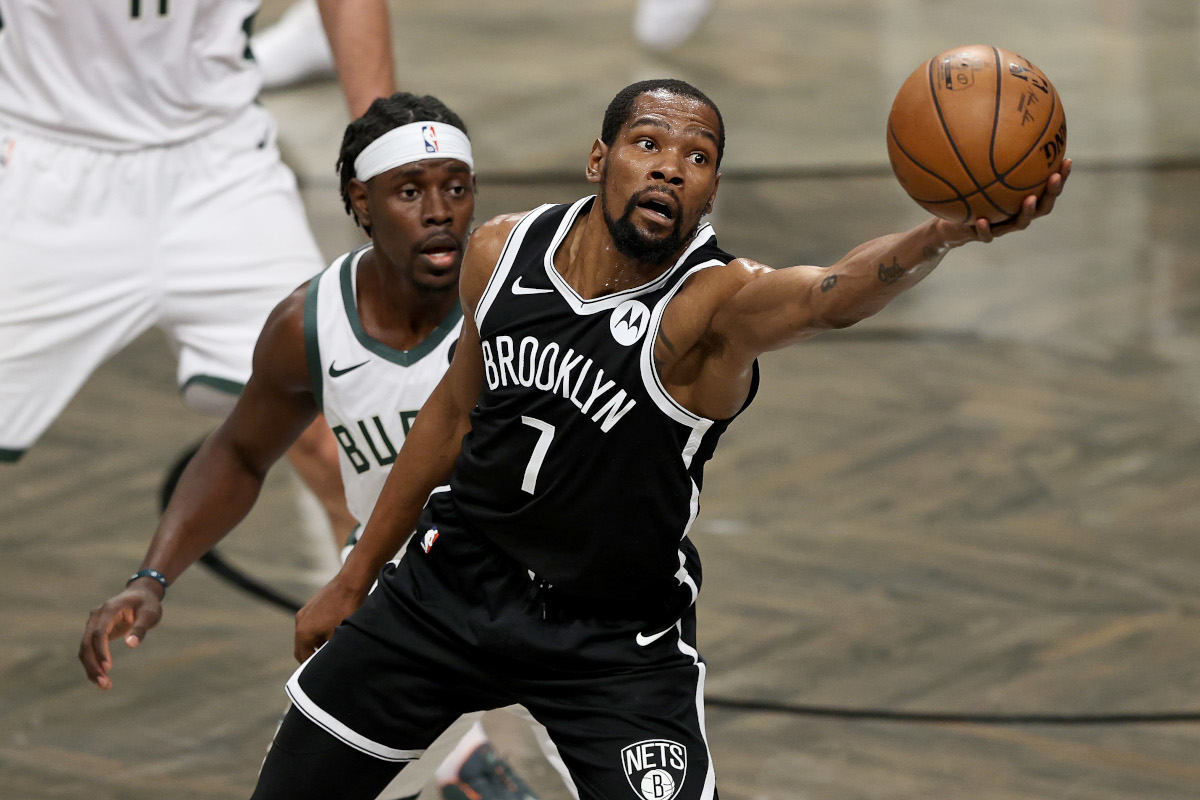 On his Boardroom website, Kevin Durant announced he had agreed to a four-year contract extension worth $198 million that will keep him in Brooklyn through 2025–26. That contract will push Durant's career earnings past the $500 million mark.
He might not officially be the first to get there, however. James has two years remaining on his contract with the Lakers. At the end of his deal, he will be at $431.86 million. Is anyone going to bet against James being able to secure a $70 million bag at age 38?
Durant is the first of the Nets' Big Three to agree to an extension.
Since 2026-27 is Durant's age-38 season, he could not sign an extension beyond 2025–26. That meant Durant had no reason to play next season and decline his 2022–23 option. The deal he received is no less than what he could have earned by waiting. In essence, Durant bought an insurance policy against an injury damaging his market value next summer.
The future for the Brooklyn Nets
With Kevin Durant safely secured, the Nets still have plans to get extensions done for Harden and Irving this offseason. A max extension for Harden is three years and $161.1 million, while Irving is eligible for four years and $181.6 million, per the New York Post.
However, Irving could do better by not extending this season. Instead, he can opt out next summer and be eligible for a five-year, $235 million deal as a free agent. Brooklyn would be the only club able to offer those terms due to holding Irving's Bird rights.
The price of doing business for the Nets is prohibitive. As it stands, Brooklyn is estimated to have more than $306 million in financial commitments next season. Besides its $175.74 million payroll, the estimated luxury tax assessment stands at $130.43 million.
The Nets paid a record $90.57 million in luxury tax after the Kevin Durant-Paul Pierce trade in 2013–14. They are on pace to shatter that mark next season. Brooklyn is the offseason favorite to win the NBA title in 2021–22, and at those prices, the Nets are very close to win-or-bust territory.
Salary information courtesy of Spotrac.
RELATED: Are Kevin Durant, James Harden, Kyrie Irving, and the Brooklyn Nets Already Even More Terrifying Than Last Season?