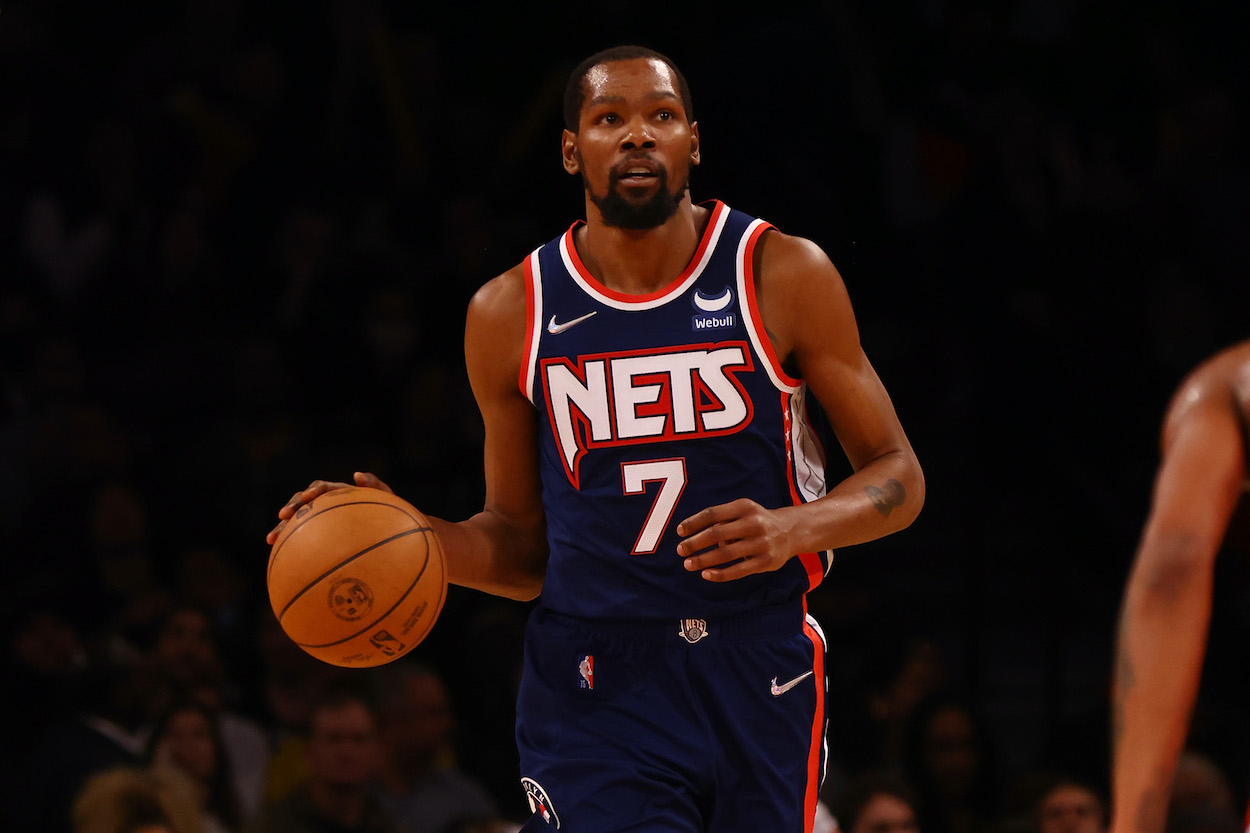 Kevin Durant Just Watched $25,000 Leak Out of His Bank Account
Kevin Durant decided to curse out an Atlanta Hawks fan in the middle of Friday night's game, and it just cost him $25,000.
Kevin Durant has never been afraid to talk back to heckling fans. Most of that happens online via his Twitter account, but on Friday night, Durant decided to fire back at a fan in attendance for the Brooklyn Nets-Atlanta Hawks game.
KD used some… colorful language to put the fan in his place, and that outburst just cost him a hefty $25,000.
Kevin Durant curses out a heckling fan
On Friday night, Durant returned from a one-game absence to lead the Nets to a statement win over the Hawks on the road. The 11-time All-Star poured in 31 points on 12-of-22 shooting and 1-of-4 from beyond the arc to pace Brooklyn's offense in the win. He also added six assists, five rebounds, and three steals in the contest.
But Durant's performance on the court wasn't even the biggest story of his night.
As Durant waited to receive an inbounds pass from James Harden in the middle of the game, a Hawks fan shouted out, "Durant, stop crying!" Without skipping a beat, the Nets superstar received the inbounds pass, tipped it back to Harden, looked over to the fan, and yelled back, "Shut yo ass up, motherf*****." He proceeded to jog down the court as if nothing even happened.
Unfortunately for Durant, a video of the interaction went viral online over the weekend, and the NBA evidently caught wind of it.
Durant just watched $25,000 leak out of his bank account
Trash talk isn't exactly rare in the NBA. Players curse at each other every night on the court, and sometimes tensions boil over to the stands.
That's exactly what happened with Durant and an Atlanta fan on Friday night, and now KD is surely regretting his actions.
On Sunday, the NBA slapped Durant with a $25,000 fine for directing obcene language toward a fan. He isn't the first player to pull a stunt like that this season, but he was the first to get caught red-handed. And now he'll pay the price.
Not a huge blow to KD's account
For most of us, a $25,000 fine would be a devastating blow to the bank account. But not for Durant.
The future Hall of Famer is set to make more than $42 million in salary alone this year, and his net worth has climbed to $200 million as of 2021, according to Celebrity Net Worth. That $25,000 fine represents about 0.0001% of his net worth, so he won't be complaining too much.
Durant has more money than he can even spend in this lifetime, and no amount of minor fines are going to change that.
Like Sportscasting on Facebook. Follow us on Twitter @sportscasting19.