Kevin Durant Stays on Brand by Showing Zero Sympathy to AAU Players: 'It's About Habits Man'
Kevin Durant is unflinchingly himself on social media. That means he's perfectly willing to hurl criticisms at teenagers on the AAU circuit.
The Brooklyn Nets star is playing like an MVP candidate on the floor. He's also providing MVP-caliber content on Twitter by staying on brand and not straying one bit from his wholly transparent Twitter persona.
Kevin Durant's Twitter has been on fire lately
Kevin Durant's Twitter account might as well be a gold mine for NBA comedy.
The former MVP has provided some exceptional content in recent weeks. After some of his peers and fans commented on his "ashy" legs, Durant fired off a response that ultimately resulted in him quoting Charles Barkley's "I am not a role model" Nike commercial.
Just a few weeks later, Durant fired off another gem, responding to praise from Fox Sports personality Skip Bayless by tweeting, "I really don't like u." When Stephen Curry broke Ray Allen's all-time 3-point record and gave some of his teammates Rolex watches, Durant hilariously demanded the same.
The 33-year-old's desire to engage with all sorts of content and his unique voice make him one of the must-follow players on Twitter. Never is that clearer than in his most recent critique of an AAU player.
Durant gave his critique of a viral AAU clip, though he claims the intentions are honest
Durant went nuclear on the hardwood for a Nets team that is among the numerous NBA franchises feeling depleted by COVID-19, averaging 37.5 points, 9.0 rebounds, and 8.5 assists before landing in health and safety protocols himself. Apparently, Durant is trying to match his on-floor quality with fervent Twitter fingers.
The 11-time All-Star once again sent "bird app" members into a frenzy by critiquing a viral tweet of an AAU player showing off a modified behind-the-back dribble, followed by a half-spin. Durant quote-tweeted the clip and said, "This s**t stinks."
It might seem a little harsh for Durant to, for all intents and purposes, curse at teenagers. However, KD explained his reasoning for expressing such disappointment. He responded to a comment about the player in the clip being just a "kid" by suggesting, "It's about habits man." To that end, Durant has a point.
Although the Washington, D.C. native was blessed with a unique blend of height and athleticism, he is also one of the most fundamentally-sound players in the game. Flashiness didn't help the four-time scoring champion become one of the best bucket-getters in NBA history. That reputation was earned through repetition and mastering the basics.
Maybe Durant could have made this point in his initial tweet rather than jumping to harsh language. But he's never been the guy to hold his tongue.
Regardless, Durant is likely hoping to eventually get out of health and safety protocols and get back to playing elite-level basketball. With Kyrie Irving rejoining the fold (sort of), can KD and the Nets reestablish themselves as favorites in the Eastern Conference?
The Nets have been reliant on KD, but perhaps not for long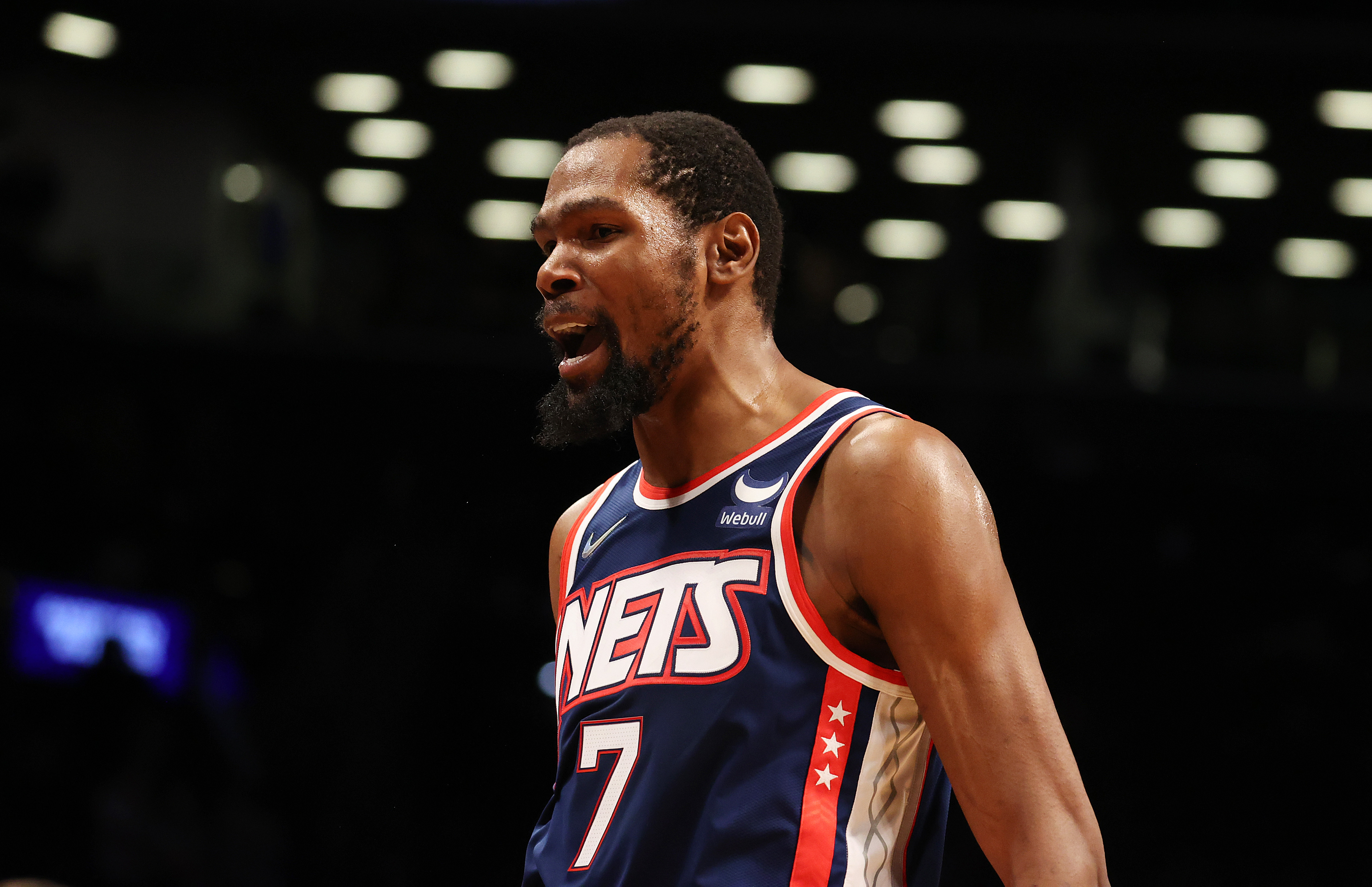 For the first few months of the season, it's largely felt like Kevin Durant has almost been solely responsible for Brooklyn's success, especially with James Harden getting off to a slow start and Joe Harris going down with an ankle injury. But reinforcements are on their way.
The Nets recently gave the all-clear for Kyrie Irving to rejoin the team as a part-time player. Now, that move has initially backfired, with Irving joining so many of his teammates in health and safety protocols. Still, there's no question Uncle Drew can lessen the burden on KD with his scoring and playmaking, even in a part-time capacity.
The next several months will give fans a better understanding of Brooklyn's real upside. Meanwhile, Durant is content being himself, whether he's hanging 50 points on opponents or dunking on teenagers on Twitter.
Stats courtesy of Basketball Reference.