Kevin Durant Hasn't Played in 1 Playoff Game Since 2019 but Just Won an Impressive Trophy With Another NBA All-Star
Brooklyn Nets star Kevin Durant hasn't played in one postseason game in nearly two years after suffering an injury in the 2019 NBA Finals. However, he now hopes to go on a deep playoff run with the Nets and has a great chance to do so if Brooklyn is fully healthy. Before finally playing in a postseason game again, though, Durant just won a pretty impressive trophy that, of course, is not the Larry O'Brien Trophy. He won it with another NBA All-Star, too, in Utah Jazz guard Mike Conley.
Kevin Durant looks to go on a deep playoff run with the Brooklyn Nets
RELATED: Stephen A. Smith Calls out Kevin Durant After Durant's Alleged Homophobic Comments Go Viral: 'He Should Be Better Than This'
Throughout his incredible NBA career, Durant has proven he's one of the most dominant scorers to ever play. He has ultimately led the NBA in points per game in four different seasons, which has helped him become an 11-time NBA All-Star, and he won the league MVP award in 2013-14.
However, his ability to get the ball in the bucket has also helped him become a two-time NBA champion.
After spending nearly a decade with the Seattle SuperSonics/Oklahoma City Thunder, Durant went to the Golden State Warriors in 2016-17 and led them to three consecutive NBA Finals. They ultimately won two straight championships in 2016-17 and 2017-18, but in the 2019 NBA Finals, Durant suffered a ruptured Achilles. He ended up only playing in 11 minutes and 57 seconds of the entire series, and the Warriors lost in six games to the Toronto Raptors.
Durant sadly didn't just miss part of that series due to his injury, though. He went to the Brooklyn Nets in 2019-20 and missed the entire season.
In 2020-21, Durant has only played in 25 games but is averaging 27.5 points, 6.7 rebounds, and 5.2 assists. The Nets — who have a great chance to win the NBA title if fully healthy — are in first place in the Eastern Conference with a 41-20 record.
KD and Mike Conley won an Oscar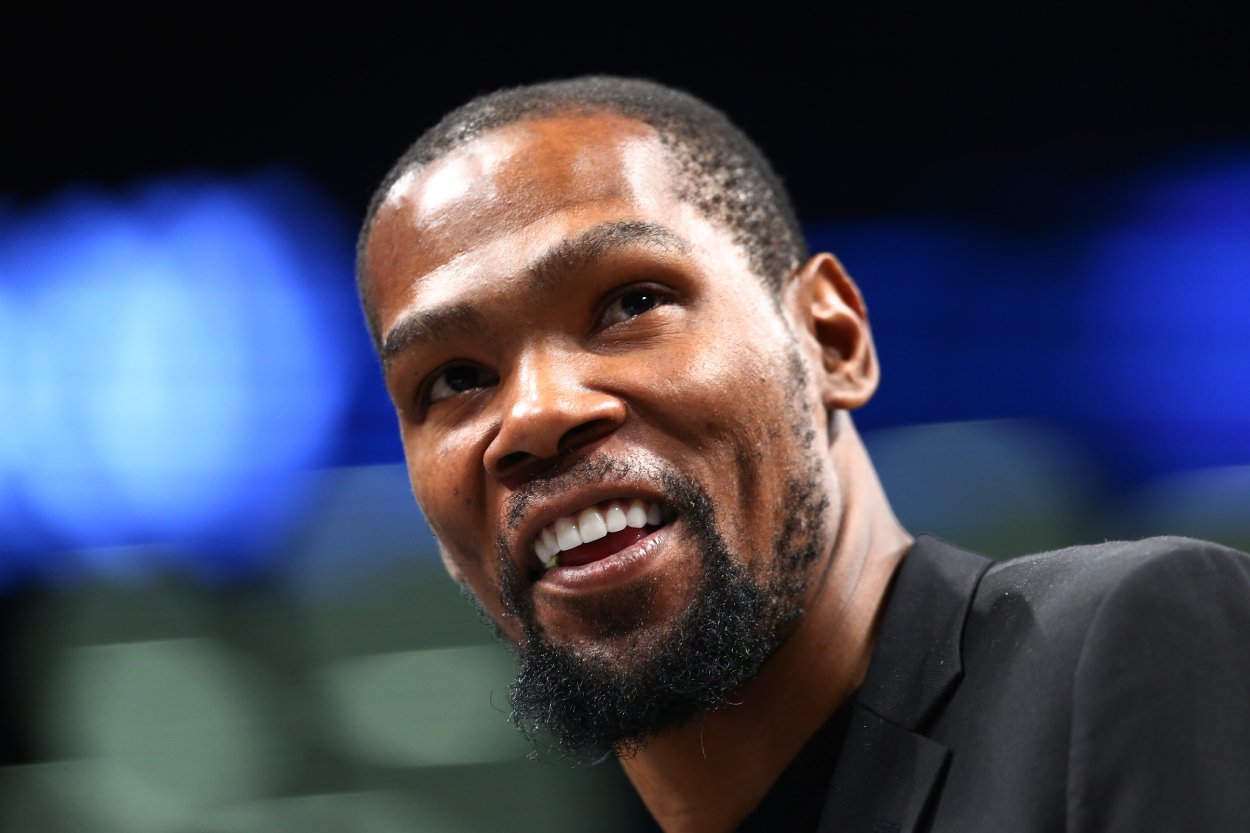 RELATED: Lakers Owner Jeanie Buss Sends out a Simple but Strong Message to the Nets: 'Bring It On'
Some of the biggest stars in the world received recognition during the 2021 Academy Awards ceremony on April 25.
However, while Durant and Conley are used to receiving basketball awards, the two NBA All-Stars ultimately won an Oscar for being two executive producers in the winner of Best Short Film, Two Distant Strangers.
According to ESPN, Durant and Conley were among 10 executive producers for the film that "dramatizes police brutality as an inescapable time loop like a tragic 'Groundhog Day' for Black Americans."
Durant celebrated on Twitter by saying, "Big time!! Congrats [Two Distant Strangers]."
KD and Conley were not the only basketball players who worked on the film, either, as Martin Desmond Roe and Travon Free directed it. Free played college basketball at Long Beach State, per ESPN.
Now, the big question is whether Durant can win two major trophies within just a few months.
Kevin Durant and Mike Conley aren't the first NBA stars to win an Oscar
RELATED: Kevin Durant Is Friends With Rapper Wiz Khalifa but Didn't Think Twice About Leaving Him High and Dry
Believe it or not, Durant and Conley aren't the first NBA stars to be recognized in the film industry.
In 2018, NBA and LA Lakers legend Kobe Bryant won an Oscar for his animated short Dear Basketball, which is based on a poem he wrote when announcing his retirement from the NBA.
"I don't know if it's possible," Bryant said at the time, according to ESPN. "I mean, as basketball players, we are really supposed to shut up and dribble. But I am glad we do a little bit more than that."
The Oscar-winning NBA stars club may be a small one, but it's also pretty legendary thanks to Bryant, Durant, and Conley.
Stats courtesy of Basketball Reference