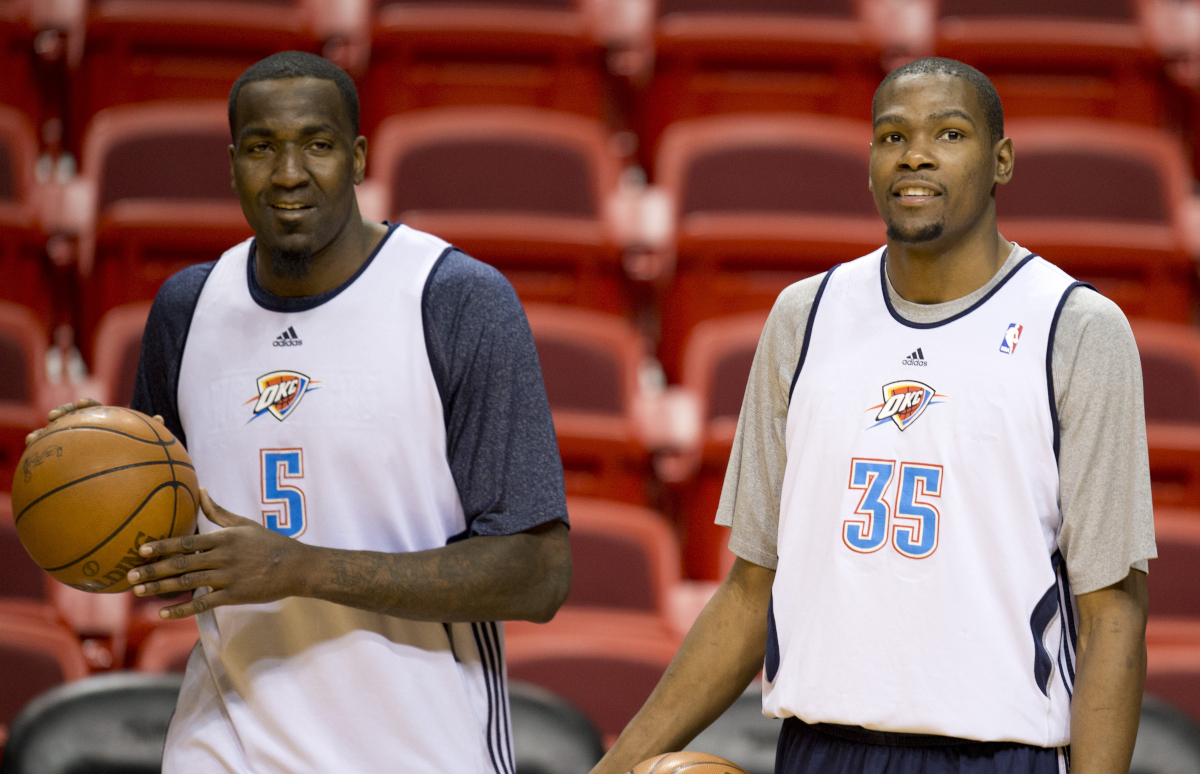 Kevin Durant Re-Ignites Old Feud With Former Teammate After Gold-Medal Win
Kevin Durant and Kendrick Perkins have a long-standing beef and Perkins' comments about Team USA before and during the Tokyo Olympics got a strong response from Durant.
Kevin Durant and Kendrick Perkins were teammates for four years and played together in the NBA Finals. Yet they are much more like a couple embroiled in a bitter divorce fight than brothers-in-jump-shots. The feud flared up again after Durant led Team USA to a gold medal at the Tokyo Olympics.
Perkins was a vocal critic of USA Basketball before and during Tokyo, and Durant and former Golden State Warriors teammate Draymond Green kept the receipts. Several truth bombs were on the menu for Perkins and other doubters.
But Perkins and Durant have been doing this dance for more than a year now. And anyone on social media is the winner.
Kendrick Perkins often blasts Kevin Durant's move to the Warriors
Kevin Durant rocked the sports world in 2016 when he left the Oklahoma City Thunder to sign with the Warriors. The signing came about five weeks after Golden State completed its comeback from a 3–1 series deficit to win the Western Conference Finals. Against Durant and the Thunder.
Sports media turned up the heat to nuclear levels. Oklahoma City fans responded like kids getting coal in their stockings at Christmas.
And Kendrick Perkins was one of the prominent critics. In January 2020, Perkins took to Twitter to tease an upcoming appearance on ESPN's venerable SportsCenter. Perkins, who has gotten more mileage out of one ring as a role player than perhaps any player in NBA history, said he would explain why Russell Westbrook was the best player in Thunder history.
That triggered a response from NBA journalist Marc D'Amico. After D'Amico dragged Westbrook for three straight second-round playoff exits, Perkins responded that Durant lost in the second round when Russell Westbrook went down early in the 2013 playoffs. That was when Durant jumped in.
Hey, KD will jump on random user Buzzy52301325, so taking on a former teammate seems almost dignified. The judges scored the fight for Durant by unanimous decision.
That dust-up is what primed the pump for the post-gold clap back from Durant and Green (who were reportedly (gasp!!!) drinking after the game.
Team USA was directly in Kendrick Perkins' sights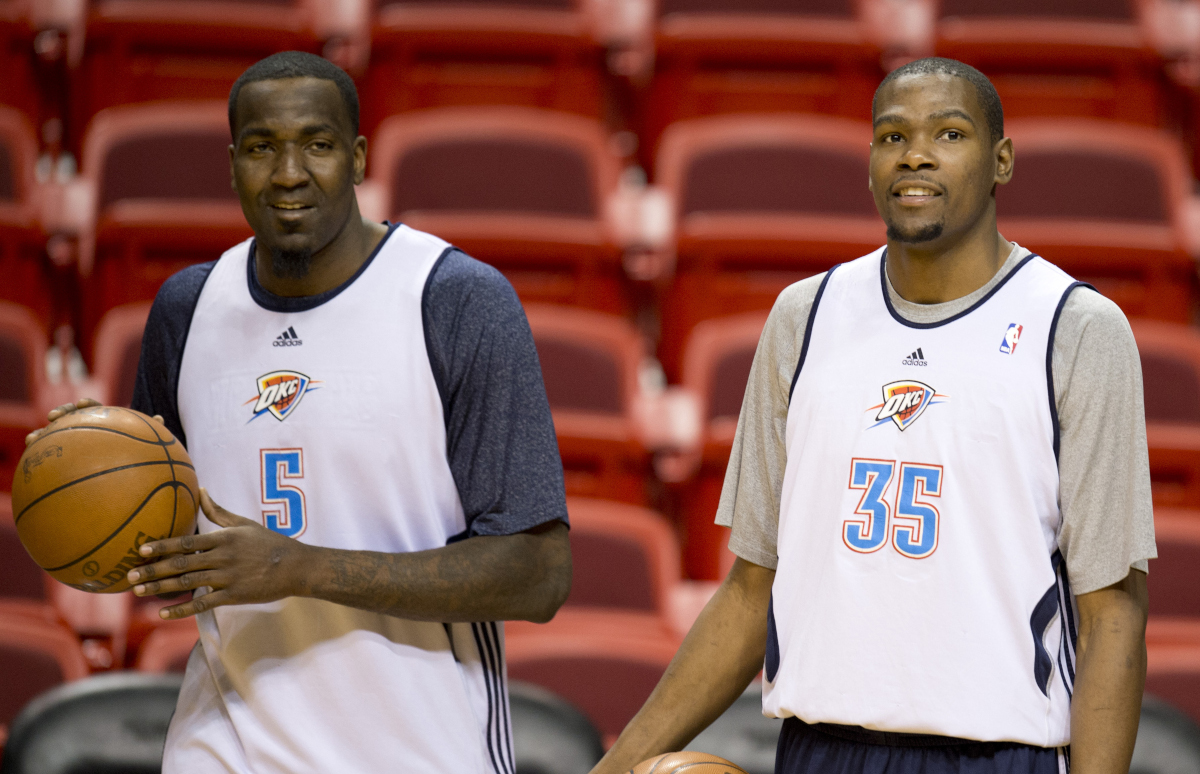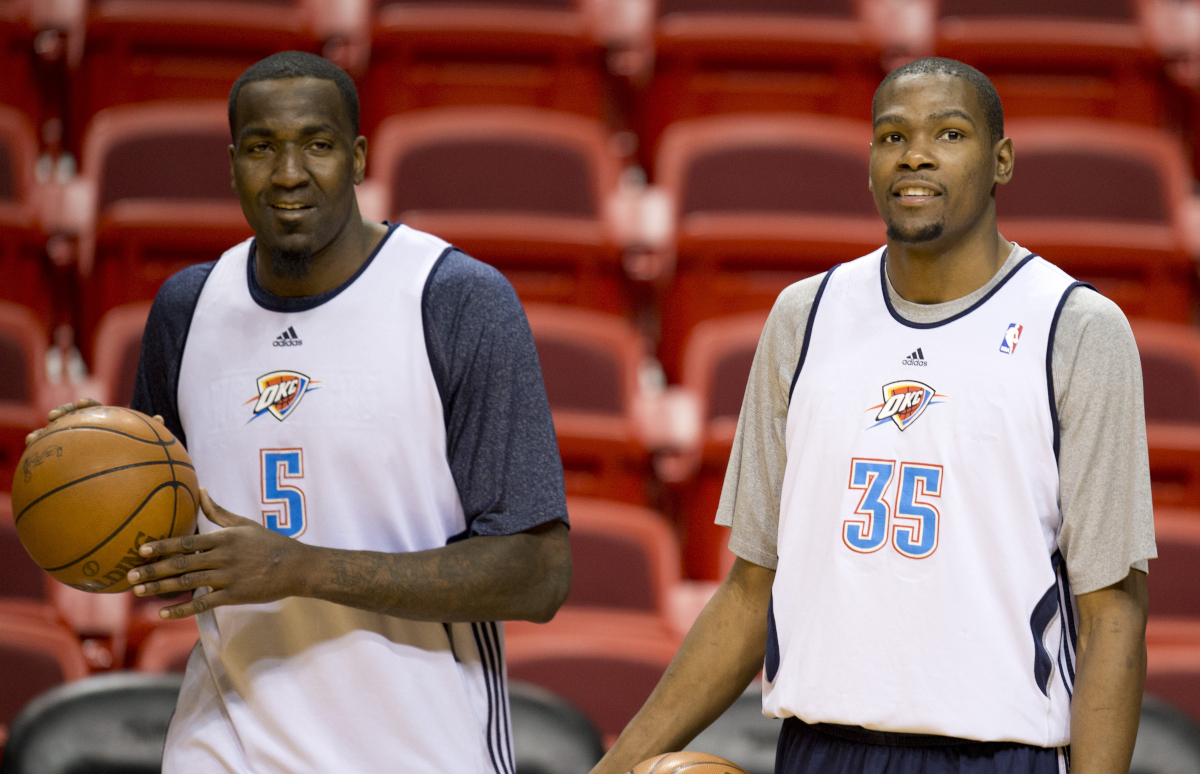 USA Basketball lost exhibition games to Nigeria and Australia before leaving for the Olympics. Then the team fell to France in its opener in Tokyo. Kendrick Perkins took the opportunity to declare on Twitter that U.S. dominance in the sport was over.
Green and Durant took some shots at Perkins on their way back to the locker room after the gold-medal ceremony.
"Everybody said we were gonna take the L. They had power rankings. They had us fourth, behind Slovenia. Come on, man. Talking like they're catching up to us. Are you serious? This skill is unmatched, you dig?"
Green also clapped back via Twitter, much to Perkins' delight.
"Imagine winning a Gold Medal for your country, and the first name you UTTER walking to the Locker room is KENDRICK PERKINS. WOW! I appreciate it, fellas, and Congrats on winning the Gold! Carry the hell on …."
The last sentence is how Perkins closes every tweet, thus limiting himself to 260 characters. However, with his frequent TV appearances, Perkins has plenty of room to talk himself into corners.
Kevin Durant isn't the only one to call out Perkins
Before Kevin Durant said anything from Tokyo, Kendrick Perkins was called out during a memorable segment on ESPN's Get Up the morning after the Milwaukee Bucks won the NBA title. Perkins and Jalen Rose were on with host Mike Greenberg.
Perkins had opined on many topics during the NBA Finals. Most notably saying two-time NBA MVP Giannis Antetokounmpo was Robin to two-time All-Star Khris Middleton's Batman. If that was the only thing Perk had whiffed on, it was still wrong. But Rose came armed with so much more.
Rose blasted Perkins for:
Criticizing Bucks coach Mike Budenholzer all season for not making adjustments.
Calling Jrue Holiday the best two-way player in the NBA when he plays with Antetokounmpo.
The Middleton-Batman analogy.
Declaring Deandre Ayton to be the next David Robinson.
Claiming the Phoenix Suns were a dynasty.
Suggesting Antetokounmpo should leave Milwaukee.
Bad taste in suits.
It degenerated into the two former NBA players shouting over the top of each other, at one point prompting Greenberg to get out of his chair and walk away,
But given the careers personalities such as Skip Bayless, Stephen A. Smith, Shannon Sharpe, and others made by putting outrageousness over everything else, Kendrick Perkins seems well on his way to a lucrative second career.
Like Sportscasting on Facebook. Follow us on Twitter @sportscasting19.