Kevin Durant Ruthlessly Called Scoreboard On Philadelphia 76ers Fans
The game didn't live up to the hype, but there was still plenty of intrigue within the March 10 game between the Brooklyn Nets and Philadelphia 76ers. And a surprising amount of it didn't include Ben Simmons. Kevin Durant and Kyrie Irving made sure of that.
Simmons' newest teammates had his back but didn't flaunt it during pregame interviews or warmups. They let their play do the talking.
The Sixers faithful sent plenty of hate their former point guard's way. But after the game, KD essentially dropped the "scoreboard" chant at the Philly fans, and everyone who's ever attended a high school sporting event knows there isn't a more ruthless cry than that.
Kevin Durant, Kyrie Irving, and the Brooklyn Nets routed the Philadelphia 76ers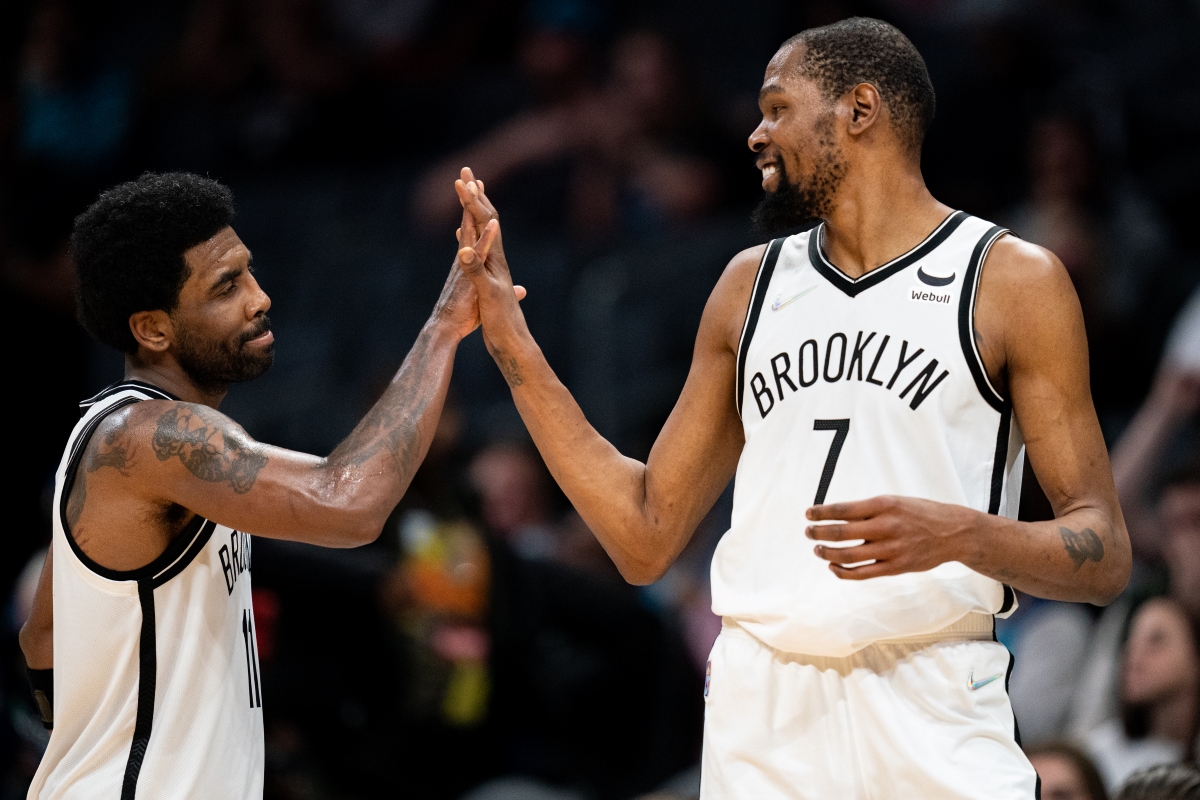 Brooklyn put up 40 points in the first quarter and led by 17 before stretching that lead to 21 at halftime as the Nets cruised to a 129-100 win in Philadelphia.
Durant had a team-high 25 points and added 14 rebounds, seven assists, and two steals. He was 10-of-17 from the field and 3-of-6 from three.
Kyrie followed up his 50-point effort against the Charlotte Hornets with 22 points, four rebounds, and five assists while drawing the James Harden assignment for most of the night.
Fellow former Sixer Seth Curry had 24 points in 27 minutes and shot better than 71% from the floor.
Harden, meanwhile, was held to 11 points on 3-of-17 shooting and finished the night a minus-30.
Irving and Durant were clear after the game that they played for Simmons. Their performances certainly changed the "Boo Ben" storyline by night's end.
KD essentially told Philly fans "scoreboard" after the win
The 7-foot scoring machine took a shot at the Philly crowd via ESPN shortly after the final buzzer, saying, "It was a good environment to start. It didn't finish that way."
For his part, Kyrie wasn't shy about the team's motivation in destroying the Sixers from beginning to end.
"When we played tonight, we definitely felt like Ben was on our heart. You could see it, he was wearing it, and we just wanted to go out there and play for him and play well.
If you come at Ben, you come at us."
But KD put the nail in the home fans' coffin by using the old "scoreboard" standby.
We look at Ben as our brother, so we knew that this was a hostile environment and we knew that he didn't have the opportunity to play and we wanted to come out there and have [the fans] focus on the court more so than always focusing on him.

So they focused on the court tonight, and it's hard for you to chant at Ben Simmons when you're losing by that much.

Kevin Durant on playing for Ben Simmons in front of the former Sixers' home crowd
He's right. The fans would have looked petty coming at Simmons when their team trailed by 32 heading into the fourth quarter.
There's no way to possibly respond to "scoreboard, scoreboard, scoreboard." When that chant comes, it's game over.
Durant returned to his 17-year-old self from Montrose Christian School in Maryland to let the Philly fans know jeering Simmons does not affect the Nets.
Brooklyn needs to use the win as the catalyst for a late-season run
Brooklyn is still eighth in the Eastern Conference standings and two games back of the seventh-place Toronto Raptors, even with the win. The Nets are only 3.5 games up on the 11th-place Washington Wizards.
If they fall that low, their expected title run will end before it ever gets started.
But the win in Philadelphia showed what Kevin Durant and the Brooklyn Nets are capable of when he and Irving are at full strength, and they did so without a 6-foot-11 three-time All-Defensive Team player in Simmons.
Now the group needs to use the statement win as a catalyst to push their way up the East standings, secure a playoff spot, and make a championship push.
All statistics courtesy of NBA.com.
RELATED: Kyrie Irving's 50-Point Performance Proves He's the Brooklyn Nets' Best Hope for a Title