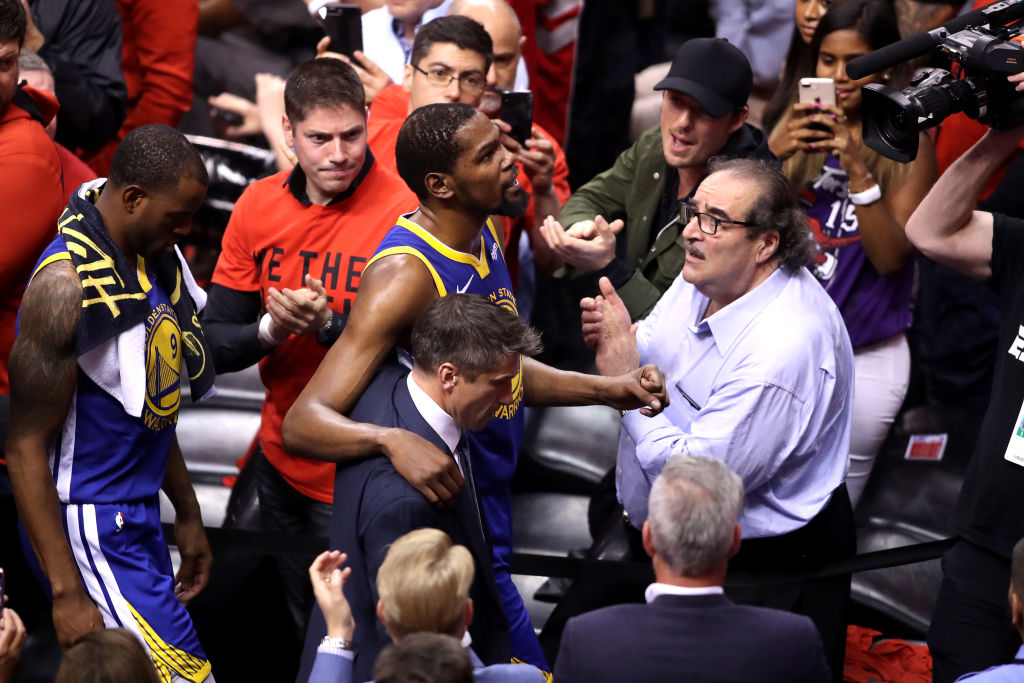 Kevin Durant Says the Warriors Aren't to Blame for His Injury. Is He Right?
Kevin Durant suffered a devestating Achilles injury in the NBA Finals last season. He doesn't blame the Golden State Warriors, but should he?
Kevin Durant joined Kyrie Irving in signing with the Brooklyn Nets this offseason. But while Irving will be representing the Nets on the court during the 2019-20 season, Durant's Brooklyn debut will likely have to wait until the 2020-21 season as he is set to spend this upcoming season rehabbing a ruptured Achilles injury that he suffered last season with the Golden State Warriors.
Durant recently broke his silence on the injury, absolving the Warriors of any guilt in the matter. This was a nice gesture for Kevin Durant to make towards his former team, but is he correct that Golden State doesn't deserve a share of the blame?
Game 5 of the NBA Finals, the night the injury occurred
Kevin Durant suffered a right calf injury in Golden State's 104-99 win against the Houston Rockets on May 8. That injury, odiagnosed as a calf strain, kept him out for over a month of postseason action. He finally received medical clearance to return to the court prior to Game 5 of the Golden State Warriors' NBA Finals matchup against the Toronto Raptors.
Durant showed no signs of any issues with his calf through warmups or the early stages of the game. In fact, his strong defense and 11 points in the first 12 minutes of the game had some fans on social media wondering if he should have been cleared to come back even sooner.
And then it happened. Durant's right leg gave out on him, and after a few short hops, he crumpled to the floor. After being helped up he was able to walk off of the court, but the worst case-scenario was confirmed after the game; Kevin Durant had ruptured his Achilles on the same leg he had injured his calf on one month ago.
Comments from the team and Durant in the aftermath
Immediately after the game, Warriors GM Bob Myers tried to fight back the tears as he announced to the media that the injury Durant suffered was to his Achilles. He added that "prior to coming back, [Durant] went through four weeks with a medical team, and it was thorough and it was experts and multiple MRIs and multiple doctors, and we felt good about the process."
Head Coach Steve Kerr mirrored these sentiments after the game, saying that both Warriors doctors and an independent medical team had cleared Durant to play. "Would we go back and do it over again? Damn right," Kerr told the media. "Our feeling was the worst thing he could do was re-injure the calf. The Achilles came as a complete shock."
Kevin Durant never publicly addressed the injury and Golden State's role in it until last week when he spoke with Yahoo Sports. His comments were in line with the team's.
"Hell, no. How can you blame [the Warriors]? Hell, no," Durant said. "I heard the Warriors pressured me into getting back. Nobody never said a word to me during rehab as I was coming back. It was only me and [director of sports medicine and performance] Rick [Celebrini] working out every day."
"Right when the series started, I targeted Game 5. Hell, nah. It just happened. It's basketball. S— happens. Nobody was responsible for it. It was just the game. We just need to move on from that s— because I'm going to be back playing."
So who really deserves the fault?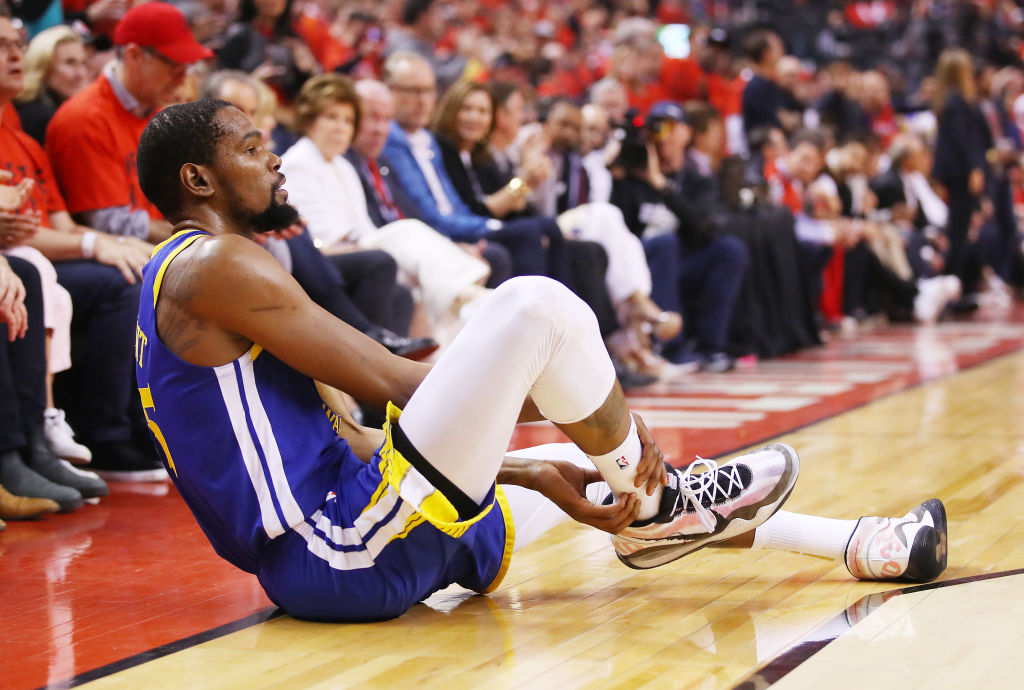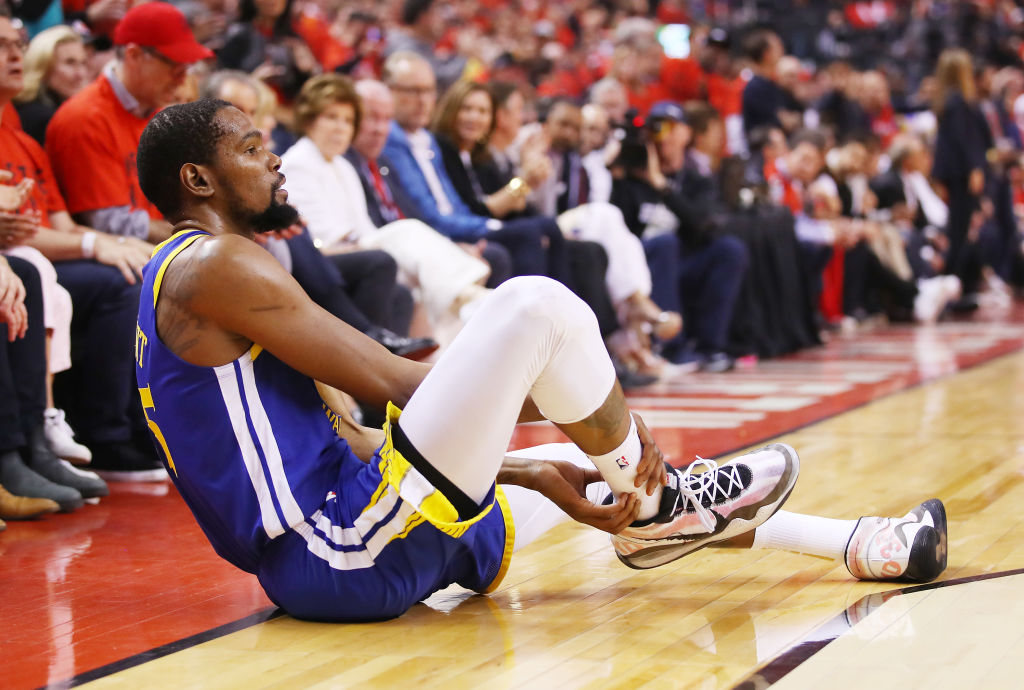 Perhaps there really isn't anyone to blame, and this was just a freak injury to a player that passed all of the required tests needed to play. Durant doesn't have any reason to lie and protect his old team at this point, especially if they really were guilty in any way of potentially derailing his career. And in today's social media age where secrets never last long, something would have leaked by now if there had been any funny business afoot on the Warriors staff.
Or perhaps Durant and the Warriors are both to blame. Kevin Durant is highly competitive and probably put a ton of pressure on his medical team to clear him, and maybe they gave in too easily without being 100% sure that he was good to go. Durant being more cautious or Golden State being more over-protective could have prevented the injury from happening.
But hindsight is 20/20. He seemed ready to go. And regardless of where you want to place the blame, Durant has it right in the end: "It just happened. It's basketball. S— happens."