Kevin Durant Shows His Stubbornness by Blasting Stephen A. Smith, Igniting Twitter War With Commentator: 'I'm Sure Your Minions Will Run With This Story for You'
Kevin Durant and Stephen A. Smith are two of the most polarizing figures in sports. The former is one of the greatest NBA players to ever play, but he can rub people the wrong way with his Twitter behavior. Smith, on the other hand, is a reputable source for sports news on ESPN, but his hot takes can get a bit ridiculous.
So, with the amount of attention both of them receive, Durant recently broke the internet by blasting Smith on Twitter, ultimately igniting a war of words between himself and the commentator. But while KD was just trying to defend his legacy, he also showed his stubbornness by not hearing Smith's point out.
Kevin Durant was less than thrilled with Stephen A. Smith's recent comments
Stephen A. Smith recently discussed the Brooklyn Nets on the Feb. 3 episode of NBA Today, and he made an interesting comment about Kevin Durant.
"If these brothers do not win a championship, do you understand that Kevin Durant is on the verge for being recognized more so for the guy that left Steph Curry to go with Kyrie Irving than he is for the two chips and the two Finals MVPs?" he said. "I didn't say we'll forget them. I didn't say we'll diminish them. … All I'm talking about is headlines, narrative; I'm not talking about substance."
Durant then replied to a tweet of Smith's comments on Feb. 4 and just simply said "egregious," as to which Stephen A. responded by saying, "It's absolutely Egregious, [Kevin Durant]. Totally wrong and unfair to the highest degree. But it also happens to be true. Those will be the headlines all off-season. I'm not saying it's fair at all because it's not. You deserve better. But those will be the headlines. You can book it!"
OK, so that exchange was pretty mild. But that was just the beginning of their Twitter war.
Kevin Durant ignited a Twitter war with Stephen A. Smith
Stephen A. Smith further discussed Kevin Durant and the Nets on the Feb. 5 episode of NBA Countdown.
"We all love basketball, and we know how phenomenal KD is; I think he's the best in the world when healthy; that's just my personal opinion," Smith said. "… But I've been in the media for a little while … all I'm saying is there's gonna be people, especially if Golden State wins and Brooklyn doesn't win, with all of this stuff that went on this year, that is going to look at his choice to join with Kyrie Irving and depart from Steph Curry as opposed to staying with Steph Curry."
Smith continued while talking to Mike Greenberg, Michael Wilbon, and Jalen Rose: "It ain't right. You (Durant) deserve better. But since when has that had anything to do with headlines on the back pages? … You (Greenberg, Wilbon, and Rose) know there's plenty of things that are unfair that end up being the narrative."
Durant then responded to those comments with a defiant response on Twitter.
"Steve, since u decided to use ESPN to push your personal agendas, I'm sure your minions will run with this story for you, but if u believe this is what my career is defined by, then you just a flat out hater. It's gonna be hard to box the god in," he tweeted.
And Smith didn't take kindly to those remarks.
"Okay. Stop the b.s. Religiously I've been on the record calling you the best in the WORLD. This is not about your game and you know it. We all know you're great and you're a champion. We will celebrate that forever when you're DONE playing," he tweeted in a thread of replies. "But right now, YOU ARE PLAYING. Chapters are still being written. You're measured by what's taking place in the moment. And with all the stuff that's gone on w/ KYRIE, if y'all don't win but Steph does, the narrative in a lot of folks eyes is that you left Steph to join HIM (in Brooklyn). Period."
He added: "I don't wish it. I'm not rooting for it. I'm just calling it like I see it, and also based on what we've seen folks do for years. None of us get to control that narrative. We just have to call it for what it is. I meant no disrespect to you, and you damn well know it. … You want to go back and forth? We can do that. But it ain't necessary. You know exactly what I mean and if you're confused, you know the number. The last thing I am is hard to find. #Respect"
KD showed his stubbornness in his response to Stephen A. Smith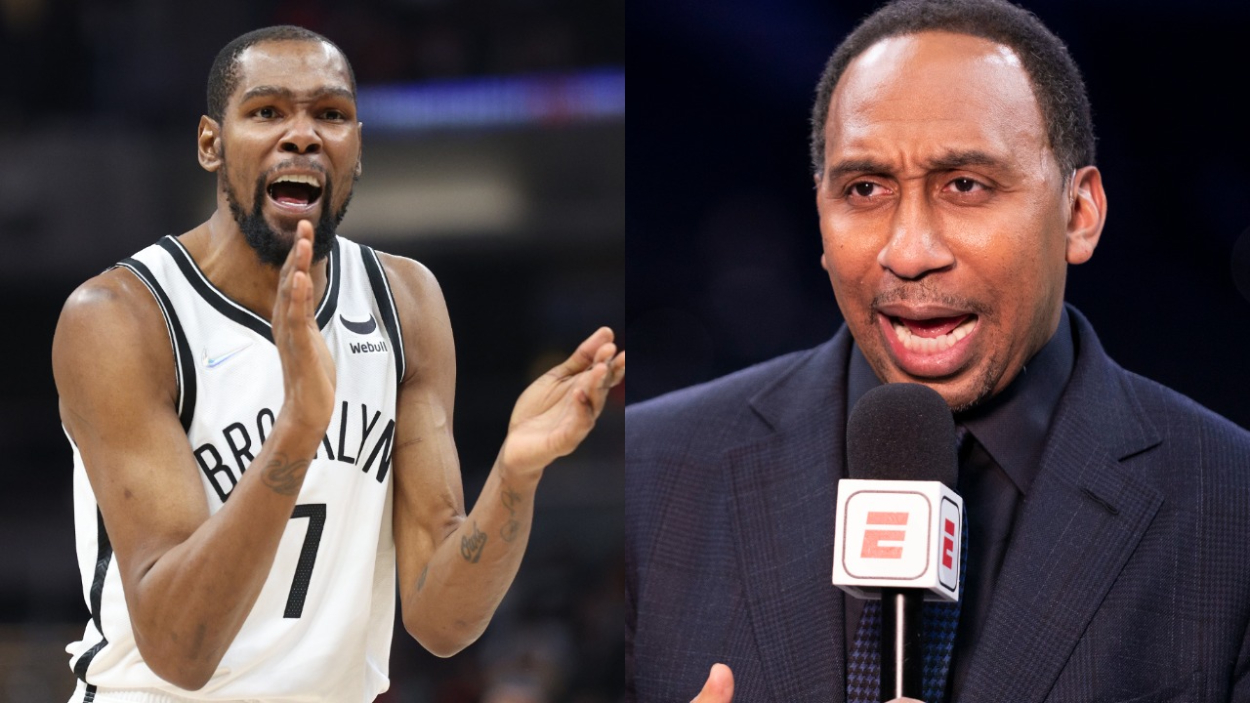 Yes, it would be wrong for fans to remember Kevin Durant just for his decision to leave Stephen Curry, someone who others thought made KD jealous. And he, obviously, doesn't want that to be the case. But neither does Stephen A. Smith. The latter just believes it could happen, and Durant needs to understand that it's possible. Sometimes, you can't help the narratives, even if they're wrong.
Scottie Pippen will always be known as Michael Jordan's sidekick when, in reality, he was one of the greatest players to ever play. Shaquille O'Neal will always have the "what if he stayed with Kobe" question hanging over him, and some will continue looking down on Charles Barkley for never winning a ring.
Narratives are something you can't help or change. And if Stephen Curry and the Golden State Warriors win championships without Durant, while the Nets' Big Three continues coming up short, the cloud over KD's legacy will be in regards to him leaving the Warriors.
Is it fair, no? But Kevin Durant's refusal to understand that notion shows just how stubborn he is to see the truth.
RELATED: The Nets Wouldn't Dare Trade James Harden After Kevin Durant Makes His Feelings Known