Kevin Durant Takes a Stand for Ben Simmons Ahead of 76ers Return
Kevin Durant has zero issues calling out NBA fans. He has no qualms about labeling fans as wannabe experts and haters. The Brooklyn Nets star also understands that Ben Simmons will likely hear it from the crowd in Philadelphia ahead of Thursday's showdown with the 76ers, not that he thinks the noise is merited.
Simmons has yet to play for Brooklyn because of a back injury and will not debut against his former team in the City of Brotherly Love. However, the three-time All-Star will travel with the Nets and is almost guaranteed to receive a rude welcome from a raucous Philly crowd.
For Durant's part, KD thinks the jeers come from people who take issue with something in their own lives.
Kevin Durant sticks up for Ben Simmons with 76ers return on the horizon
Some people have shown a sense of respect for what Simmons achieved with the 76ers. Head coach Doc Rivers recently stated his belief that his old point guard deserves a video tribute.
Irrespective of organizational gestures, however, Simmons figures to hear it from the Philly crowd. Durant suggested (h/t ESPN) that his new teammate can expect as much, though the Nets star issued a show of support for Simmons while decrying hecklers.
"I think part of the experience of coming to an NBA game is to heckle. Some people don't even enjoy basketball, their lives are so shi*** that they get to just aim it at other people. So it's easy to kind of get that release at a basketball game. Ben understands that."

–Kevin Durant on Ben Simmons' 76ers return
Durant also said, via ESPN, that he believes the 2016 No. 1 pick can handle the noise and backlash considering he's in a new situation and getting paid a good chunk of money.
All eyes figure to turn to Simmons on Thursday. Sixers guard James Harden also has the opportunity to play against his former teammates.
Both reunions add to the intrigue of what is already a marquee matchup. Durant and the Nets must find a way to get the ball rolling against one of the best teams in the Eastern Conference.
Durant and the Nets need a momentum win in Philadelphia
Kevin Durant's return has not galvanized the Nets. At least, not yet.
Brooklyn lost its first two games after KD came back from a sprained MCL last week. The Nets earned a win on Tuesday behind a spectacular, 50-point performance from Kyrie Irving, but they did so against a struggling Hornets team.
Thursday offers Brooklyn a test against one of the East's best. Will Durant and Co. rise to the challenge?
The 76ers have been terrific since acquiring James Harden. The Beard has only made Joel Embiid more dangerous thus far and opened things up for Tyrese Maxey as more of a pure scoring combo guard and less of a primary playmaker. Harden continues to cash in on his chances at the charity stripe and beyond the arc, as well.
As good as Philly has been, however, Durant typically rises to the occasion. He had 31 points in his return and 37 in a loss to the Boston Celtics on Sunday before Irving stole the show on Tuesday.
A win could give the No. 8-seeded Nets confidence in their ability to beat the top teams in the conference. Ben Simmons' return would surely bolster Brooklyn, as well. When will it happen?
Simmons can make Brooklyn a legit contender again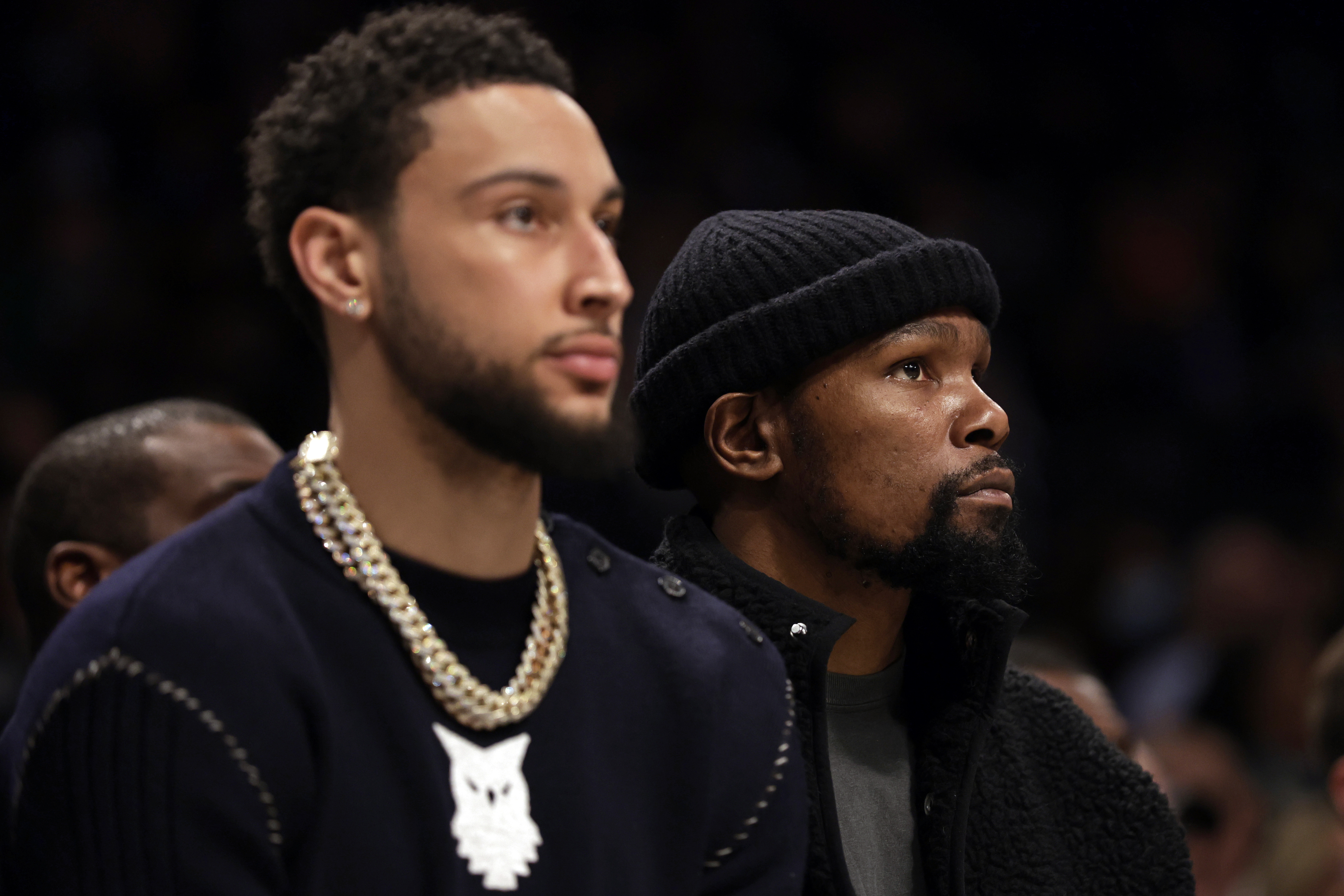 Given the ill will toward Ben Simmons on behalf of 76ers fans and the hit his reputation has taken since last season's playoffs, it's a bit strange to say he's a crucial player on a team with Kevin Durant and Kyrie Irving. Yet, that's the truth.
If the Nets hope to make it out of the play-in and past the first round, they need Simmons on the floor. When he's right, he's one of the best perimeter defenders in the NBA. His aptitude for grabbing rebounds and starting breaks is conducive to Durant and Irving as transition scorers.
Additionally, he figures to haunt opposing teams in the dunker's spot given how much defensive attention KD and Uncle Drew attract. Plus, he's another guy (like Durant) who can see over defenses and provide the Nets wi terrific playmaking.
Before getting back on the hardwood, however, Simmons must face the fans in Philadelphia. Durant thinks the former Sixers guard should remember that the hecklers are merely projecting their own insecurities.
Stats courtesy of Basketball Reference.
RELATED: Joe Harris Injury Update Makes the Nets Appreciate Their $16.7 Million Saving Grace