Kevin Durant's Admission, Even Tongue-in-Cheek, Proves How Foolish the Nets Were for Bringing Kyrie Irving to Brooklyn in the First Place
The Miami Heat pulled away from the Brooklyn Nets on Oct. 27 to hand Brooklyn a 106–93 loss. The Nets are now 1–2 halfway through their season-long six-game homestand. Kevin Durant's 25 points and 11 rebounds in 37 minutes went to waste as the absence of Kyrie Irving and an early-season slump by James Harden are undermining the team.
Brooklyn shot just 38.8% overall and 32.6% from deep against the Heat, who outscored the Nets 57–42 after halftime. Throw in their usual ineptitude on the offensive glass (where they were hammered 17–4 and outscored 31–4 in second-chance opportunities), and the Nets are simply floundering. Irving is a punch line instead of propping up a punchless offensive attack, and Durant is left to answer for it.
Late-night shows having their fun with Kyrie Irving
In case you missed it, Kyrie Irving is not playing for the Brooklyn Nets. He's home until he complies with New York City's vaccination mandate for public gymnasiums or until that mandate is lifted.
But that doesn't mean he's out of the news. Opponents of vaccine mandates protested outside Barclays Center before the team's home opener. He's also getting the complete treatment from the late-night talk show circuit. The Late Show with Stephen Colbert had fun with Irving in a video shared on its Oct. 27 broadcast.
The video featured the popular NBA 2K22 video game in a new "unvaccinated mode." It was biting, and the made-up mode was "rated 'M' for maybe you should have just gotten vaccinated."
Meanwhile, while Irving stays away from the Nets as ordered, his superstar friend is left to face the media pressure alone. Kevin Durant takes lots of Kyrie-related questions as the team struggles.
Kevin Durant finally admits the obvious, after a fashion
After the loss to Miami, Brooklyn Nets star Kevin Durant jokingly gave the press what he said it wanted.
"Yeah, we do miss Kyrie," Durant said.
After their loss to the Charlotte Hornets in the home opener, Durant said that Brooklyn still had enough weapons to win the championship without Irving. Per a tweet from Sports New York, the 2013–14 NBA MVP still believes that:
"It's just a matter of us knocking them down; I think it'll come."
Durant had played like the star he is, averaging 29.8 points, 10.0 rebounds, and 5.0 assists in 35.0 minutes per game. He's shooting 54.8% percent overall while struggling a bit from deep at 36.0% (9-of-25).
Harden, however, is in a severe funk. The three-time scoring champion puts up 16.6 points per game on 35.9% shooting while hitting a woeful 33.3% (13-of-39) from 3-point range.
Meanwhile, the Nets set an NBA record last season for offensive efficiency. They scored 117.3 points per 100 possessions while getting half seasons from Harden, Durant, and Kyrie Irving because of injuries.
Brooklyn's 100.6 offensive rating is 28th in the NBA, ahead of only the New Orleans Pelicans and Detroit Pistons, who are a combined 1–7. It could be worse, but only just barely.
Kyrie Irving could fix a lot of what ails the Nets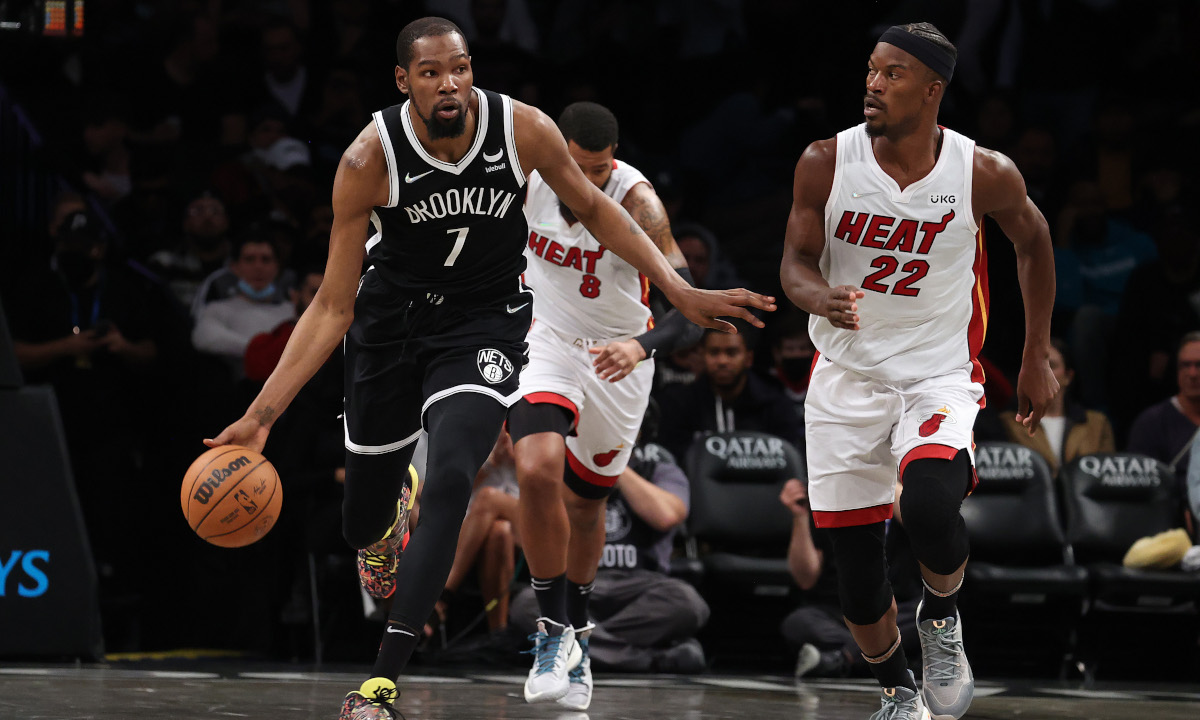 The Nets are in the middle of the NBA pack in 3-point shooting at 33.9 percent. They could benefit from having a 40.2% shooter from deep; the mark Kyrie Irving posted last season. Kevin Durant can't do it all by himself.
Their shooting struggles from long range go beyond Harden. Joe Harris led the NBA in 3-point shooting last year at 47.5%; he's at 37.5 percent. Blake Griffin is 1-of-11, Paul Millsap has hit 3-of-10, and Jevon Carter is at 2-of-11. If not for Patty Mills' 51.6% showing from range, Brooklyn would be further down the pecking order.
But it's not just knocking down shots. Brooklyn is surrendering 15.8 second-chance points per game, 27th in the NBA. The Nets are also 28th in converting those opportunities, getting only 8.2 points per game. It's tough to go into games down by more than seven points; in essence, that's what Brooklyn is doing with their rebounding woes.
But this is the danger of relying on Irving. He makes the merely mercurial seem positively stable by comparison. His play on the court is never the issue. His demeanor off it, though, is a never-ending string of distractions.
Kevin Durant thought he was on a superteam in Brooklyn. Instead, he's got Harden in his least-productive stretch in a decade, and he doesn't have Kyrie Irving at all. Do they have enough to win a championship? The Nets are hardly playing like they have enough to get into the play-in tournament.
Statistics courtesy of Basketball Reference and NBA.com.
RELATED: Brooklyn Nets Star James Harden Still Adapting to New-Look NBA