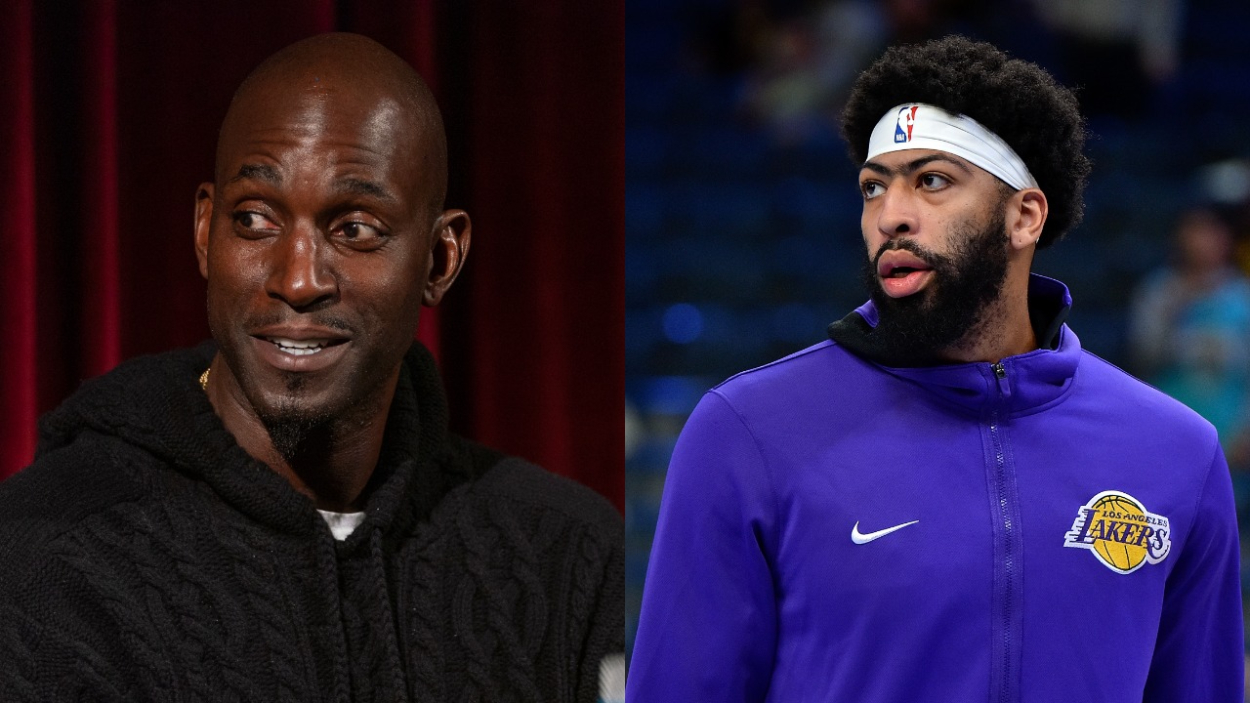 Kevin Garnett Calls out Anthony Davis for Not Taking Pressure off LeBron James in LA: 'He's Went the Opposite Direction'
Anthony Davis hasn't lived up to expectations the last two seasons, as LeBron James continues to have a lot on his plate. And Kevin Garnett recently called AD out.
In July 2019, it appeared that the Los Angeles Lakers had found LeBron James' successor. After seeing the Cleveland Cavaliers fail in that regard (Kyrie Irving couldn't stay around long enough for LeBron to give him the keys in Cleveland), LA traded for All-Star big man Anthony Davis.
But following the Lakers' 2020 title run, Davis hasn't quite proven that he can take over the franchise whenever LeBron leaves/retires, nor can help James with some of the pressure he has on him right now. And NBA legend Kevin Garnett recently called him out for it.
Injuries have kept Lakers big man Anthony Davis off the court throughout the last two years
The Lakers seemed to have a good thing going in 2020. LeBron James and Anthony Davis led LA to the best record in the Western Conference before taking the team to the NBA Finals in the bubble. The Lakers then eventually beat the Miami Heat in six games in those Finals.
However, Davis, who averaged 26.1 points and 9.3 rebounds that year before recording 27.7 points and 9.7 boards in the playoffs, hasn't been able to replicate that success.
Injuries held him to only 36 games in 2020-21, where he averaged just 21.8 points and 7.9 rebounds. He then essentially missed two-and-a-half games in the team's first-round series against the Phoenix Suns, and the Lakers' season ended early with Phoenix beating them 4-2 in the series.
This year has been much of the same. Davis has averaged 23.3 points and an improved 9.9 boards in 27 games, but he hasn't played since Dec. 17 with a sprained MCL.
So, not only has he struggled to stay on the court since that championship-winning season, but his production has also declined. In addition to his scoring average taking a dip, Davis went from shooting 33.0% from deep in 2019-20 to 26.0% last year and 17.9% this season.
His absence/struggles have forced a 37-year-old LeBron James to add more to his plate, especially this year. James is averaging his most points per game (28.8) since 2009-10 and his most minutes since becoming a Laker.
The Lakers probably didn't think they would end up having to ask their aging superstar to take on more responsibility back when they traded for AD, and it appears Kevin Garnett didn't think that would be the case, either.
Kevin Garnett called out AD for not taking pressure off LeBron James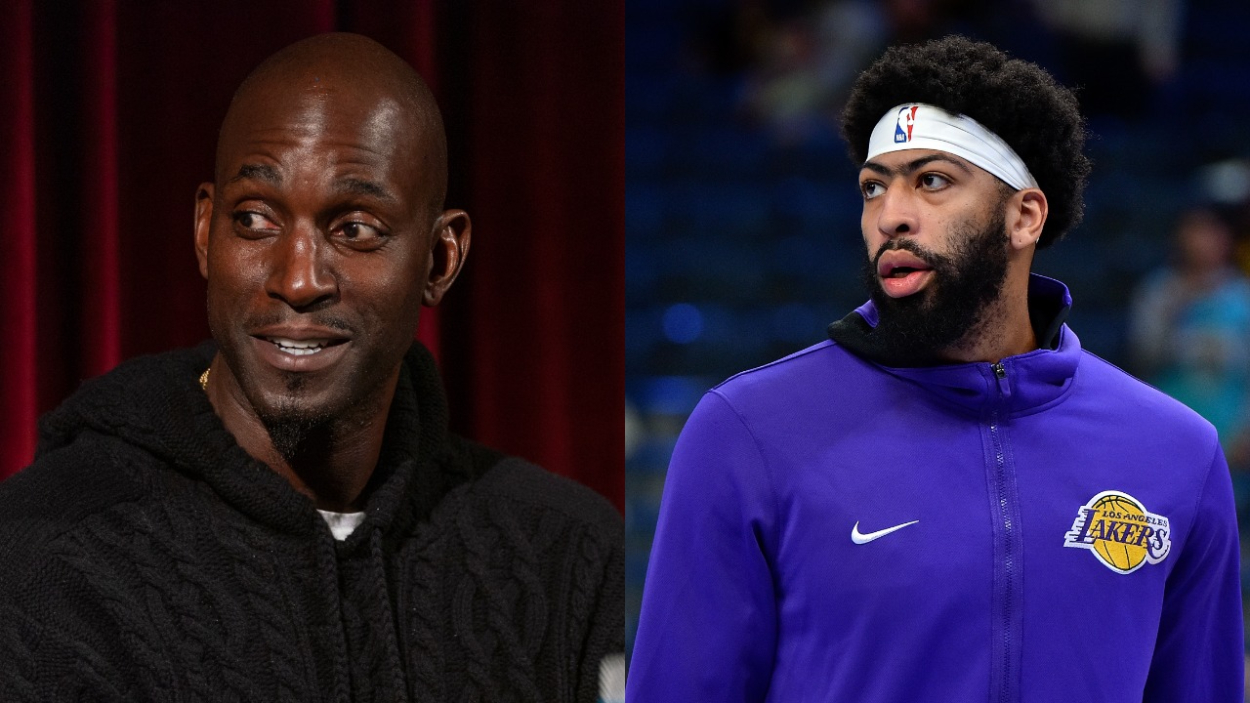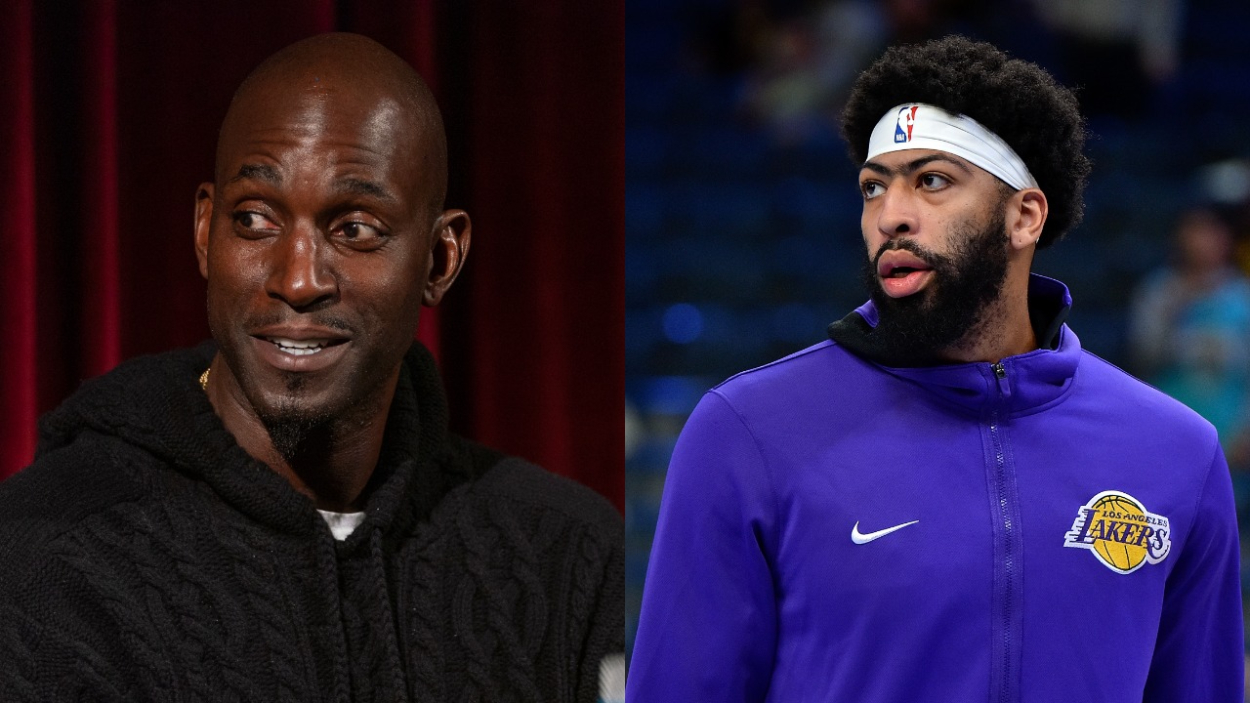 Boston Celtics greats Paul Pierce and Kevin Garnett recently discussed LeBron James' dominant run of late on an episode of Showtime Basketball's KG Certified. And Garnett made some interesting comments about Davis.
"I actually saw the Lakers coming into this year, and when they started adding a lot of the older players and more solid players to this team, I actually liked what they put on the team. But I thought that everything shoulda went through AD," he said. "I thought AD was young enough to be able to carry this team. I thought he came to LA to kind of sufficiently take some of the pressure off LeBron. And he's went the opposite direction."
Pierce seemed to agree with KG.
"I feel like LeBron [is] ready to give him the keys; he want to give him the keys," Pierce said. "… LeBron shouldn't have to carry this team through the regular season. All the juice LeBron got left should be saved for the playoffs. AD should be carrying them through the regular season. But it's hard. He's hurt right now."
It appears the two legends would like to see more from Davis, but they also understand that he can't do much when he's not even able to take the floor.
And they are correct, as Davis is the key to the Lakers' success. LeBron can't do it on his own.
The Lakers need Anthony Davis to win a championship
Pierce ended up saying he thinks the Lakers can go on a run if Davis gets healthy.
And he's right, but that's the only way they can do it.
The Lakers have struggled this season, and it largely has to do with both James and Davis missing extended time. James and Davis have only played in 15 games together this season, and the team's lack of continuity has led to LA going 22-22 through its first 44 contests, which is good for eighth place in the West.
With AD off the floor, James essentially has no help offensively. Russell Westbrook is averaging 18.6 points, but he's only shooting 43.6% from the field.
Having Davis in the lineup opens things up for James and allows him to be more of a playmaker instead of having to play center. AD also creates matchup problems that not many teams can defend.
However, Davis has to be assertive for the team to be successful. He hasn't been nearly as aggressive since their championship run.
All in all, Davis has the talent to lead the Lakers to significant heights and take some pressure off old man LeBron James. But his last two campaigns have been rather disappointing, which begs one question to be asked: Did the Lakers find the right man to succeed The King?
Stats courtesy of Basketball Reference