Kevin Garnett Describes the 'Sh*t Show' Leading Up to His Exit From Nike: 'I Could've Faked It'
Every great NBA player has a shoe deal. For former Minnesota Timberwolves star Kevin Garnett, his career as a sneaker endorser had some wild twists and turns. Let's take a closer look at the story of the Nike shoe Garnett hated and how it led to his split from the company — a moment he described as a total "sh*t show."
Kevin Garnett's unique and outstanding NBA career
RELATED: Kevin Garnett Made $334 Million By Skipping School
Garnett entered the NBA directly out of high school, a practice that at the time was extremely rare (and later banned). Garnett's entry into the league and subsequent success led to even more players attempting the jump. For every success story like Garnett, there were countless other failures, like Korleone Young.
By the time he retired, Garnett had amassed one of the great careers for a power forward in league history. After spending the majority of his career with the Minnesota Timberwolves struggling to succeed in the playoffs while putting amazing numbers in the regular season, he tasted championship glory with the Boston Celtics in 2008 alongside Paul Pierce and Ray Allen.
Who does Kevin Garnett have a shoe deal with?
For a major portion of his career, Garnett had a sneaker deal with Nike. In excerpts from Garnett's biography reprinted in GQ, he indicated that the power of Nike's success came down to one man: Michael Jordan. Garnett noted how Jordan was the "avatar" so many players aspired to.
Nike's promotion of Jordan only helped build the legend, and the relationship between the two helped bring Garnett and the athletic wear giant together. Nike and Jordan are interchangeable, and that's part of what made them the top brand in basketball.
When Garnett entered the NBA, Nike courted the young star's services. The company knew this high schooler was special. "When I entered the league as a nineteen-year-old, I went with Nike," Garnett told GQ. "I wanna say I ran to Nike, but the truth is that Nike ran to me. Naturally, I loved that. I quickly found myself wearing all sorts of Nike joints."
Of course, all good things come to an end eventually, and Garnett and Nike's relationship didn't last forever.
The 'sh*t show' that led up to Kevin Garnett's exit from Nike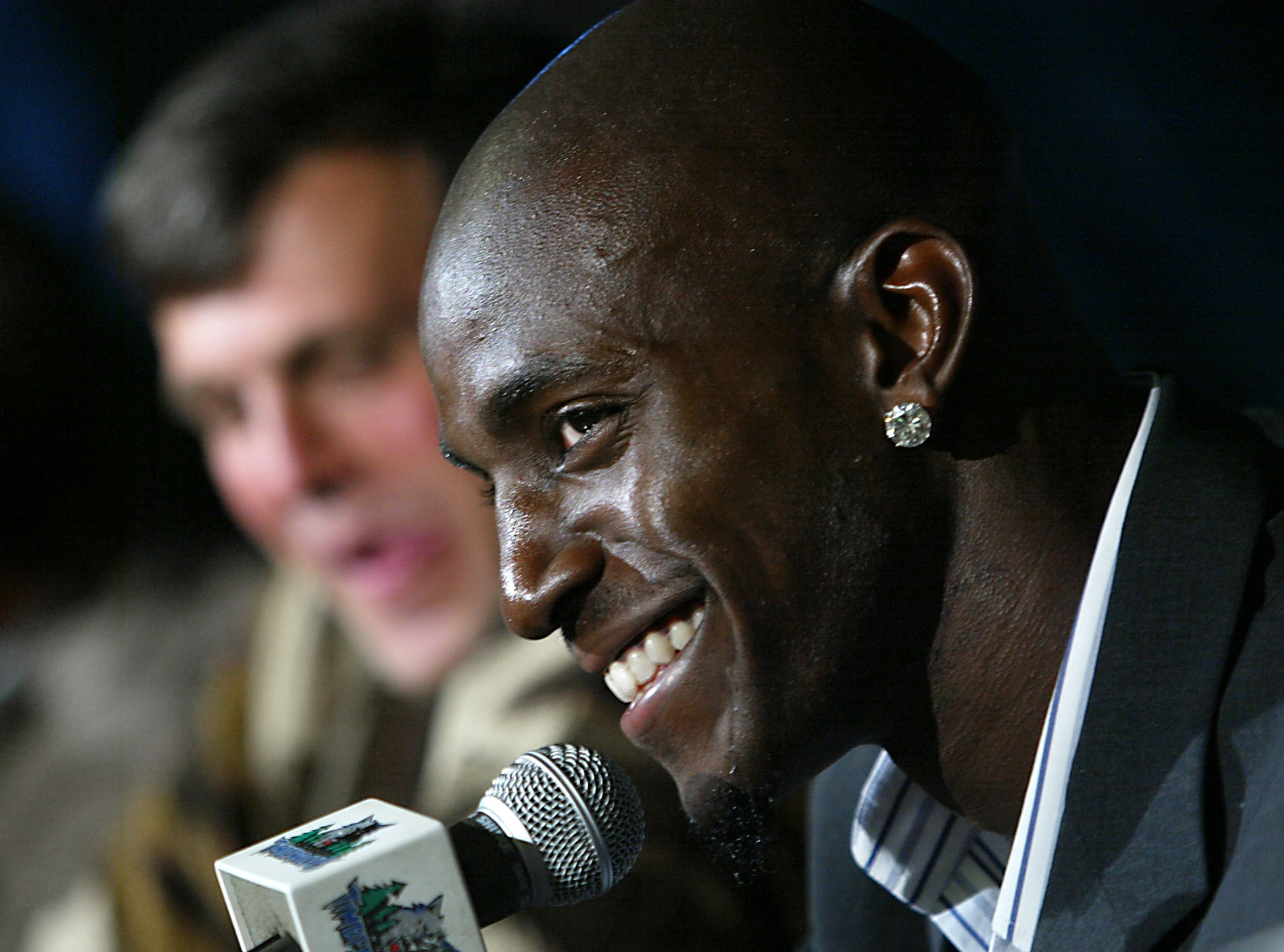 RELATED: NBA Superstar Kevin Garnett Made His Debut On This Date 25 Years Ago
Garnett said that the beginning of the end of his relationship with Nike was with the introduction of a shoe known as the Garnett 4, with a new technology known as "Shox." Garnett hated the shoe. He didn't care for the look or the feel of it. According to the star forward, it was at a prestigious live event that he finally reached his breaking point:
"Things came to a head at the 2003 All-Star Game in Atlanta. Nike threw a big party back in the dressing room. Cameras everywhere. Media going crazy. That's where Nike wanted to reveal the Garnett 4 Shox. But when they showed it to me, I couldn't fake my reaction. The shoe didn't excite me."
Nike attempted to sway Garnett through his agent, but it was too late. Garnett added that being authentic was more important than the money Nike would have showered on him for pretending to be enthused about the sneaker:
"A lot of bread was involved, and I could have faked it. But to me a sneaker is like a painting. You start with a blank canvas. Then you pour your heart into it. It has to reflect your rhythm and sense of style. The Garnett 4 was clunky."
Garnett eventually left Nike in favor of AND1. On his way out, he showed respect for Nike's "engineering" but not the materials they used. He said he learned a lot from Nike that helped him advise AND1 on how to make their products better. Eventually, he gave up on AND1 after they meddled a bit too much with his wardrobe, and Garnett declared his shoe career over.