Kevin Garnett Made 12 All-Defensive Teams but Hated Defending Rasheed Wallace Because He Shot the Ball From the Clouds
Kevin Garnett is one of the greatest defenders in NBA history. The former Minnesota Timberwolves and Boston Celtics power forward has 12 All-Defensive selections and a Defensive Player of the Year Award to his name. Garnett's size, length, and athleticism made him a versatile player who could guard multiple positions and harass opposing bigs.
But while KG locked down numerous All-Stars in his day, he loathed guarding Rasheed Wallace. The reason? Wallace's face-up and shooting form made him almost impossible to defend.
Kevin Garnett and Rasheed Wallace had multiple playoff battles
Kevin Garnett and Rasheed Wallace's battles spanned more than a decade and in both conferences.
Garnett, the No. 5 overall pick in the 1995 NBA Draft, rapidly became a star in Minnesota and helped a dormant Timberwolves franchise become a contender in the Western Conference. It wasn't long before Wallace did the same as a member of a hungry and talented Portland Trail Blazers team.
The T-wolves and Blazers met in the first round of the 2000 playoffs, with Sheed's squad defeating KG's crew in four games. That Portland team made it to the Western Conference Finals, pushing the eventual champion Los Angeles Lakers to seven games.
It would be some time before Garnett and Wallace met again come playoff time, but there were more matchups in the offing.
Wallace won a championship after being to the Detroit Pistons in 2004. It looked as though Detroit would be the new power in the Eastern Conference. But Garnett's trade to the Boston Celtics in the summer of 2007 changed the complexion of the NBA.
Boston met Detroit in the 2008 Eastern Conference Finals, with the Celtics dispatching the Pistons in six games en route to their first championship since 1986. Garnett was brilliant in that series, averaging 22.8 points, 9.7 rebounds, 3.3 assists, and 1.0 blocks. He held Wallace mostly in check, as Sheed shot 41.5% from the field and 30.8 percent from beyond the arc.
However, while KG got the better of Wallace in that series, Sheed always posed a unique challenge for the Big Ticket.
Wallace's face-up game constantly gave Garnett issues
One of the reasons Rasheed Wallace had so much success in the NBA was his ability to stretch the floor and use his size and unorthodox form to get off clean looks.
Kevin Garnett explained on a 2017 edition of TNT's Area 21 that Wallace would catch entry passes and subsequently turn and face his defender. Garnett said Wallace's long arms and tendency to hold the ball with arms outstretched made him look infinitely taller, even though KG actually had an inch on Sheed.
Wallace would come set for jumpers with the ball high above his head. According to Garnett, his tendency to jab and rip through in order to get to the shooting pocket made it impossible to get up and contest shots. Although KG said he would try to swipe at the ball if Sheed brought it to his neck, that decision sometimes resulted in foul trouble.
Garnett concluded by saying Wallace and Tim Duncan were his two most challenging matchups. That's high praise, considering KG and Timmy are arguably the best power forwards ever.
The Big Ticket and Sheed wore the same jersey for a year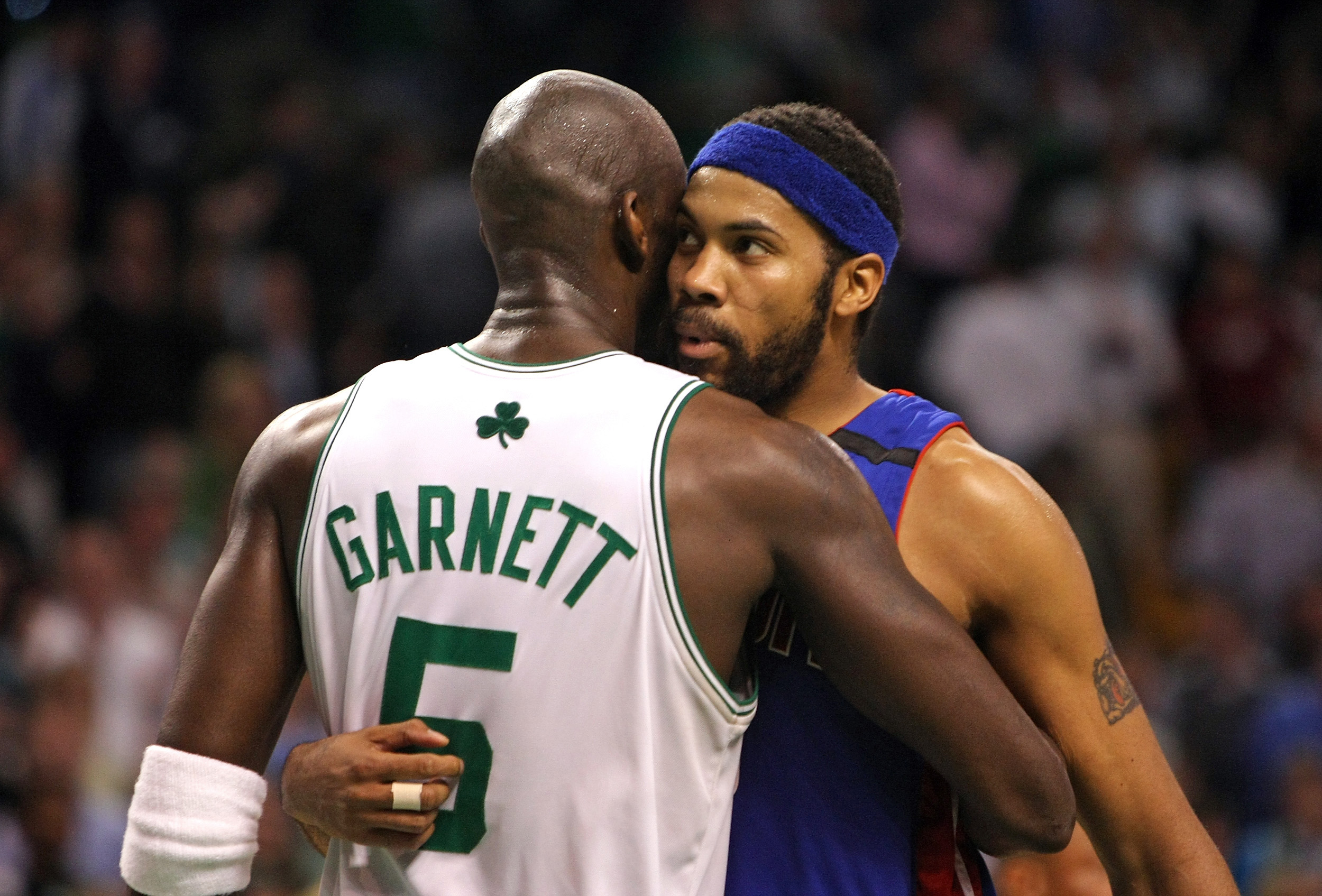 Having shared the floor as opponents for years, Garnett and Wallace became teammates ahead of the 2009-10 season that saw the Boston Celtics make it to the NBA Finals.
That season ended in disappointment for the C's, as they lost to the Lakers in seven games. Wallace admirably started in place of an injured Kendrick Perkins in Game 7, scoring 11 points and grabbing eight rebounds. Garnett added 17 points and had for blocks. But Paul Pierce and Ray Allen struggled from the field, and those shooting woes were compounded by the Celtics getting rebounded and taking 20 fewer free-throw attempts than the Lakers.
Garnett and Wallace might not have won a ring together, but it didn't diminish the mutual respect between the two trash-talkers, both of whom were among the best forwards of their era.
Stats courtesy of Basketball Reference.
RELATED: Rasheed Wallace Idiotically Claimed LeBron James and Kevin Durant Wouldn't Have Been as 'Successful' in His Era: 'It's a Whole Different Era Back Then'