Kevin Garnett Had No Idea Who Kobe Bryant Was When They First Met, Thought He Was Someone's Son: 'He Was so Intense'
Los Angeles Lakers legend Kobe Bryant was one of the most revered athletes of all time. But that wasn't always the case.
In fact, when Bryant first met fellow Hall of Famer Kevin Garnett, the big man had no idea who he was. KG even recently said he thought Kobe was just someone's son who was hanging out in the locker room.
Kobe Bryant and Kevin Garnett both entered the NBA out of high school
In 1995, Kevin Garnett became the first player in 20 years to get selected in the NBA draft straight out of high school. The Minnesota Timberwolves took him with the No. 5 overall pick that year, and he ended up having tremendous success with them. 
KG played in Minnesota for the first 12 seasons of his career, and he earned an All-Star selection in all but two of them. He also led the NBA in rebounds per game in four consecutive seasons from 2003-04 through 2006-07.
However, Garnett's decision to enter the NBA straight out of high school helped pave the way for another young star: Kobe Bryant.
In the 1996 NBA Draft, the Charlotte Hornets selected Bryant with the No. 13 overall pick out of Lower Merion High School in Pennsylvania. As you likely know, the Hornets then traded him to the Lakers, and Bryant spent his entire career in LA, earning 18 All-Star selections and winning five championships.
Before he even played a second for the Lake Show, though, Bryant met Garnett in the Timberwolves' locker room.
KG had no idea who Kobe was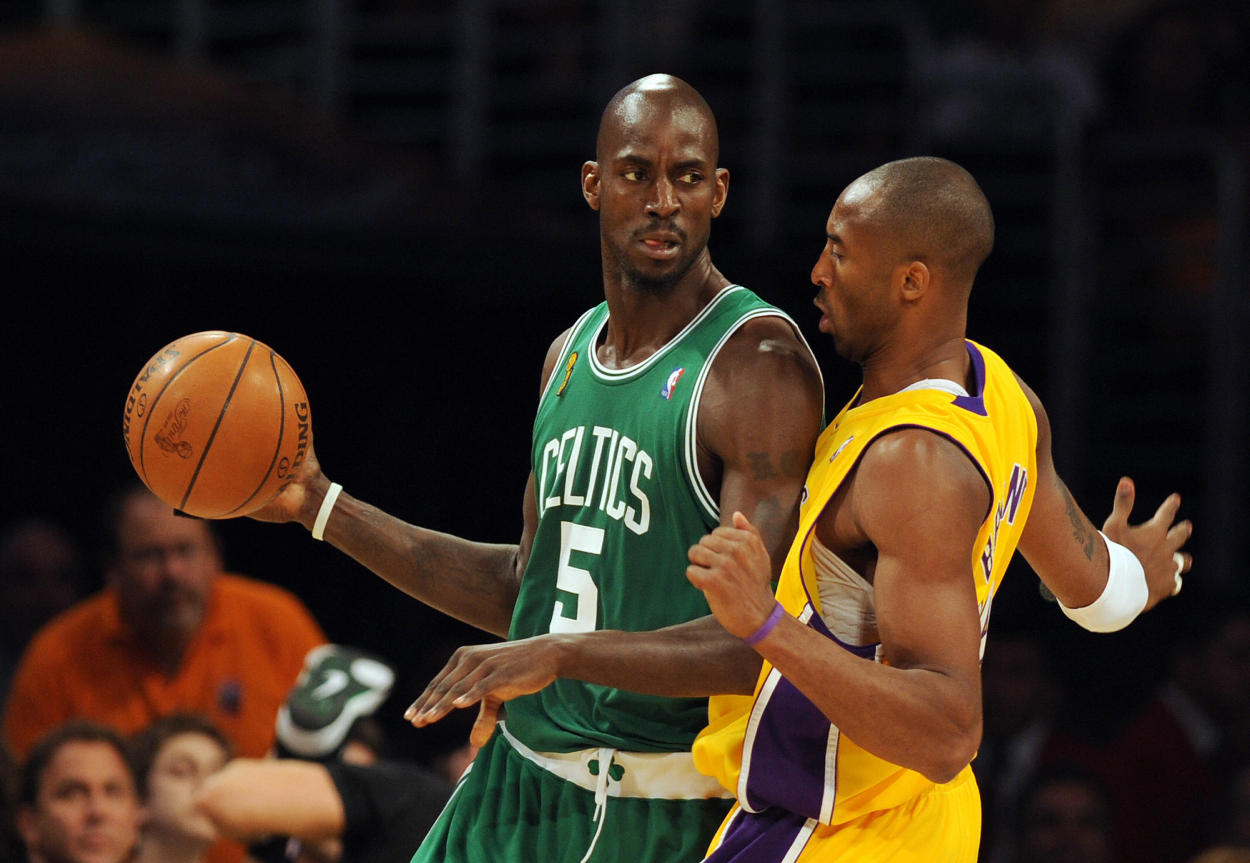 Garnett recently appeared on the Million Dollaz Worth of Game podcast, and he shared an interesting story about the first time he met Bryant.
He said after a late regular-season game, he went into the locker room at the old Spectrum arena in Philadelphia, which was close to Bryant's high school. He then saw a young kid sitting in his seat.
"I thought maybe [he was] somebody's son," he said on the Nov. 21 episode. "… I said, 'What's up? Let me get right here.' He said, 'What's up, yo? What's up? I'm Kobe Bryant, man; I'm trying to come to the league.' I had just walked in the locker room, so I was like, 'Who the f***'s son is this?' He was like, 'No, no, no, no, no, I'm Kobe Bryant. What's up, yo?'"
Garnett said he "dapped him" and then essentially told him to get out of his seat. Bryant then sat in the chair next to him and began asking questions about the NBA.
"His eyes, yo. His eyes. He was so intense on just wanting to know the next level and what it was like," Garnett said.
KG went on to reveal that his head coach at the time, Flip Saunders, allowed them to talk for the next two hours despite the team's bus needing to leave. And Kobe was a sponge during that conversation; he just soaked up everything he could from Garnett.
It's unclear why Bryant was in the locker room that night, but the interaction became the first of many for the two basketball stars.
Kevin Garnett and Kobe Bryant became NBA Finals foes and Hall of Famers
When Garnett and the Timberwolves were working on his eventual departure from the team in 2007, he at first wanted to join Bryant on the Lakers. It didn't work out, though, and he then went to the Boston Celtics, where he and Bryant became NBA Finals foes not once but twice.
In the 2008 NBA Finals, Garnett's Celtics took on Bryant's Lakers, and Boston ended up winning the series in six games. However, after the Lakers won the 2009 championship against the Orlando Magic, the teams met up in the Finals again in 2010. That time, Los Angeles won the series in seven games.
Garnett and Bryant later ended their careers as two of the greatest players to ever play in the NBA. They then entered the Naismith Memorial Basketball Hall of Fame together in 2020, alongside Tim Duncan, WNBA star Tamika Catchings, and various coaching legends like Eddie Sutton.
Kevin Garnett may not have known who Bryant was back when they first met as young hoopers. But their paths ultimately continued to cross for the next 20-plus years.
Stats courtesy of Basketball Reference