Kevin Garnett Trash-Talking Michael Jordan Backfired in the Most Hilarious Way
Kevin Garnett is an infamous trash talker, but he met his match in a game during his rookie year. He learned what every other NBA player knew: It's never a good idea to get on Michael Jordan's bad side. He became one of the many victims of MJ's vicious competitive streak. Fortunately, Garnett took the incident in stride and went on to have a great rookie year.
What happened when Kevin Garnett met Michael Jordan?
RELATED: Malik Sealy's Death Had Quite an Impact on 2020 Hall of Famer Kevin Garnett
Garnett had a lot of reasons to be pleased with himself in 1996. He was drafted fifth overall by the Minnesota Timberwolves, becoming the first player to be drafted out of high school since 1975. After starting the year on the bench, he worked his way into the starting lineup at the age of 19.
Being a trendsetter develops confidence, and Garnett had no problems talking smack to players regardless of their standing in the game. But early on in his career, he learned a piece of advice that every NBA player in the 1990s eventually came to understand: that you should never, under any circumstances, deliver any trash talk within the vicinity of Michael Jordan. 
Jordan's quick-witted disses are the stuff of legend. It didn't take much to set him off. On this occasion, during a game on February 27, 1996, the instigator was Isaiah "J.R." Rider — one of the bigger busts of his era.
The fifth overall pick in the draft only played in the NBA for eight years due to attitude and drug problems. But on this night, he had it going, finishing the game with 20 points on 9-17 shooting. His play kept the game close into the fourth quarter. Garnett made the fatal error of gassing up his teammate in front of His Airness.
The story according to Garnett
RELATED: Kevin Garnett Once Sued His Accountant for $77 Million
The game was so impactful that both Rider and Garnett have told the story during interviews. Here is an edited transcript of Garnett's telling on the All the Smoke podcast during All-Star weekend:
J.R. is having a good game. So as we come out of the timeout, I was just like "yo, keep killing him, straight up, you're having a good game."

He's right here. Mike can hear me, but I don't really give a f***, so I double down. As I say that, I feel it. Hands on hips, legs locked. And then he stares at me for about 15 seconds. There are two ways you can go in this. I can walk this off and pretend I don't even feel it and dummy out – f*** that.

I see him and Mike having a conversation, saying "He don't really know, he's excited." So now MJ is on the back leg joint, nodding his head saying "Oh yeah?" I can't even describe the next six, seven minutes of play, yo. We're down 25 now, it was just at two. It got bad quick. I'm like, "JR, my bad, dog. Sorry, man. I'm sorry." He said, "It's good man, I told you shut your ass up" Mike came over like "Damn, young fella, damn, y'all done?" Never talked s*** to Mike ever again in life.
The Bulls outscored Minnesota 38-23 in the fourth quarter to win the game 120-99, according to Basketball-Reference. Jordan's total stat line was 35 points, six rebounds, seven assists, and two steals. Garnett was so remorseful that he apologized to Jordan during All-Star weekend a few weeks later. 
Garnett's play was not affected by the incident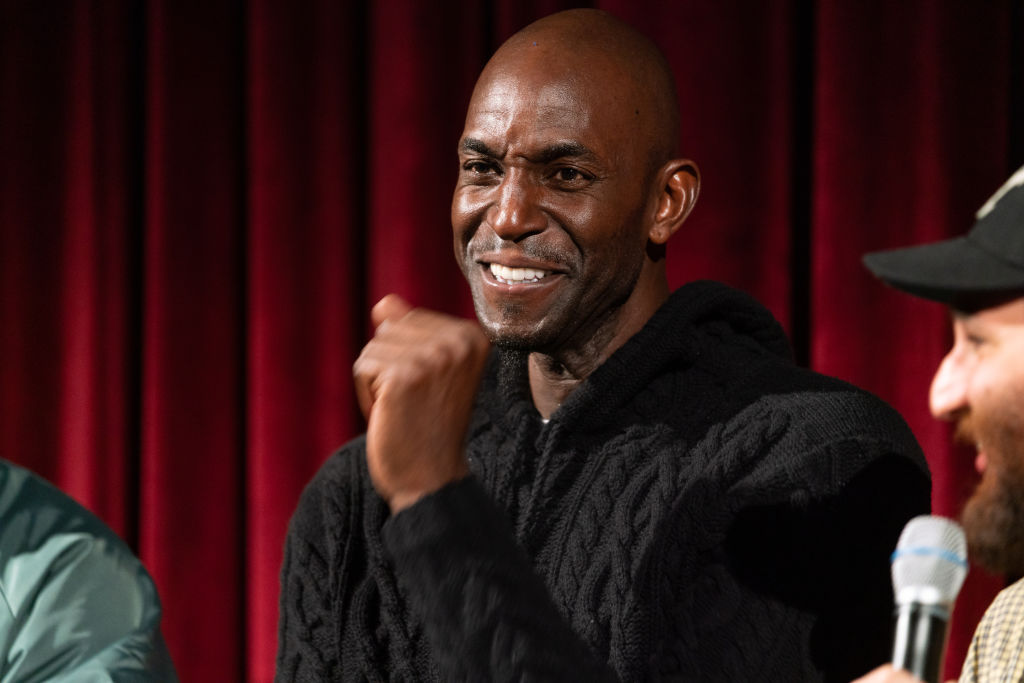 This was one of the few moments of Garnett's rookie year that could sting his pride. The statistics don't look great on paper. He averaged 10 points and six rebounds for the season (all of his numbers improved as a starter). But considering Garnett was the youngest player in the league at the time, he performed very well. 
It's not like he was part of a roster full of superstars, either. The Timberwolves existed since 1989, and their best season up to that point was 29-53. (Things haven't gotten much better in the years since.)  Their best players were Rider and Tom Gugliotta. Their best point guard was a 32-year old Spud Webb. It wasn't the best environment for success. 
Still, Garnett did enough to be a part of the All-Rookie Second Team. He went on to become, by some distance, the best player in franchise history, although his relationship with the franchise has cratered over time.
Garnett never stopped talking, but his run-in with Jordan taught him the dangers of taunting absolute greatness.