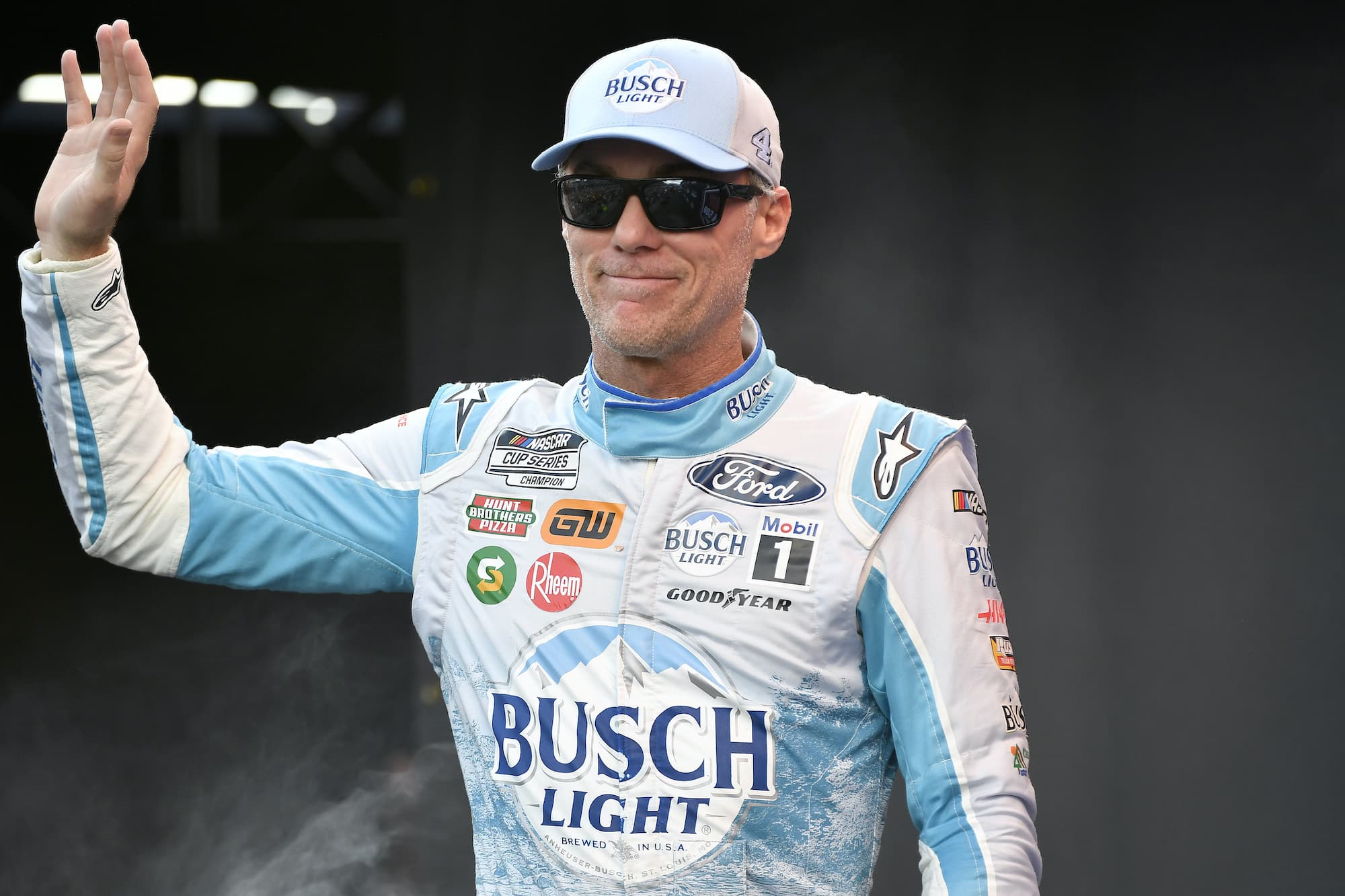 Kevin Harvick Candidly Admits He's Just Like Ty Gibbs in One Controversial Way
Kevin Harvick is closing out his career. Ty Gibbs is beginning his. The veteran recently addressed a tough question and his answer revealed that he and the youngster think alike in one controversial way.
Kevin Harvick has 60 NASCAR Cup Series wins to his credit, including the 2007 Daytona 500. He won the 2014 season championship. He's a first-ballot Hall of Famer and has nothing left to prove. 
The 47-year-old driver recently participated in a Q&A session called "Green Flag, Red Flag" with his fellow Stewart-Haas Racing teammates and candidly answered a variety of questions, including one where his answer revealed he's a lot more like Ty Gibbs than anyone would have thought. 
Kevin Harvick and Stewart-Haas Racing teammates participate in Q&A session
To wrap up 2022, Stewart-Haas Racing came up with an interesting social media idea where it rounded up all of its drivers, sat them in front of the camera, and then proceeded to pepper them with a combination of silly and thought-provoking questions. 
Some of the more notable ones include: Is a hotdog a sandwich? (Aric Almirola stands out on this one). Do you eat cold pizza for breakfast? Toilet paper – over or under? (This one takes an awkward turn.)
Harvick admits willing to wreck teammate for win
While the questions were lighthearted, one, in particular, stood out simply because it was specific to racing and revealed to what lengths drivers would be willing to go for victory.  
"Wrecking my teammate for the win. Frowned upon, but you've got to do what you've got to do," Kevin Harvick said with a smile while waving a green flag. 
Interestingly, his SHR teammates had varying opinions. Aric Almirola half-heartedly waved a green flag, indicating he'd do it but reluctantly, while Cole Custer showed a red flag. 
"I'd say red flag," the now-Xfinity Series driver said. "You got to go whatever you can for the win but costing your teammate a really good finish is probably not the right thing to do."   
"Depends on the day," Ryan Preece said. "Depends on the circumstance." 
Ty Gibbs wrecked Brandon Jones at Martinsville
Harvick described the situation perfectly. Wrecking a teammate is frowned upon in the driver code, but it happens. And you don't have to go far back to find an example. Ty Gibbs flat-out dumped his Xfinity Series JGR teammate Brandon Jones on the final lap at Martinsville in November.
In that situation, Gibbs didn't just wreck Jones for the win, but also took away his teammate's chance of advancing to the Championship 4 race in Phoenix. The significance of the moment is why the move was roundly criticized by fellow competitors and others in the industry.
Harvick didn't say anything. Now we know why.