Kevin Harvick Believes Jimmie Johnson's NASCAR Teammates Had a 'Golden Horseshoe Up Their A$$'
Kevin Harvick rarely holds back. The NASCAR 2014 premier series champion is known for his aggressive tactics – on the racetrack competing against rivals and in the media room facing down quote-hungry sportswriters.
In the moments following a 2010 race, Harvick was asked by a member of the media horde about Hendrick Motorsports driver Jimmie Johnson, the race winner.
As the runner-up, Harvick, perhaps a bit unwise in his younger days, delivered stark commentary.
Kevin Harvick talks down on Hendrick Motorsports and Jimmie Johnson
"They have a golden horseshoe stuck up their a$$," Harvick said during the post-race press conference. He was still seething over failing to capture the checkered flag by not outmaneuvering Johnson. 
In the closing laps of the Auto Club 500 at Auto Club Speedway in Fontana, California, in February 2010, Johnson benefited from a fortuitous final pit spot and a crafty defense to close out the win.
With three laps remaining, Johnson and Harvick fought for the lead. Trailing his friend, Harvick weaved up and down the track, probing for an opening.  
Johnson secured his flank with a series of blocking maneuvers. Unnerved, Harvick ended up scraping the Turn 4 wall, causing him to lose momentum and the race. 
Johnson, driving the No. 48 Chevrolet for the deep-pocketed and resurgent Hendrick Motorsports, secured his 48th career victory. 
Harvick's frustration carried into the post-race press conference. 
"There's no way of getting around how lucky they are," he said.
Harvick acts like a sore loser during 2010 post-race press conference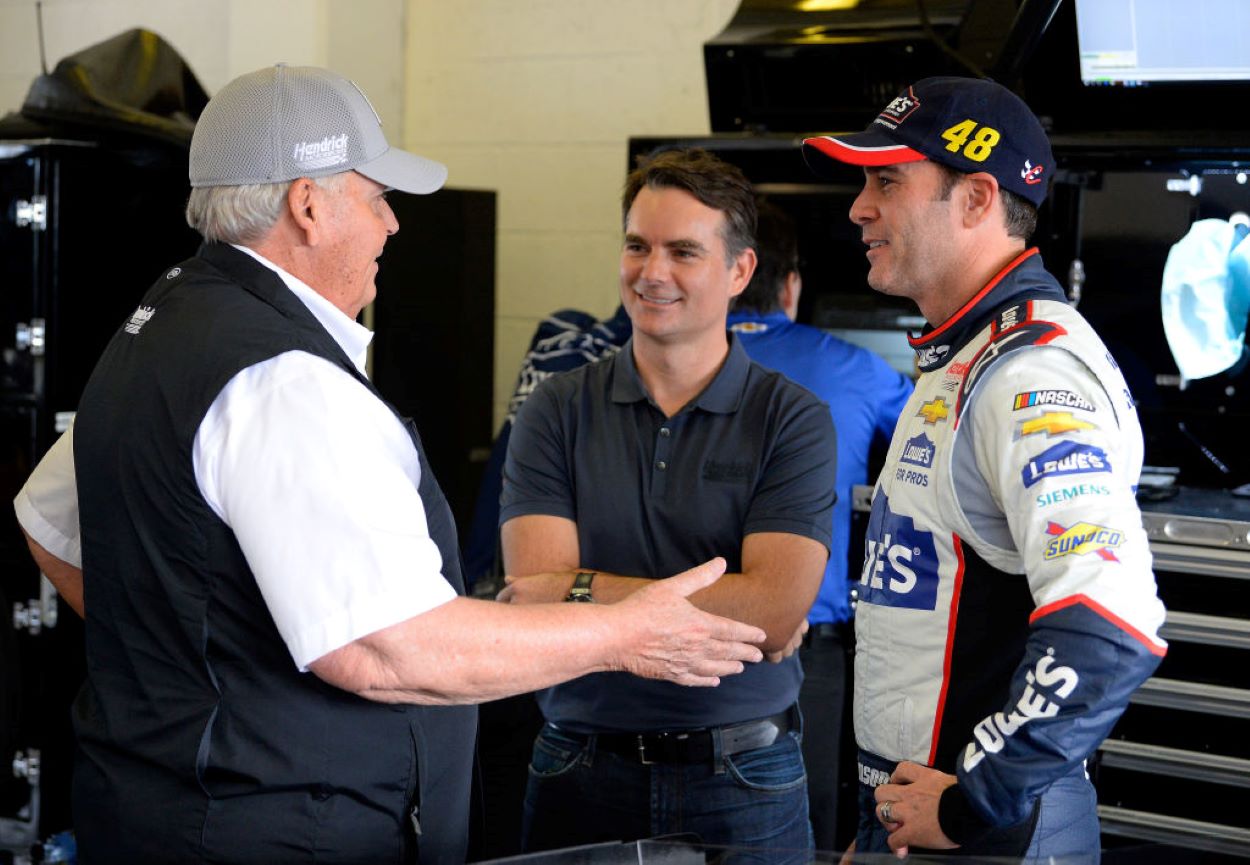 Can someone say sore loser?
Johnson entered pit road with 26 laps to go ahead of Brad Keselowski, who lost control of his machine along Turn 4. It resulted in a caution period.
When the field pulled onto pit road, Johnson was long gone. He emerged in first place. That's just good racing, but Harvick was a bit upset and wanted to express his thoughts creatively.
Well, at that time, news outlets such as The Associated Press did not print his "golden horseshoe" comment. When social media was in its infancy, word spread faster from an ancient means of communication, like word of mouth.
Harvick rarely holds back, but about 10 years later, he was asked about his comments. He viewed them with a more mature lens.
"I do go back and think about (it) years later," Harvick said during a NASCAR video. "Sometimes you just say things, and you look back and say, 'that wasn't the right thing to say at that particular time.' "
A more mature Harvick on Johnson and his team: 'They weren't lucky they were just fast'  
But that wasn't all he said.
Still acting like a sore loser, he didn't congratulate Johnson. He talked down to him.
"Jimmie's a good friend of mine, but there's no way getting around how lucky they are," Harvick said.
Lucky or good?
Johnson was coming off his fourth Cup championship and was in the early stages of his "Drive for Five" campaign, which he would achieve. Johnson went on to claim seven drivers' titles before moving on to other driving ventures.
A decade later, Harvick backtracked.
"They weren't lucky," he said. "They were just fast."
Maybe you do get wiser with age.