Kevin Harvick Expecting 'Trial by Fire' for NASCAR'S New 18-Inch Tires at 'Rough' Fontana Track
Kevin Harvick doesn't know what to expect.
It's an enigma.
NASCAR Cup Series' Next Gen cars and their new 18-inch wheels have yet to test at the two-mile Auto Club Speedway in Fontana, California. Tire management will be essential for the "rough" Wise Power 400 on Feb. 27.
Harvick just doesn't know how important.
It's a mystery.
Regan Smith: 'There are so many unknowns going in the weekend'
Harvick plans to keep close attention on tire maintenance. Cup team officials also will study the Xfinity Series drivers during the Production Alliance Group 300 on Feb. 26. It could give them clues on how the new single lug-nut tires will handle the unforgiving track. And for how long. 
"There are so many unknowns going in the weekend," Fox Sports analyst Regan Smith said on NASCAR Race Hub. "It is a rough racetrack. To me, it's about the roughness and the fact drivers are finally going to have to equate in their brains, 'OK, if I go a little too hard on the tires, am I going to pay a penalty a little bit later on in this run?' 
Harvick contends the teams' tire quandary could be a deciding factor on Feb. 27. 
"It's always tire management …," Harvick said, reported by motorsport.com. "I think as you look at that, it could turn into a tire conservation type of situation to where just have to pick a speed and run the speed so you can make it through a whole fuel run. You just don't know those things until you go do it, so being able to adapt and adjust is going to be important."
But how essential?
Kevin Harvick: 'When you go to Fontana … you have the most aggressive tire fall off of all the racetracks we go to'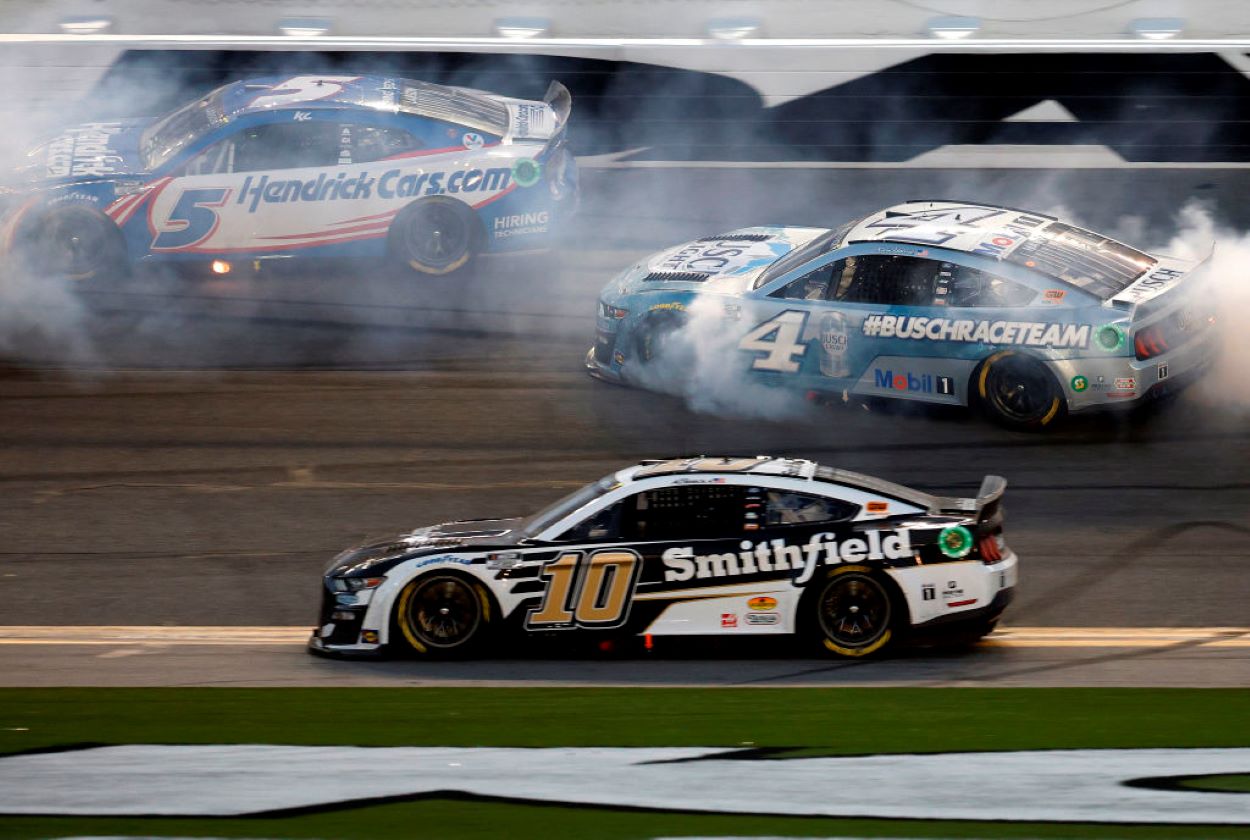 Two teams lost tires during the Daytona 500, resulting in NASCAR officials issuing penalties for the safety violations. Still, Harvick believes the tires will go through another "trial by fire" at Fontana, which remains virtually the same from the last time the venue staged a NASCAR weekend in 2020. 
The proposed "Next Gen in California" plan was never developed. To replace a track that hasn't been resurfaced since 1997, NASCAR envisioned turning the intermediate track into a half-mile oval. It never came to fruition, and it left the drivers with a rubber-eating surface to navigate for qualifying on Feb. 26. 
The wear-and-tear on the tires will remain unpredictable. 
"When you go to Fontana, a two-mile racetrack where you have the most aggressive tire fall off of all the racetracks we go to," Harvick said. "It'll be trial by fire."
An in-race puzzle to solve.
Justin Haley, Kaz Grala teams penalized for losing tires during Daytona 500
NASCAR inspectors issued safety-violation penalties to Kaulig Racing and Money Team Racing for the teams' Next Gen cars losing tires during the Daytona 500 on Feb. 20.
Kaulig's No. 31 Chevrolet, driven by Justin Haley, will be without crew chief Trent Owens, front changer Jacob Nelson, and jackman Marshall McFadden for the team's safety for the following four points races violations. Kaulig will appeal.
Money Team's No. 50 machine, driven by Kaz Grala, will miss crew chief Tony Eury Jr., jackman Chris Zima, and rear changer Aaron Powell for the next four points events. Money Team is not expected to issue an appeal.
NASCAR also announced that Team Penske and RFK Racing would not face any penalties after the teams had tires confiscated before the Daytona 500.
Like Sportscasting on Facebook. Follow us on Twitter @sportscasting19.
RELATED: After Austin Cindric Achieved His First NASCAR Win in Grand Style, Who's Next?