Kevin Harvick Points Out the Key Problem with NASCAR's Next Gen Cars
Outspoken Kevin Harvick is speaking up again. The 2014 NASCAR premier Cup champion wants to schedule a time to visit the administration offices and talk about enacting a few changes before the 2022 Daytona 500.
In Harvick's case, considering the way he has handled feuds in the past, he's probably thinking of ways to storm into president Steve Phelps' office and demand the rule alterations he has in mind.
Kevin Harvick: 'If I was in charge, I would send that the press release out, yesterday'
The first item on his agenda is increasing the horsepower of the Next Gen cars that are set to make their NASCAR debuts.
Holding court at the Charlotte test session on Nov. 17, Harvick told a media horde he knew what to do:
"Everyone's expectation, from the driver's standpoint, probably would vote for more power," Harvick said, reported by racingnews.co. "The easiest thing to do is make it the same as the short track engine package. To make it as easy on the engine shop as possible."
"If I was in charge, I would send that press release out, yesterday. …"
Among the cost-saving incentives the Next Gen cars will offer NASCAR teams, the spec chassis eliminates the deep-pocket organizations from creating an edge with their machines.
Harvick wants to combat the Next Gen drag.
Harvick talks Next Gen car solutions: More horsepower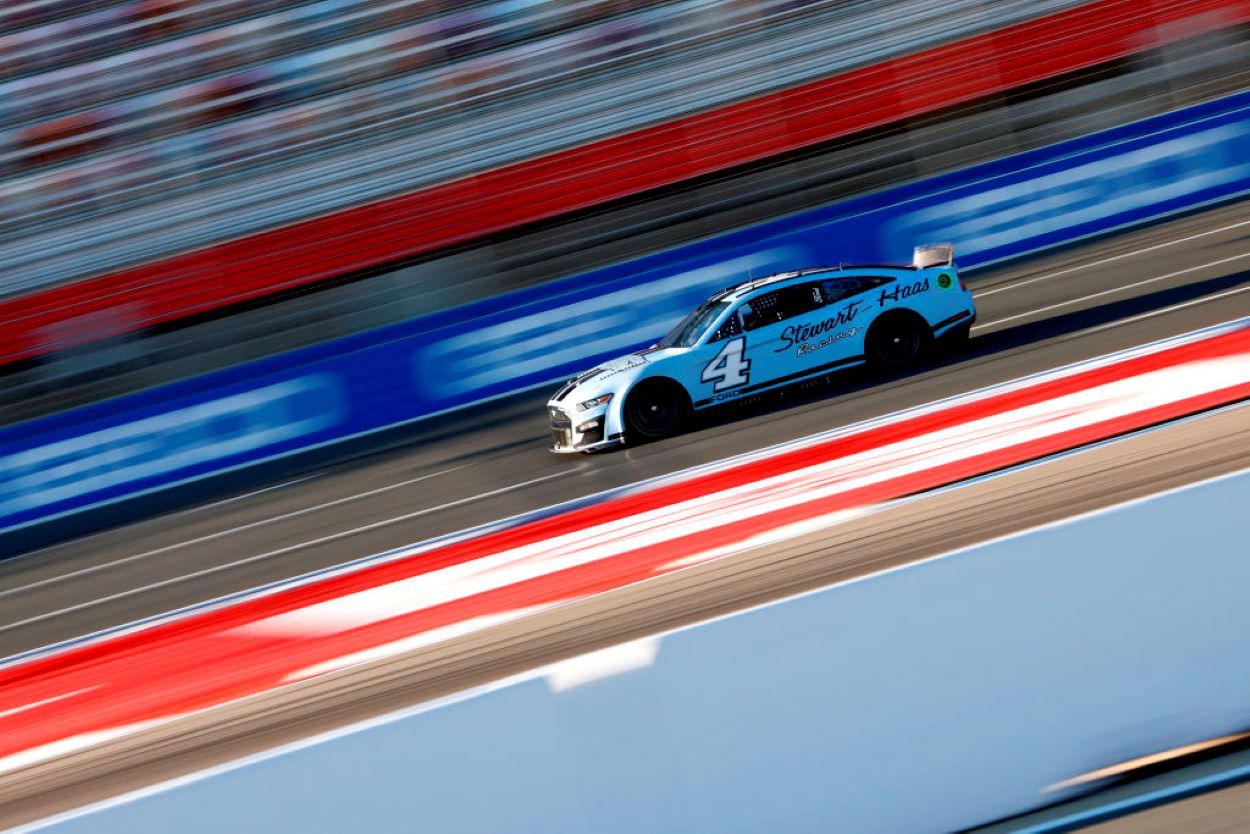 Harvick's solution, make that demand, is more horsepower.
During previous test sessions, NASCAR teams experimented with several engine setups, with varying opinions from various garages.
NASCAR teams will resume testing on Dec. 15 and 17 at Charlotte Motor Speedway. Dec. 16 will be a "cold day" so teams can analyze data, according to nascar.com.
During the upcoming session, Harvick expects NASCAR to test a 670hp engine package at the 1.5-mile quad-oval in Concord, North Carolina. In the past, that package was generally used on short tracks.
But Harvick wants more, telling anyone who asked during Champion's Week in Nashville, Tennessee, on Nov. 30-Dec. 2.
"I don't think there's anybody that doesn't want more horsepower," he said. "Just because of the fact that the (new) car has more drag and it's slower than the current car.
"They're just not at the particular speed that they need to. From my standpoint, there's not any issue with the 670 package."
When asked to compare the new cars' aerodynamics tests to the engine experiments, Harvick said he wanted NASCAR to focus on the engine. Drivers should also stop complaining about Next Gen cars and get to work.
"The engine's a must, in my opinion," he said.
Harvick: 'I'd put 1,000 horsepower in it'
A proud father, Harvick has been looking for a little boost the past two seasons when he placed fifth in consecutive playoff chases, one spot from a chance to compete in the Championship 4 race.
"The car, that's going to be a work in progress," Harvick said. "You definitely have all the right people involved now, with the team engineers. Everyone that is involved now they're the people that can help solve the problem."
Or they can ask Harvick.
He knows what NASCAR needs to do.
"… That we're going to go to more horsepower," Harvick said. "I'd put 1,000 horsepower in it, but I don't know that I'd have a lot of support on that one, outside of the drivers."