Kevin Love's Departure From Team USA Confirms the Cleveland Cavaliers Have a $60.2 Million Problem
USA Basketball's men's national team is in Tokyo. One player expected to go to the 2020 Tokyo Games will not be there, however. Kevin Love withdrew after spending 10 days in the USA Basketball camp in Las Vegas.
Love was one of the last players named to the 12-man roster in a widely criticized decision. Denver Nuggets backup center JaVale McGee took his spot. Is it the end of the world that Kevin Love won't be playing in his second Olympic Games? No. But it raises a lot more questions than it answers.
Kevin Love hasn't exactly been Mr. Dependable of late
Throughout his NBA career, injuries both major and nagging have hounded Kevin Love. In 13 NBA seasons, he's topped 80 games only once, and that was as a rookie. Since then, he's missed at least five regular-season games a year.
The last five seasons have been an almost non-stop battle to keep Love in uniform. Since the 2016–17 season, Love has missed 161 of a possible 383 regular-season games.
Besides a spotty record for availability, Love will also be 33 years old before training camp starts in September. Since the Minnesota Timberwolves traded him to the Cleveland Cavaliers in 2014, Love has never been "the guy" for the Cavs.
In his final three seasons with Minnesota, Love took 18.5 shots per game and had 8.2 free-throw attempts a night. Since coming to Cleveland, those numbers are 12.8 shots and 4.2 foul shots per game. Love never assumed the first-option role he carried with the Timberwolves.
That has been a problem for the Cavaliers. And the latest development with Kevin Love makes it a more urgent one.
Love gets the paycheck of a superstar, but he hasn't played like one for the better part of a decade
The Minnesota Timberwolves acquired Kevin Love In a draft-night trade in 2008 and part of an eight-player deal with the Memphis Grizzlies. After his rookie deal expired in 2012, the Wolves re-signed Love to a four-year, $60.8 million contract. After the trade to Cleveland, Love re-upped with the Cavs in 2015 for five years and $113.2 million and inked a four-year, $120.4 million extension in 2018.
But the returns have been diminishing, and they have been for a while. In 25 games in 2020–21, Love put up the worst scoring numbers since his rookie season. He averaged just 12.2 points and 7.4 rebounds (a career-low) in 24.9 minutes a night (also the lowest of his career). His shooting was a dismal 40.9% overall and 36.5% from 3-point range.
On a per-36 minutes basis, Love's 17.7-point average last season was his worst since 2014–15, his first year in Cleveland. And let's face it; NBA big men don't get more durable as they enter their mid-30s. That means the Cavaliers have a tough decision ahead.
Love is still owed $31.3 million for next season and another $28.9 million in 2022–23. There are no options or partial guarantees. Instead, Cleveland is on the hook for the entire $60.2 million price tag.
The Cavs do have options about what to do with Kevin Love. They're just not particularly good options.
The Cleveland Cavaliers have some wiggle room to make a tough Kevin Love decision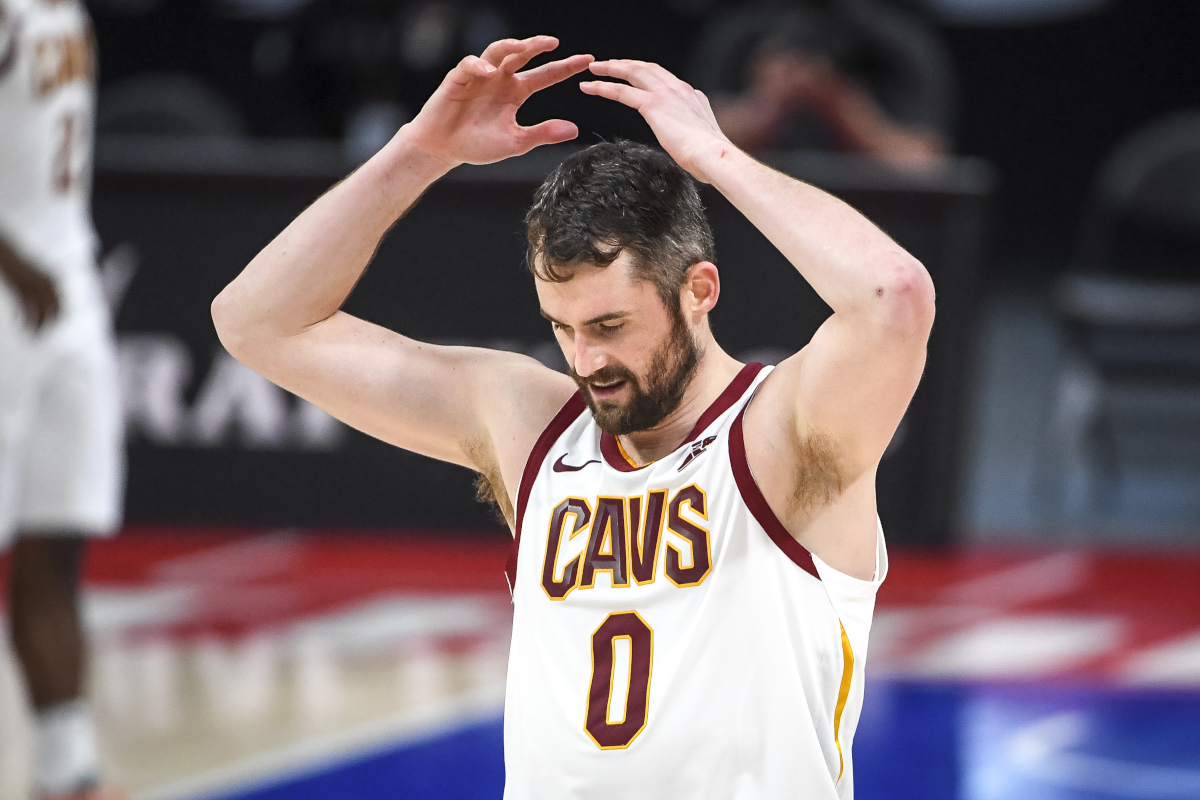 The Cavs enter the offseason with $1.46 million in dead money on their books for next season and none beyond that. They have $94.2 million allocated for 2021–22 salaries, $71.6 million for 2022–23, and $17.6 million in 2023–24.
If the Cavaliers want to release Love and eat the remaining $60.2 million, they could spread the cap hit over five years if they cut him loose before Sept. 1. Afterward, they'd be on the hook for his entire $31.3 million salary for next season and could stretch the remainder over three years, per CBA FAQ.
So that would either be $12.04 million a year for five seasons before Sept. 1 or $9.63 million over three years if after that date.
A trade may not be feasible because (a) they'd have to have a lot of money coming back, and (b) no general manager in his right mind is going to give up legitimate assets for Love at this point. Besides an unlikely return to form by Love, the best scenario for the Cleveland Cavaliers is to eat the rest of the deal. It will hurt, but not as much as stunting the development of young players to give Kevin Love minutes.
Statistics courtesy of Basketball Reference. Contract data courtesy of Spotrac.