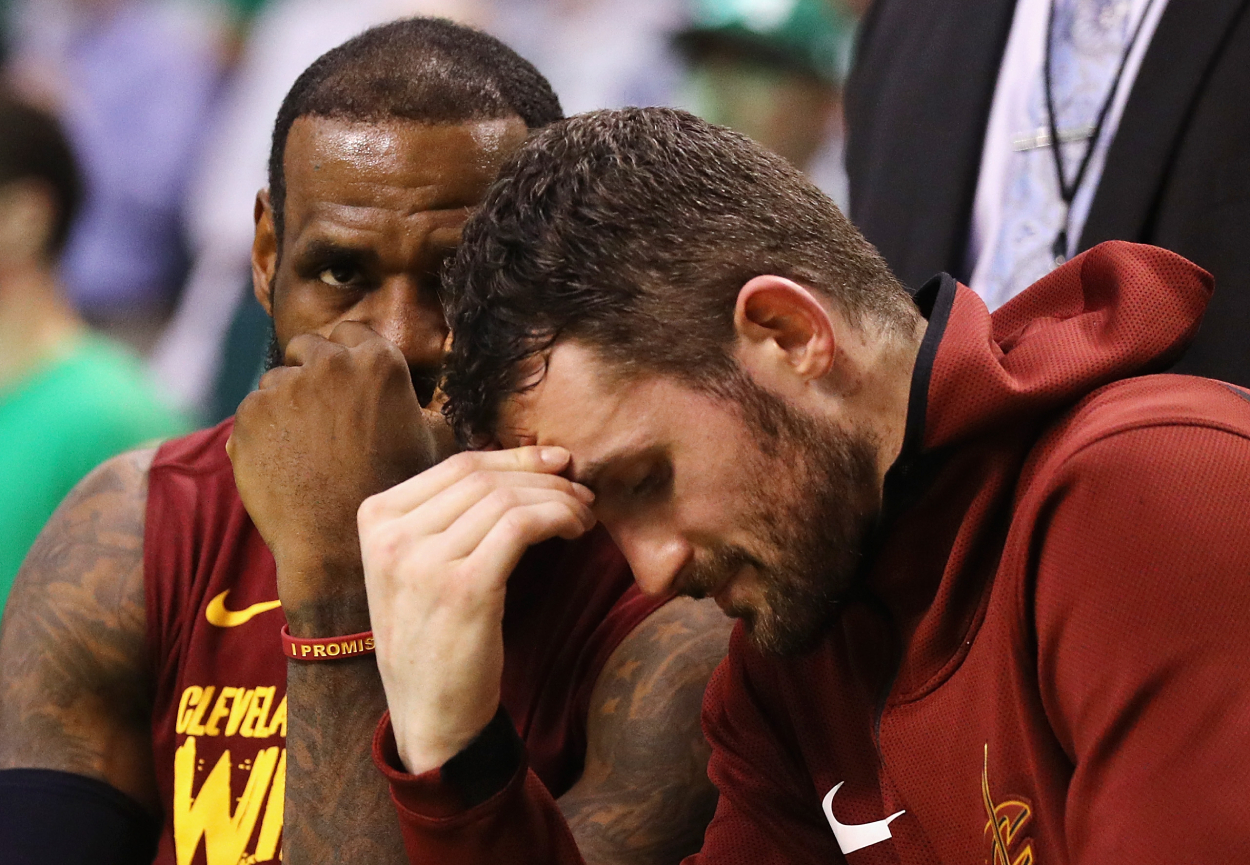 Kevin Love Compares Playing on a Struggling LeBron James Team to a 'Soap Opera': 'People Always Gotta Have Stuff to Talk About'
Cleveland Cavaliers big man Kevin Love understands the kind of scrutiny LeBron James teams receive, especially one that's struggling. And he recently compared it to soap operas.
LeBron James is arguably the most polarizing athlete in the world. You either love him or hate him.
His unreachable level of popularity, though, puts his team under constant media scrutiny almost every day. And just a handful of players understand what it's like to play in those conditions.
His former Cleveland Cavaliers running mate Kevin Love is one of them, and Love recently compared it to a soap opera.
LeBron James and Kevin Love dealt with constant outside noise on the Cavaliers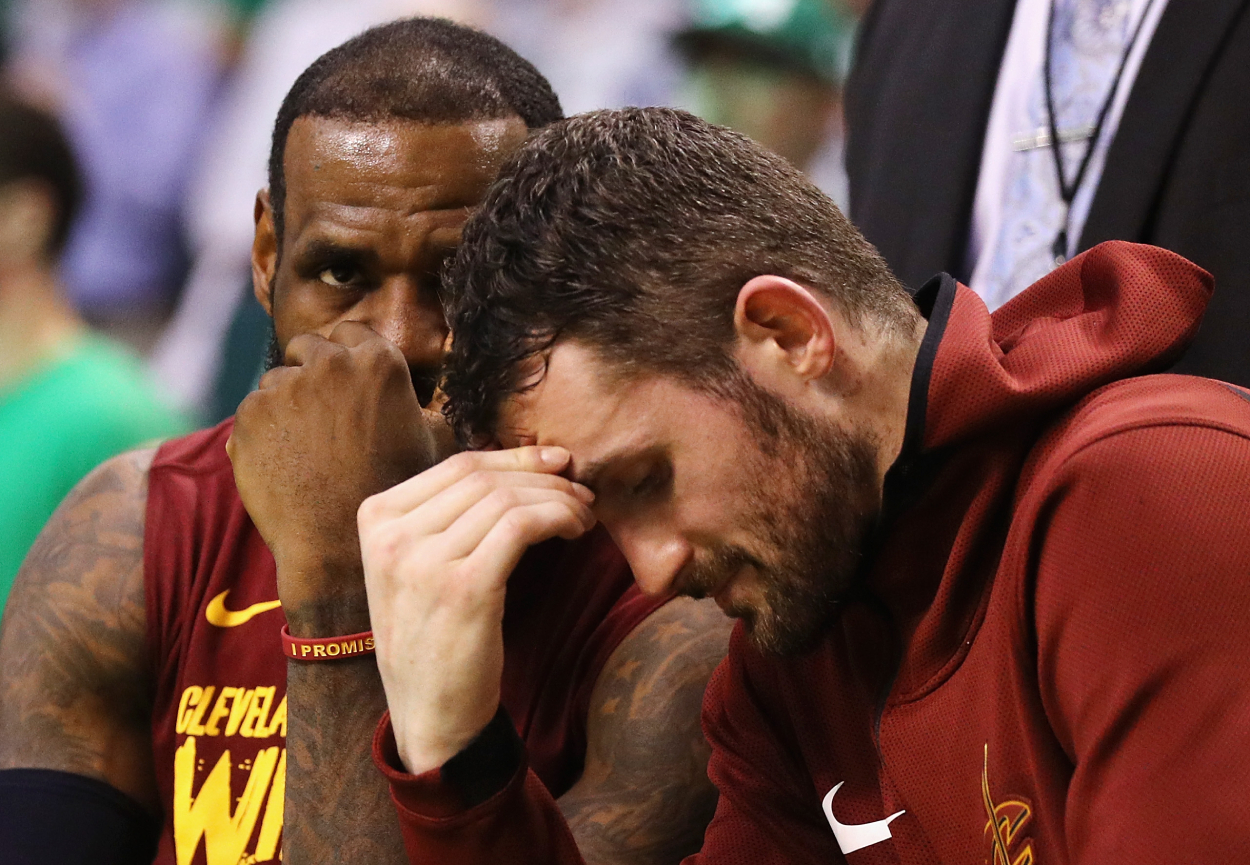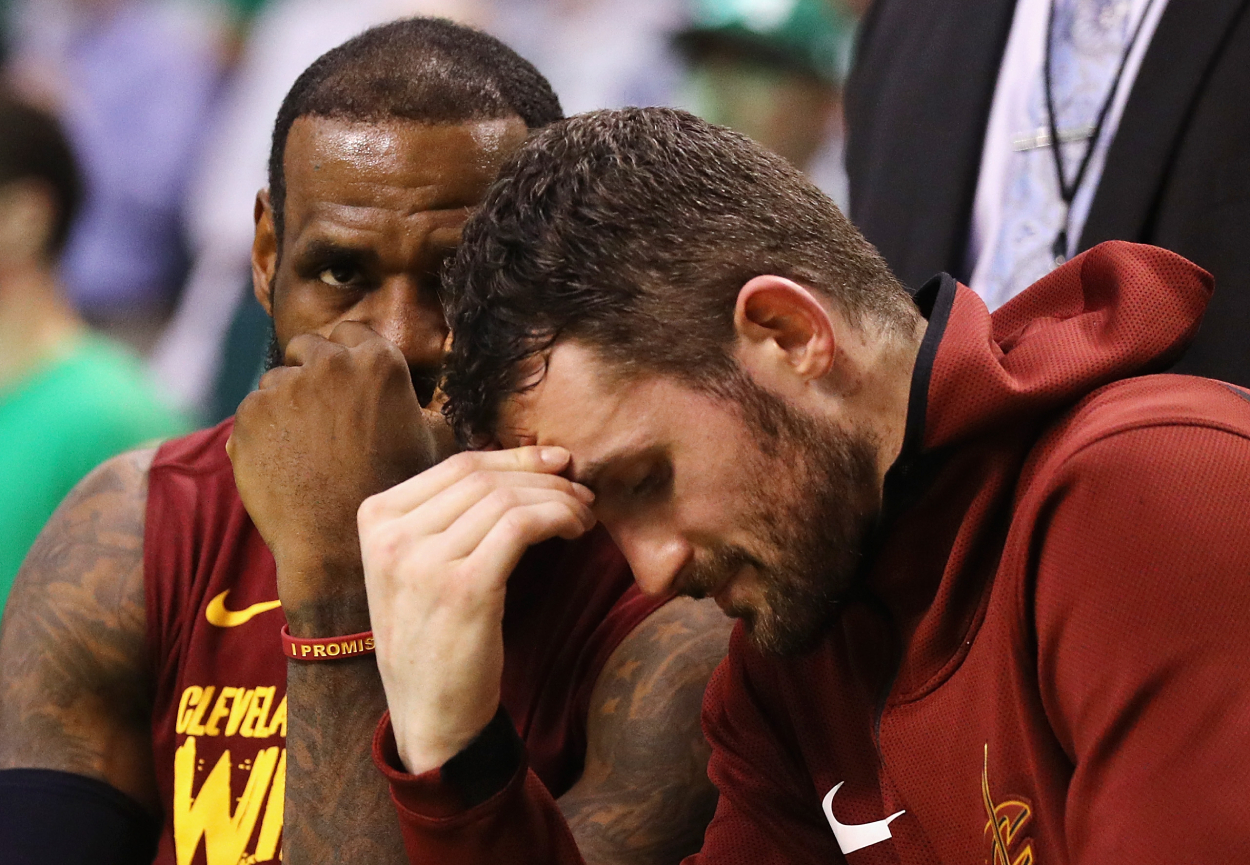 Kevin Love teamed up with LeBron James on the Cavaliers in 2014, and the Cavs went on a remarkable run the next four years. They went to four straight NBA Finals and won a championship in 2016.
But they also did all that despite there almost always being some sort of dramatic storyline hovering over them.
Throughout the first half of that 2014-15 season, the NBA world criticized James, questioning whether he made the right decision by going back to Cleveland. But after a 19-20 start that year, the Cavs turned things around and made the NBA Finals.
There were also a plethora of questions about head coach David Blatt and his inexperience during the first two years of that run. And despite him leading Cleveland to a 30-11 start in 2015-16, the team eventually fired him in the middle of the season and promoted Tyronn Lue. The decision resulted in a championship.
There was then the constant noise about James' relationship with Kyrie Irving, and Irving eventually requested a trade. Cleveland sent him to the Boston Celtics, and that deal seemed to take up SportsCenter segments for weeks.
The Cavaliers, though, still had high expectations after that trade with guys like James, Love, Isaiah Thomas, Dwyane Wade, and Derrick Rose on the roster. But after another slow start (which everyone overreacted to), the team traded away numerous players at the deadline and forced even more questions to pop up. They, however, still somehow made the Finals again.
All that drama was essentially just the cliff-notes version of James and Love's time together. There were plenty more storylines that popped up throughout those four seasons before James left and went to the Los Angeles Lakers in 2018.
And to describe what being under that microscope was like, Love called it a "soap opera."
Kevin Love compared the scrutiny of being on LeBron James-led teams to soap operas
LeBron James' Lakers are in a situation he knows well. Everyone is questioning whether they are the real deal due to their mediocre 23-23 record and Russell Westbrook's struggles.
So, Kevin Love recently discussed what the Lakers might be going through.
"I've always said that Bron has like a gravitational pull," he said on the Jan. 21 episode of The Old Man and the Three podcast. "… Everybody just like focuses on that, so any step in the wrong direction, people are just gonna like take that and just keep grinding away on it. It's tough."
Love later detailed what it was like when James played with him in Cleveland.
"We had great expectations, and people were saying 'Finals or championship or bust,' so, with that, every little misstep, or you lose three in a row, or you're hovering around .500, it's just a dozen different storylines," he said. "It's a soap opera. People always gotta have stuff to talk about. 24/7/365 media presence and different storylines. If not, you're not gonna get your ratings; people aren't gonna watch the show. It's just a fact."
Despite the outside noise, LeBron James teams typically have great success, so winning makes up for the scrutiny. And Love got a taste of what it's like without James the last three years, which equaled a bunch of losing and no media attention at all.
But now, as he and his Cavaliers are contending in the East again, the UCLA product addressed his thoughts on the Lakers.
Does he think the Lakers can turn things around?
While there are numerous concerns about the Lakers, Kevin Love doesn't seem too worried about them. He believes things can turn around once Anthony Davis returns to the court.
"I wouldn't be surprised if they figure it out, I would say All-Star break and after All-Star break," he said. "I do feel like they will make some noise. How far they will go? I don't know, but I think some of the expectation and the scrutiny is, I'm not gonna say unwarranted, but in some ways unfair because you gotta see how it plays out."
If anyone knows anything about struggling LeBron James teams figuring things out, it's Kevin Love. So, his thoughts should at least give Lakers fans a little encouragement.
Stats courtesy of Basketball Reference