Kevin Love Reveals the Moment at UCLA When He Realized That Russell Westbrook Would Be Great
Kevin Love and Russell Westbrook have both been incredible players in their NBA careers. They were also both pretty good players during their college careers at UCLA. Recently, Love discussed one of the first times he interacted with Westbrook in college, and he seemed to be in absolute awe of his abilities.
Kevin Love and Russell Westbrook had one great season together at UCLA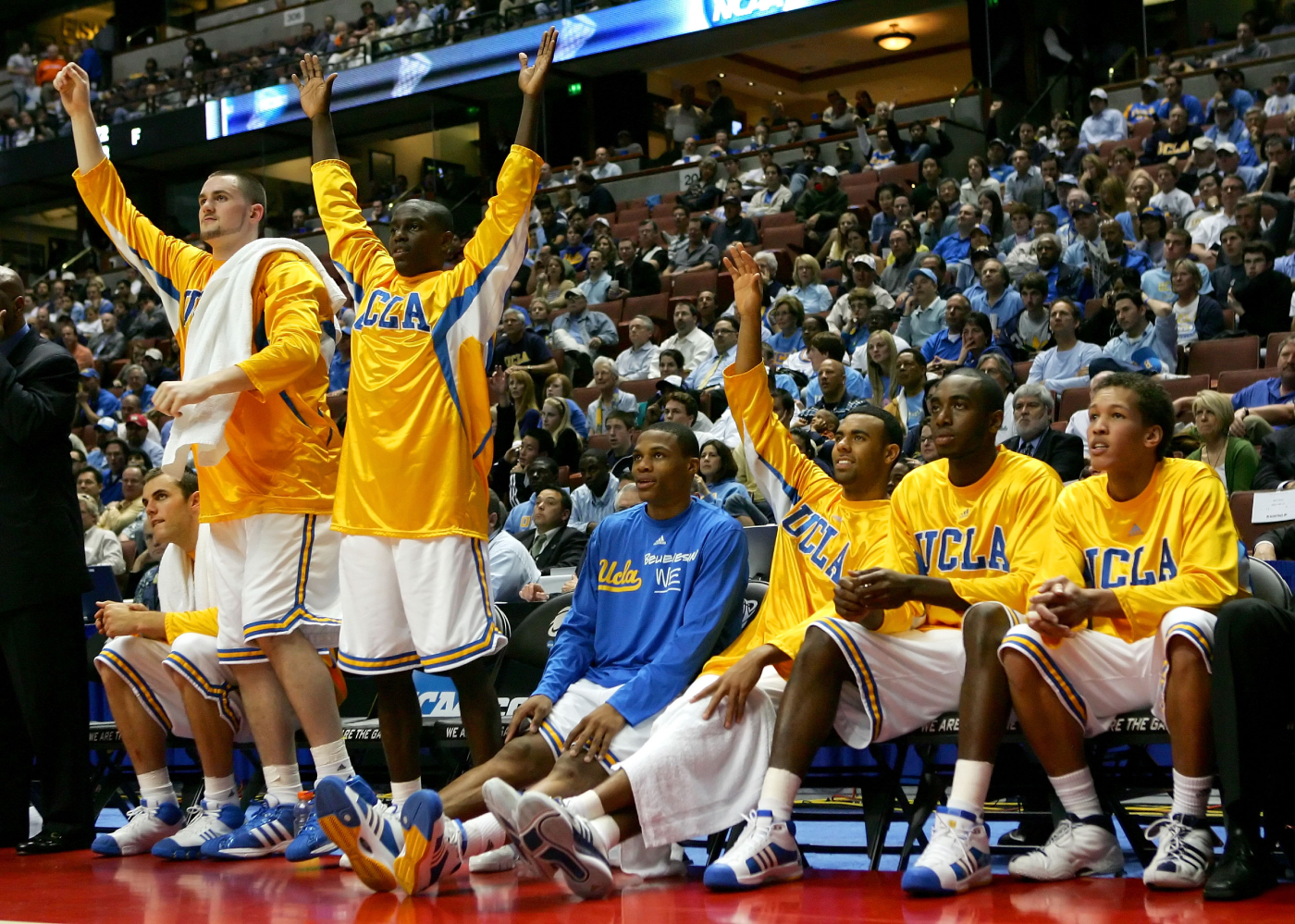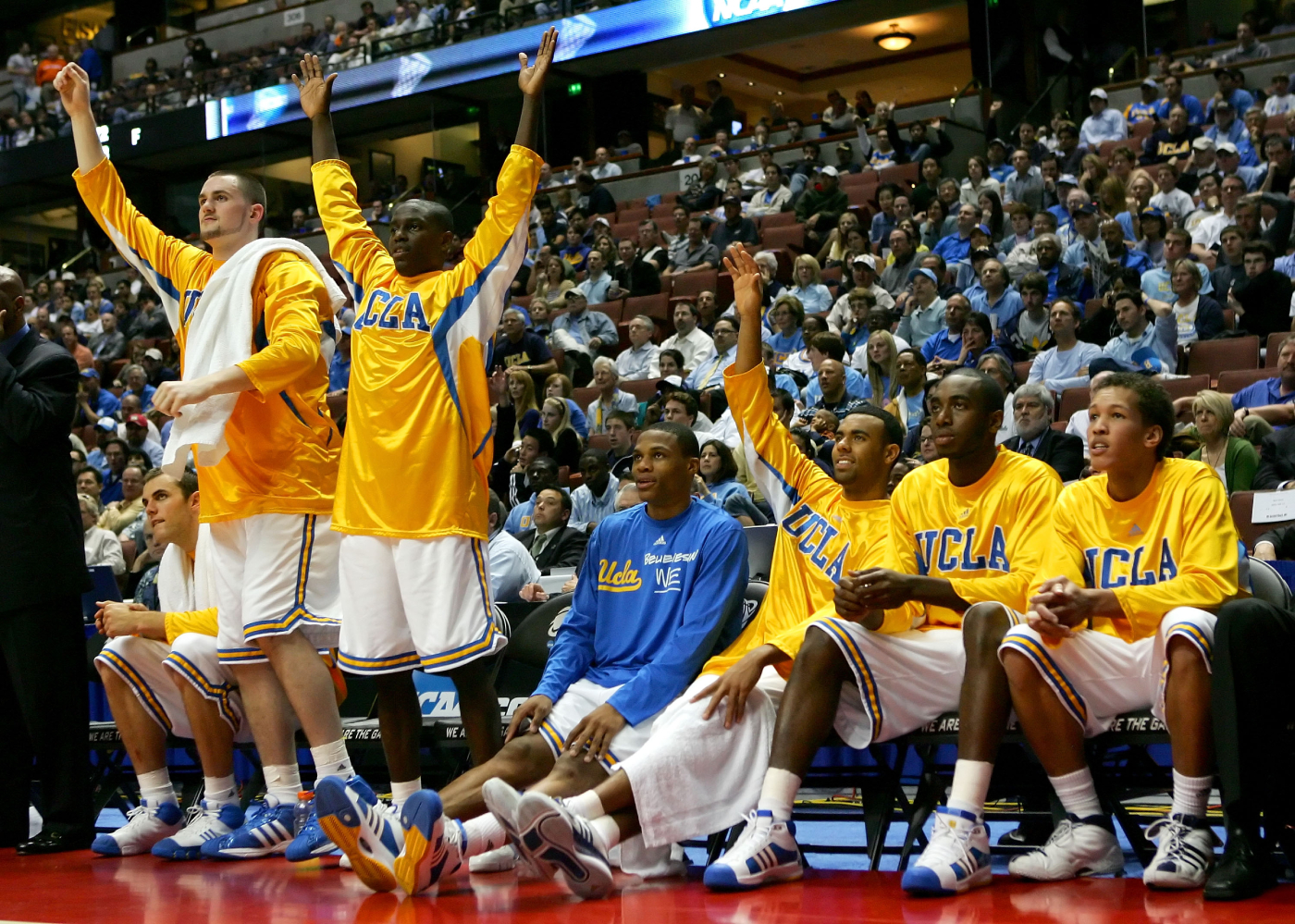 Westbrook first played at UCLA in 2006-07 and played in all 36 games that year, but he wasn't a huge difference-maker as he averaged 3.4 points per game. UCLA was excellent that season, though, as they went 30-6 and reached the Final Four.
The next season, though, was the Westbrook and Kevin Love show. Westbrook averaged 12.7 points per game, 3.9 rebounds, and 4.3 assists, and he earned the Pac-10 Defensive Player of the Year award. 
Love, one the other hand, in his only college season, was one of the best players in the country. He averaged 17.5 points per game and 10.6 rebounds. He ultimately earned the Pac-10 Player of the Year award and was a Consensus All-American.
UCLA was dominant again too. The Bruins went 35-4 and went to the Final Four again before losing to Memphis. In the Sweet 16, Love had a massive game as he scored 29 points and had 14 rebounds.
Kevin Love reveals when he realized that Russell Westbrook would be great
Love recently went on to JJ Redick's The Old Man and the Three Podcast, and while he was on it, he remembered one of his first memories of Westbrook.
"I remember my first day on campus, I'm walking up Bruin walk, I'm going to my first history class, and we kind of interchange with our academic adviser … he made fun of my clothes," Love said. "I was like, 'OK, well, let's go get on the court, let's play fives."
Love then said that they played at a gym with some professional players, and Westbrook was amazing. 
"I can remember that first day it was like Jordan Farmar, Baron Davis, a few other point guards from the league," Love said. "He was just grabbing a rebound at the top of the square, bringing it down, kind of surveying, dribbling up the court, getting up, getting way above, finishing with his left. Just his body, body control, how he passed, what he was willing to take on even in an open gym. I was like, 'Wow, this kid's going to be amazing." 
Love certainly realized early what we all know now — Russell Westbrook is an absolute superstar.
They have both had incredible NBA careers
Since leaving UCLA, Love and Westbrook have both gone on to have incredible NBA careers.
Westbrook went to the Seattle SuperSonics, who are now the Oklahoma City Thunder, with the fourth overall pick in the 2008 NBA draft. He ultimately had an incredible career with that franchise too as he led the NBA in points per game twice with them and led it in assists per game twice also. He also averaged a triple-double in three straight seasons from 2016-17 through 2018-19. 
Additonally, Westbrook won the league MVP during the 2016-17 season and is a nine-time NBA All-Star. He now stars for the Houston Rockets.
Love, one the other hand, has had a lot of success with the Minnesota Timberwolves and Cleveland Cavaliers. While in Minnesota, he led the NBA in rebounds per game in 2010-11, and he had a great year in 2013-14, as he averaged 26.1 points per game and 12.5 rebounds. 
While on the Cavaliers, who he started playing with during the 2014-15 season, Love won an NBA championship with LeBron James and Kyrie Irving in 2015-16.
In total in his career, Love has been a five-time NBA all-star, and he was the 2010-11 Most Improved Player.
Kevin Love and Russell Westbrook were stellar college players. Now, they are NBA legends.
Stats courtesy of Sports Reference and Basketball Reference