Kevin Love Sends Strong Message About Kyrie Irving's Recent 'Sign of Disrespect'
For a while now, Kyrie Irving has been one of the most polarizing players in the NBA. While he certainly has plenty of fans who love him and love watching him play, there are just as many people who have been critical of him. Now, he has a former teammate criticizing his recent comments. It's a former teammate who typically doesn't make headlines, either, as Kevin Love recently sent a strong message about Irving's "sign of disrespect."
Kyrie Irving and Kevin Love played together on the Cleveland Cavaliers
RELATED: Kyrie Irving Sends a Stern Message to His Critics
After spending the first six seasons of his career with the Minnesota Timberwolves, Kevin Love got traded to the Cleveland Cavaliers in 2014-15 to team up with Kyrie Irving and LeBron James. The three of them ultimately had a ton of success together, too.
In 2014-15, the Cavaliers were one of the best teams in the league. James was, of course, their best player, but Irving averaged 21.7 points per game and 5.2 assists, while Love averaged 16.4 points per game and 9.7 rebounds. However, while the Cavaliers reached the NBA Finals that year, Love suffered an injury in the playoffs, and Irving got hurt in Game 1 of the NBA Finals. This led to the Golden State Warriors defeating the Cavaliers in six games in the Finals.
In 2015-16, though, the Cavaliers were excellent again and reached the NBA Finals again. Additionally, despite falling behind 3-1 to the Warriors in the Finals that year, James, Irving, and Love led the Cavs all the way back to win the series in seven games. Love didn't put up incredible stats in those Finals but came up big in important moments. Irving, however, dominated as he averaged 27.1 points per game.
The Cavaliers went back to the Finals in 2016-17 but lost to the Kevin Durant-led Warriors in five games. Following that season, Irving reportedly requested a trade, which led to him getting sent to the Boston Celtics. He now plays for the Brooklyn Nets while Love is still in Cleveland.
Kyrie Irving potentially called media members 'pawns'
RELATED: Kevin Love Reveals That He Had to Change Everything to Play With LeBron James
Irving is headed into a big season with Kevin Durant and the Brooklyn Nets. However, Irving has yet to speak to the media since starting training camp on Dec. 1. He then released a statement on Dec. 4.
"Instead of speaking to the media today, I am issuing this statement to ensure that my message is properly conveyed," part of the statement said, according to ESPN. "I am committed to show up to work every day, ready to have fun, compete, perform, and win championships alongside my teammates and colleagues in the Nets organization."
It continued: "COVID-19 has impacted us all in many ways, so I pray for the safety and health of our communities domestically and abroad. I am truly excited for the season to start and I am also praying that everyone remains safe and healthy throughout this journey. … My goal this season is to let my work on and off the court speak for itself. Life hit differently this year and it requires us, it requires me, to move differently. So, this is the beginning of that change."
The league then fined Irving and the Brooklyn Nets $25,000 each for not complying with its media rules.
Irving then reacted to the fine on Instagram.
"I pray we utilize the 'fine money' for the marginalized communities in need, especially seeing where our world is presently," Irving wrote, per ESPN. "[I am] here for Peace, Love, and Greatness. So stop distracting me and my team, and appreciate the Art. We move different over here."
His last line, though, has received significant attention.
"I do not talk to Pawns. My attention is worth more," Irving wrote.
Kevin Love sent a strong message about Irving's comments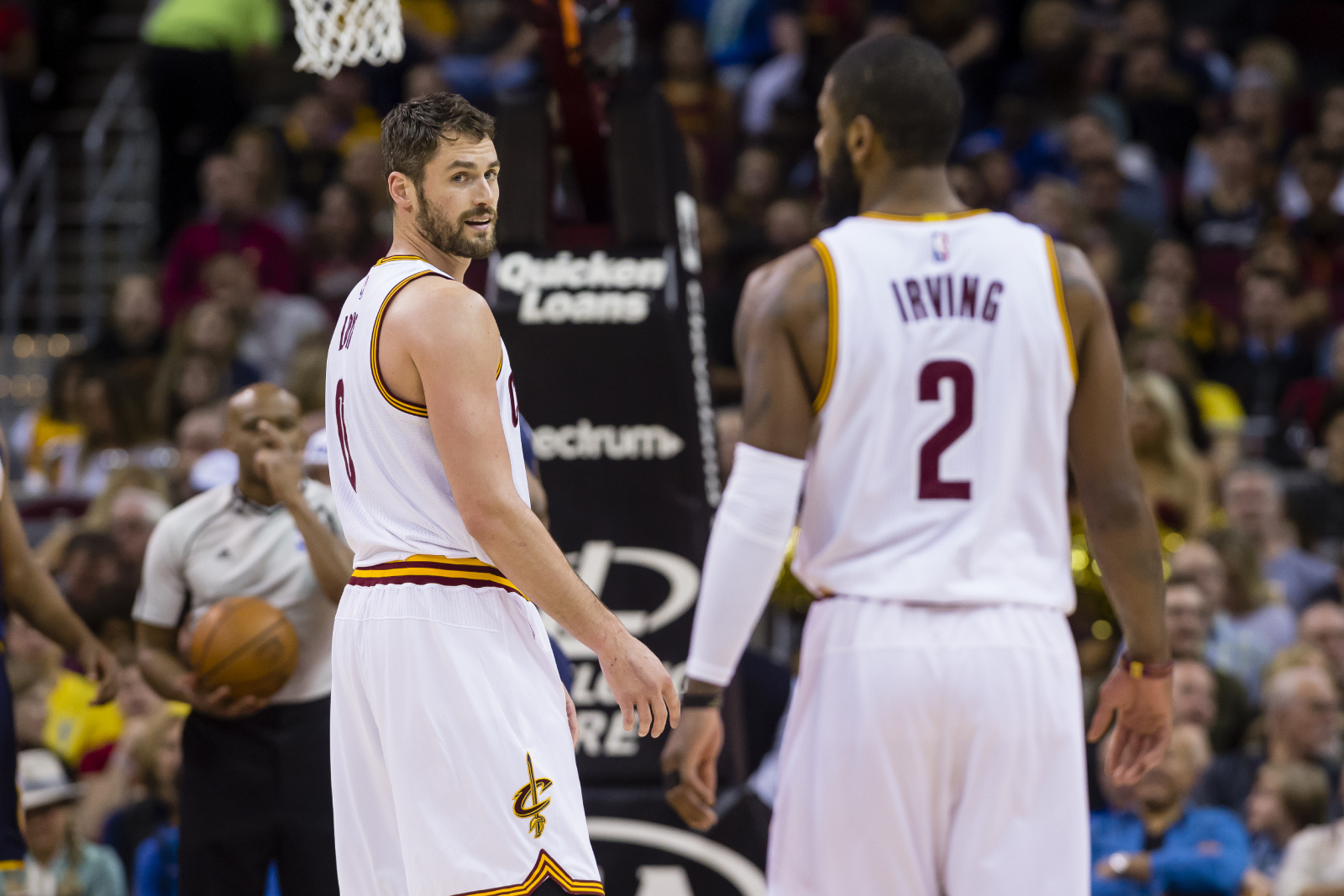 RELATED: Kyrie Irving Has Admitted to Believing in Other Conspiracy Theories Along With His 'Earth Is Flat' One
Kevin Love appears to still have a good relationship with Kyrie Irving, but it hasn't kept him from being critical of Irving's recent comments.
"I think that calling anybody a pawn is a sure sign of disrespect, and I understand where Kyrie is coming from in trying to better a number of people's lives, but I'm just not a divisive person," Love said, according to ESPN. "So that's where I stand on that, and I love Kyrie. I know he's changed, but again, I'm just not a divisive person. I believe that everybody has a part to play as long as the intent's there and it comes from a good place."
Love certainly makes some good points. Many people just want to see everyone in America treated equally. Calling people "pawns," though, makes it seem as if Irving looks at reporters as lesser than himself.
Maybe that wasn't his intention. If it wasn't, hopefully Irving clarifies his comments soon.
Stats courtesy of Basketball Reference