Kevin Love's Famous Father, Stan Love, Did All He Could to Prepare His Son for the NBA
The Cleveland Cavaliers' Kevin Love is a big man who isn't afraid to shoot beyond the arc. The son of former NBA sharpshooter Stan Love, Kevin learned to be a multifaceted threat. In a family full of well-knowns, his father and his uncle — an original member of the Beach Boys — Kevin's career sets him apart. He's a consistent presence with the Cavaliers and helped them win a championship in 2016.
Like father, like son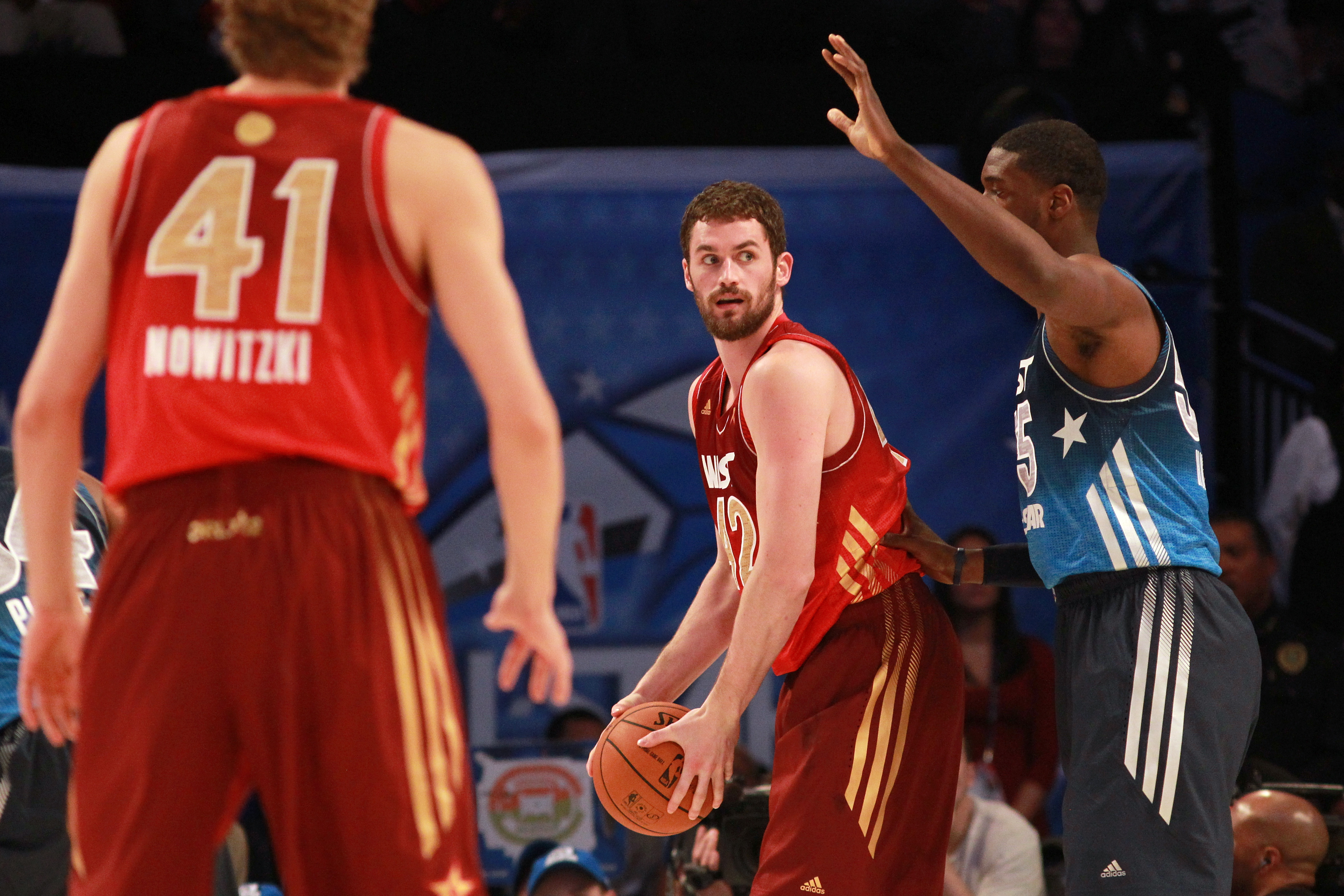 RELATED: Kevin Love's $60,000 Wellness Room Includes a Hyperbaric Chamber and Meditation Station
Stan Love was a 6-foot-9 forward who played ball for the Oregon Ducks before entering the NBA draft in 1971. He played his professional career with the Baltimore Bullets and LA Lakers. Known for his sweet jump shot, after basketball ended, Love became a bodyguard and assistant to his cousin Brian Williams of Beach Boys fame.
Stan Love was Kevin's basketball coach during his formative years and taught him the importance of being a great shooter. That tip paid off when his son made his way to UCLA to play for the Bruins. While watching his son play college ball, Stan Love told The New York Times, "It's tremendously emotional to watch your son play for a team like U.C.L.A., on a stage like this, in an arena like this. He's reaching his goals. He's attaining what he's always dreamed about."
Kevin Love is not a traditional big man
RELATED: Kevin Love's Greatest Highlight Isn't Something He Likes to Brag About
The NBA has certainly changed and evolved. In the past, the big man stayed in the paint. They dominated, staying in the post, blocking shots, getting double-teamed, and wreaking havoc on opponents. Those "Big Men" were the NBA superstars, Kareem Abdul Jabbar, Wilt Chamberlain, Bill Russell, Shaquille O'Neal. Their names are synonymous with domination.
However, that's not how the NBA works anymore. Big men no longer are relegated to the low post. Today, you'll often find centers outside the perimeter, getting ready to launch a three-pointer. Love is one of those players. He averages 37% behind the three-point line — not bad for a 6-8, 251-pound center.
But on the other hand, defending outside the paint took some getting used to. Love told ESPN 5, "I had never really played or defended that far out from the basket. You're having to switch off onto a Klay Thompson. You have to switch to Steph Curry. Kevin Durant. Even though you're a 4- or 5-man, you really have to do that — or you're dead in the water."
Kevin Love becomes an advocate
Becoming an NBA star not only allows for fan adoration, but as a platform to discuss important issues, and Love has done just that. Love had his first panic attack during a game in 2017. He left the court and eventually ended up in the hospital. But the panic attack wasn't what bothered him the most; it was talking about it. In a society where discussing mental health is a stigma, Love wanted to break down that barrier.
Love has been open about his struggles with anxiety, depression, and panic attacks. In 2020, he donated $500,000 to UCLA's psychology department to help fund research for those dealing with mental health issues. He also recently penned an article for The Players' Tribune detailing what it's like to struggle with depression even when others perceive you to be on top of the world.
For Love, being able to play basketball is a blessing. However, discussing his mental health struggles and advocating for those that must endure it is what keeps him strong and focused.