Kevin Porter Jr. Saved Sterling Brown's Life and Must Miss Time for Even Being There
When the obituary is written on the Houston Rockets' miserable 2020-21 season, we can at least say Sterling Brown didn't die outside a Miami strip club. Brown escaped a brutal beating, but guard Kevin Porter Jr. ended up paying a price even after saving his teammate's life.
Yes, the NBA draft lottery cannot get here soon enough for Houston basketball fans.
The Houston Rockets own the NBA's worst record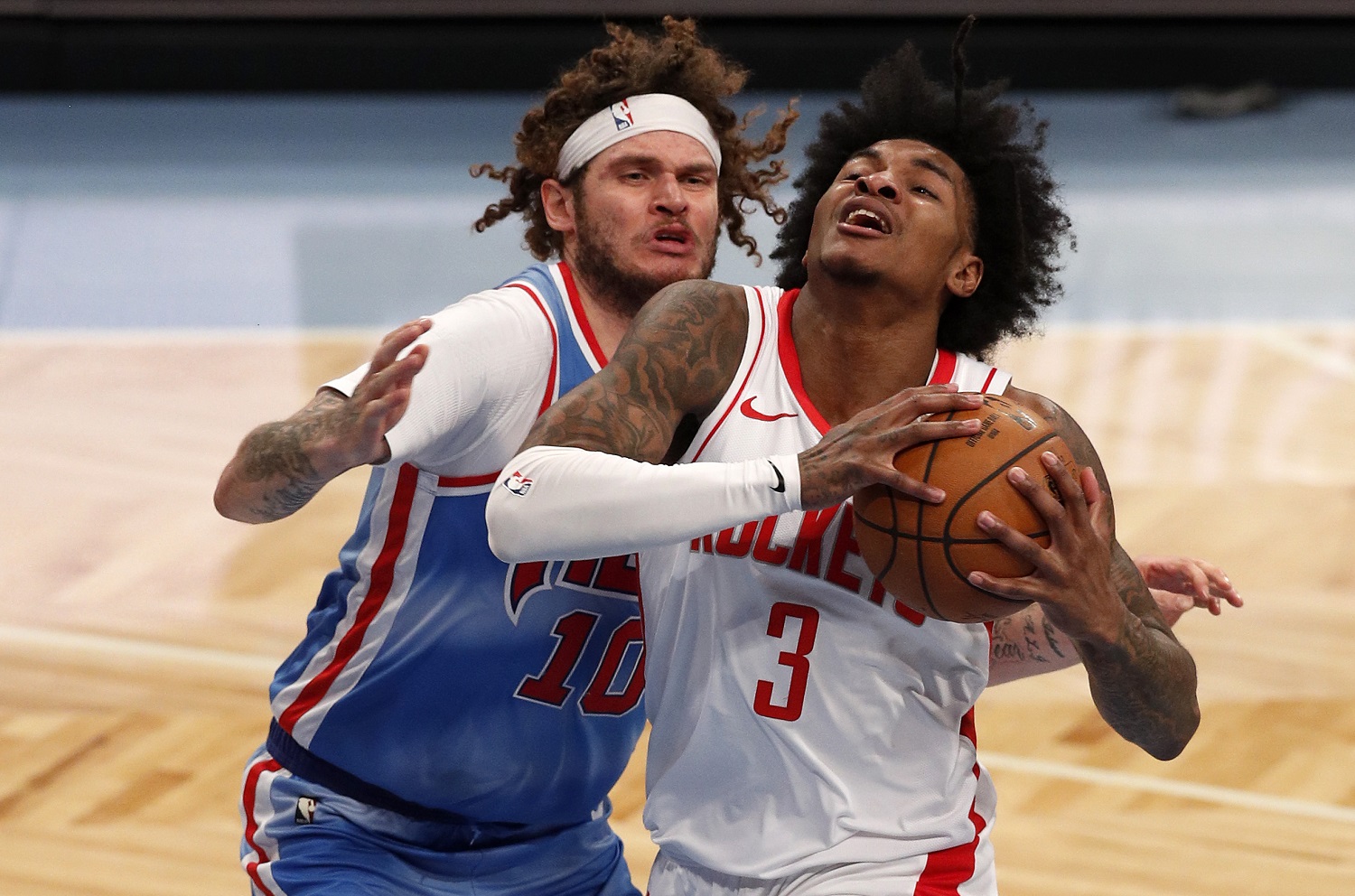 RELATED: Why Is Trevor Ariza the Most Traded NBA Player Ever?
The Houston Rockets have slid below the Minnesota Timberwolves in the NBA Western Conference standings, leaving them with the worst record in the league. They're also out of the playoff hunt. But that became apparent at approximately the same time that they traded Russell Westbrook and then James Harden.
Coming on the heels of the departures of coach Mike D'Antoni and general manager Daryl Morey, the Rockets were heading for their first losing record since the 2005-06 season. Signing Sterling Brown from the Milwaukee Bucks and trading for Kevin Porter Jr. and John Wall wouldn't fix that, particularly once they traded Victor Oladipo.
The plan for the moment seems to be figuring out if Porter, Wall, Eric Gordon, Christian Wood, Jae'Sean Tate, and Kelly Olynyk give the Rockets enough to build around. That's not a bad core on paper, even if it's not doing the job thus far.
The Sterling Brown incident was no laughing matter
RELATED: Bradley Beal May Have Made John Wall Upset With His Latest Comments About Russell Westbrook
Jokes run rampant about professional athletes and their love of strip clubs, but the incident that left Houston Rockets guard Sterling Brown with facial lacerations on Monday morning in Miami was a very serious matter. Brown was viciously attacked, and people close to the player feared for his life.
According to the Miami-Dade Police Department, Brown was leaving the Booby Trap On The River, a strip club in Miami, shortly before 7 a.m. Monday when a fight broke out in the parking lot.
The fracas apparently began with Brown getting into an argument with several men after getting into the wrong van. Brown was bleeding from a blow to the head with a bottle, and Rockets teammate Kevin Porter Jr. jumped in to help him escape.
The department's incident report said Brown and an unidentified second man, who also suffered lacerations, refused to cooperate. Brown went to a hospital for treatment and left Monday afternoon.
Kevin Porter Jr. is paying a price for aiding Sterling Brown
RELATED: James Harden May Have Let Trips to the Strip Club Get in His Way of Winning an NBA Championship, According to His Former Teammate
Kevin Porter Jr., who turns 21 on May 4, was a stand-up guy to come to the aid of teammate Sterling Brown during the attack outside a Miami strip club. However, it's understandable that the Houston Rockets are not happy that he was there in the first place.
Porter played for the Rockets later Monday in their loss to the Miami Heat, scoring 18 points in 31 minutes, but the team was forced to shelve him for at least the remainder of the week due to his violation of the NBA's health and safety protocols during the pandemic. Those rules restrict where players can go during road trips.
It means he must sit after having done some of his best work of the season in recent games. Porter is averaging 15.5 points and 6.2 assists in 21 games for Houston, but his shooting has improved significantly during the past five games, a stretch that also includes a 22-point, 14-assist performance against the Phoenix Suns.
A week or more off the court after coming to Sterling Brown's rescue could derail that.
Like Sportscasting on Facebook. Follow us on Twitter @sportscasting19.