Kevin Stefanski's Stellar Coaching Ability May Actually Doom Baker Mayfield's Time With the Cleveland Browns
Baker Mayfield isn't yet on the quarterback hot seat, but his future with the Cleveland Browns is certainly a lot murkier than it was just a season ago.
Mayfield and Cleveland were on the doorstep in 2020. In his third season with the Browns, the sometimes controversial quarterback helped his team accomplish an 11-5 record and a spot in the AFC Wildcard. While the Browns eventually lost to the Kansas City Chiefs in the divisional round, the season was a rousing success by Cleveland's standards.
It was the first time since 2002 that the Browns made the playoffs.
The Browns were under the watchful eye of new general manager Andrew Berry and rookie head coach Kevin Stefanski. Hired after a stint as offensive coordinator for the Minnesota Vikings, Stefanski was known as an offensive mastermind, and he proved Cleveland's hire right. Cleveland's offense as a whole was dynamic, but Stefanski specifically impressed by scheming a run offense that was third in the NFL in rushing yards and fifth in rushing touchdowns.
Flash forward to 2021 and the bloom is off the rose a bit for the new-look Browns, but that has more to do with Mayfield than Stefanski.
With the quarterback dealing with an injured shoulder that will end up requiring surgery in the offseason (if not sooner), now seems like a good time to evaluate whether or not he's the best option for Cleveland's long-term future.
Baker Mayfield has shown toughness and grit, but the production hasn't been there for the Cleveland Browns
Mayfield has been dealing with the shoulder injury for much of the season, and he deserves credit for gritting it out and trying to remain available for his team.
Whether or not that was the wisest move for Cleveland can be argued, though. It's one thing to rally behind an injured quarterback who gets the job done, but Mayfield simply hasn't been doing that in 2021. The Browns were 3-3 in Mayfield's six starts, and his touchdown to interception ratio was 6-3.
He's a leader, without a doubt, but the fact remains that Mayfield has been a decidedly average quarterback for Cleveland over his four seasons. He has a career passing percentage of 62.4% and an 81-46 touchdown to interception ratio.
While average may be fine for some quarterbacks, the fact is, Cleveland took Mayfield with the No. 1 overall pick in the 2018 NFL Draft. You don't draft a quarterback first overall and expect him to be average, so that's an issue for the Browns. Being tough, gritting through injuries, and showing passion and fire is all good and dandy. Cleveland could have gotten that out of a third-round quarterback, though.
The expectation for the first overall pick, especially at quarterback, has to be that you're getting an elite player.
According to the facts, Mayfield has been anything but.
Mayfield's injury has highlighted just how good Kevin Stefanski is for the Browns
The NFL is a "next man up" league and one player's misfortune can be another's opportunity. Every time a spot opens up so does an opportunity.
While the Browns would probably rather go into a playoff game with Mayfield instead of perpetual backup Case Keenum, the injury has given Cleveland's brass an opportunity to look into the crystal ball and take a peek at what a future without Mayfield could look like.
No matter who the quarterback is, that future will include Stefanski. That's the key for Cleveland. He's much more important to the Browns' future than Mayfield is.
The Browns took on the Denver Broncos to kick off Week 7 on Thursday Night Football, and though it wasn't pretty, they did come away with a 17-14 win. Mayfield was on the sideline, and the Browns were also down Nick Chubb and Kareem Hunt due to calf injuries.
Keenum, other than his miraculous run with the Vikings, has been more of a spot-starter and less of an everyday type of quarterback in his career. He's not the quarterback you put your franchise's hopes on, but he can win you a handful of games in a pinch.
With Chubb and Hunt on the sideline, Cleveland's powerful run game was handed off to third-stringer D'Ernest Johnson, who was getting his first start as a relative unknown in the NFL. Johnson was undrafted out of college and spent more time on a fishing boat or in the now-defunct Alliance of American Football, rather than in an NFL backfield.
Stefanski was down three major pieces on offense, including his starting quarterback and a running back playing at a Pro Bowl level.
He still orchestrated an offense that ended up with 376 total yards and controlled the time-of-possession in dominant fashion, 36:51 to 23:09. Keenum ran the offense effectively and finished with 199 yards and a touchdown on 21-of-33 passing.
All Johnson did was run for 146 yards and a score, averaging 6.6 yards per carry against a stout Denver defense.
Stefanski made somthing out of nothing, which is a trick that only elite NFL coaches are able to do.
Ironically, Stefanski's success could make it easier for the Browns to move off Mayfield should they choose to do so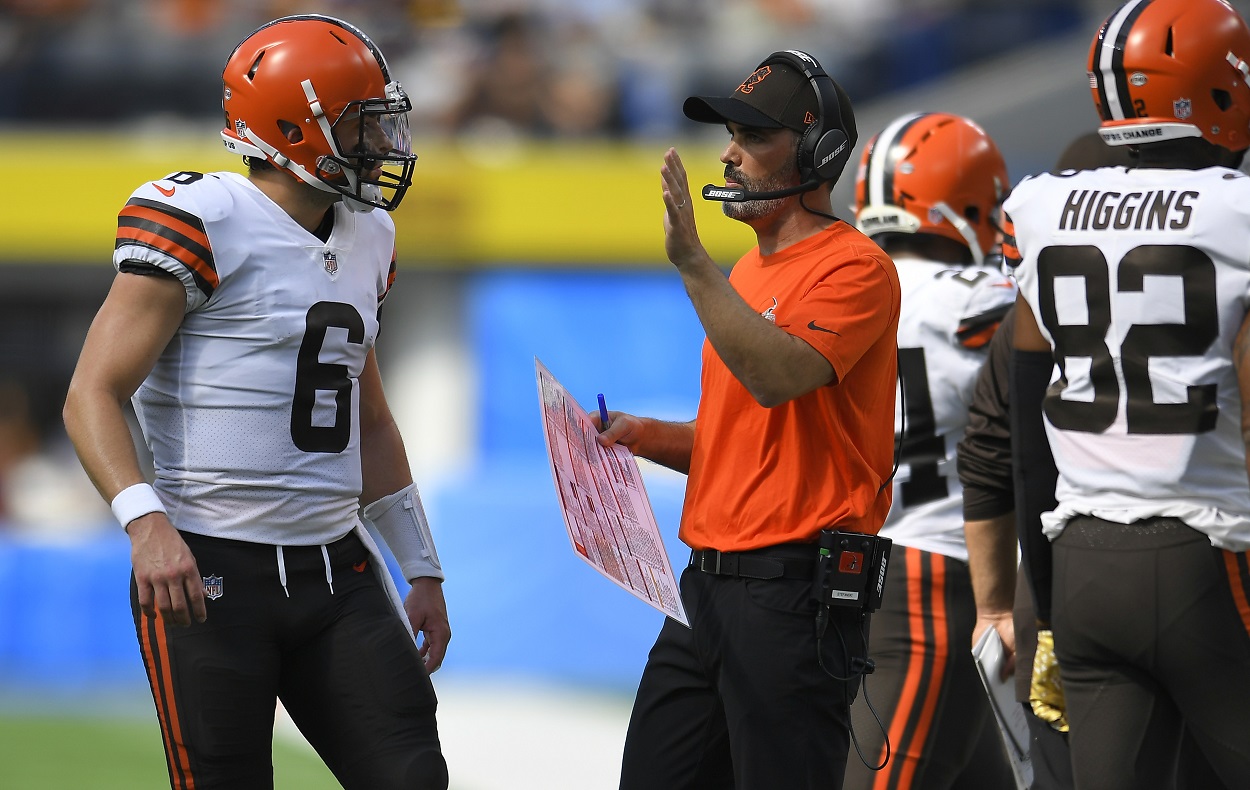 Mayfield has been suffering from his shoulder injury for much of the season. He's going to do everything he can to play and then get surgery in the offseason, but one has to wonder just how effective he'll be if he's not 100%. The chance for continued pain and even re-injury is also extremely high.
Either way, he'll enter the final year of his contract coming off a major injury and surgery, and there are already calls for Cleveland to move off him sooner rather than later.
Let's be optimistic for a minute. Mayfield could potentially heal up and finally find the level of play expected out of the No. 1 overall pick. At that point, an extension would make sense, and the Browns could look forward to a bright future of Mayfield playing at a high level under the tutelage of Stefanski.
Now let's be realistic. We haven't seen a consistently high level of play out of Mayfield so far in his career, so hoping he finally lives up to expectations and is worth a big second contract seems like a fool's errand.
He is what he is as a quarterback at this point in his career, and unfortunately for him, he's an average quarterback with the demeanor and aspirations of a superstar. He'll want to be paid like a superstar as well, but whether or not he'd actually deserve that kind of contract is something Cleveland can't be certain about at this point.
What the Browns can becertain in, though, is the fact that Stefanski is the type of offensive coach that can take what he has and make it better.
There are certain offensive schemes in this league that are so good that elite offensive talent isn't exactly needed in order to execute them at a high level.
Kyle Shanahan's offense is one such example of that. The San Franciso 49ers can plug just about anyone into the backfield and come away with a few hundred yards on the ground. Sean McVay has a similar scheme in Los Angeles. The Rams are elite now that they have an elite quarterback in Matthew Stafford, but McVay led the team to the Super Bowl with a quarterback who has proven himself to honestly be terrible in Jared Goff.
In Cleveland, Stefanski made a third-string running back look like an All-Pro. He helped lead Keenum, a career backup, to a win over a very strong defense. The evidence was so clear that Cleveland doesn't need Mayfield, that it caused former NFL player turned ESPN personality, Rob Ninkovich, to call the win a "nightmare" for Mayfield.
"He's watching the backup quarterback go out there and perform and win football games," he said. "If you're the Cleveland Browns, why would you pay Baker Mayfield 40-plus million a year when you can put another quarterback in there, plug-and-play, that's going to run the football, going to do the play-action passes?"
Ninkovich is right in saying Cleveland's offensive scheme is strong enough to plug-and-play just about any competent quarterback. Looking ahead to the final year of his contract, if Mayfield is going to either cost too much or end up being too banged up to play excellent football, the Browns can find a similar, cheaper, quarterback, and still accomplish most, if not all, of their goals.
Any success Mayfield has equals success for Stefanski, but Stefanski's success could actually spell doom for Mayfield.
Stats courtesy of ESPN and Pro Football Reference.
RELATED: Colin Cowherd Takes a Shot at Cleveland Browns Quarterback Baker Mayfield Once Again, but This Time It Makes Sense