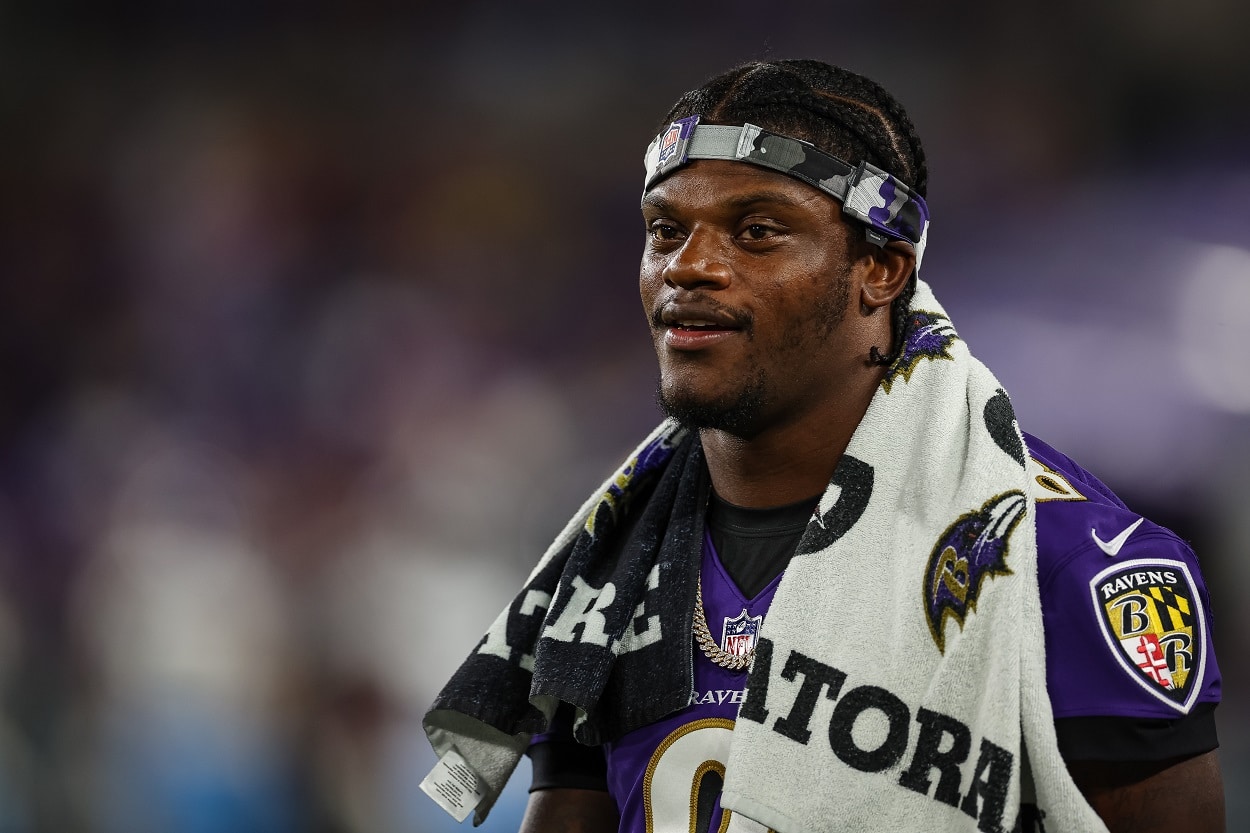 A Key Offseason Change Has Put Lamar Jackson in Prime Position to Force the Ravens to Pay Up
Lamar Jackson has even more leverage in his contract negotiations with the Baltimore Ravens.
Lamar Jackson has broken records before, but he accomplished a new feat this offseason that could lead to an even bigger contract from the Baltimore Ravens.
In fact, if the supremely gifted signal-caller's skills and stouter frame prove impossible to stop, the sky's the limit when it comes to how much money he should ask for from the franchise that drafted him with the final pick of the first round of the 2018 NFL Draft. 
So, the only question remains: When will the Ravens finally decide to sign their unquestioned leader to an extension?
Baltimore's best player is bigger, stronger, and faster heading into the 2022 season
Already an elite athlete for the position (some would say he's the best), Lamar Jackson made it his mission to improve his physique this offseason. Needless to say, the two-time Pro Bowler clearly put in the work to manifest his dream. 
After playing around 205-208 pounds last season, Jackson spent the spring bulking up. And by training with former Louisville receiver Emonee Spence, he transformed his body in a significant way.
"I just wanted to look the part. I just wanted to look a little sturdy back there, look a little big," Jackson told Ravens reporter Ryan Mink. "I felt like it worked. I'm still fast, I'm still moving around how I was before; I just added a little more weight."
In mid-June, the contract-year quarterback tipped the scales at 220 pounds. However, that mark jumped to around 230 near the start of training camp.
Given Jackson's injury history–he missed games down the stretch a year ago because of an ankle ailment–putting on muscle would seemingly put him in a better position to make it through a 17-game season and the playoffs.
Yet while the added bulk makes Jackson bigger and stronger than ever, it could also make him more dangerous on the field and at the negotiating table.
Lamar Jackson's new-look frame could give him even more leverage against the Ravens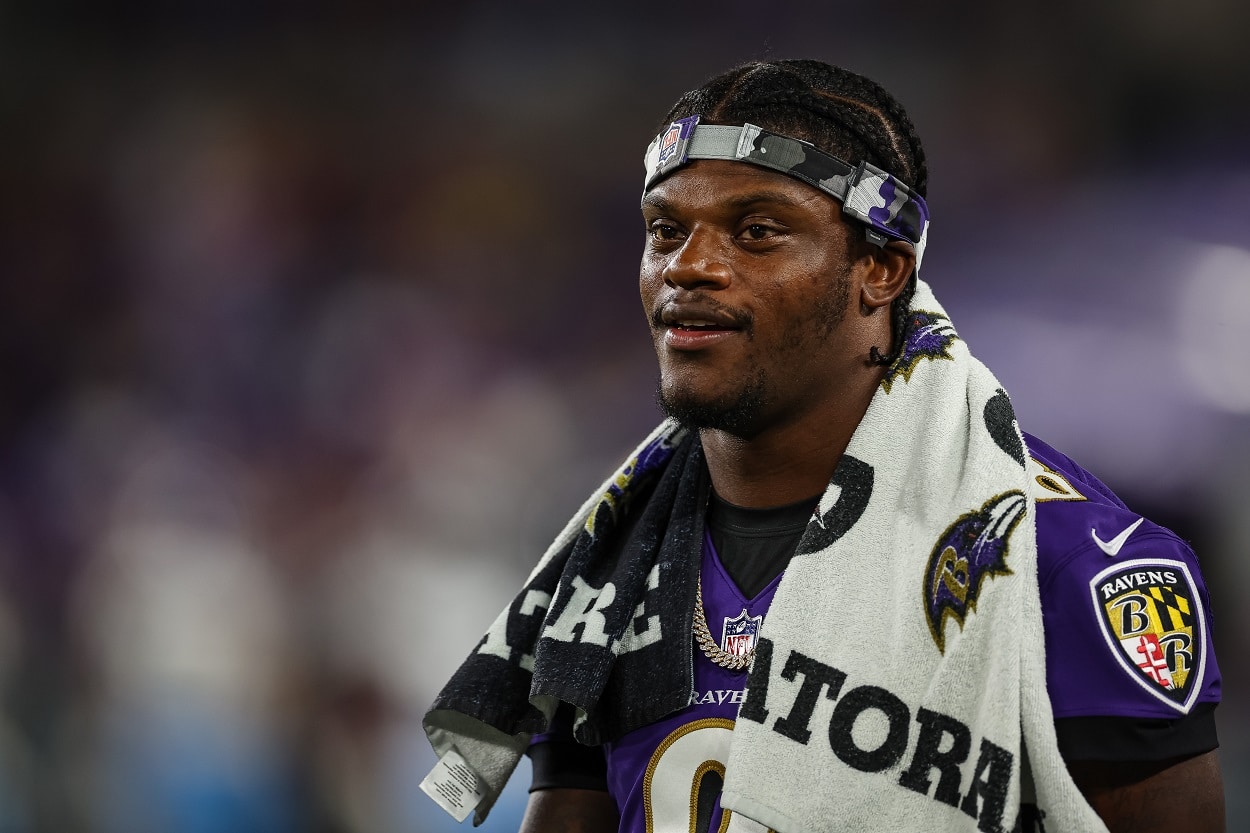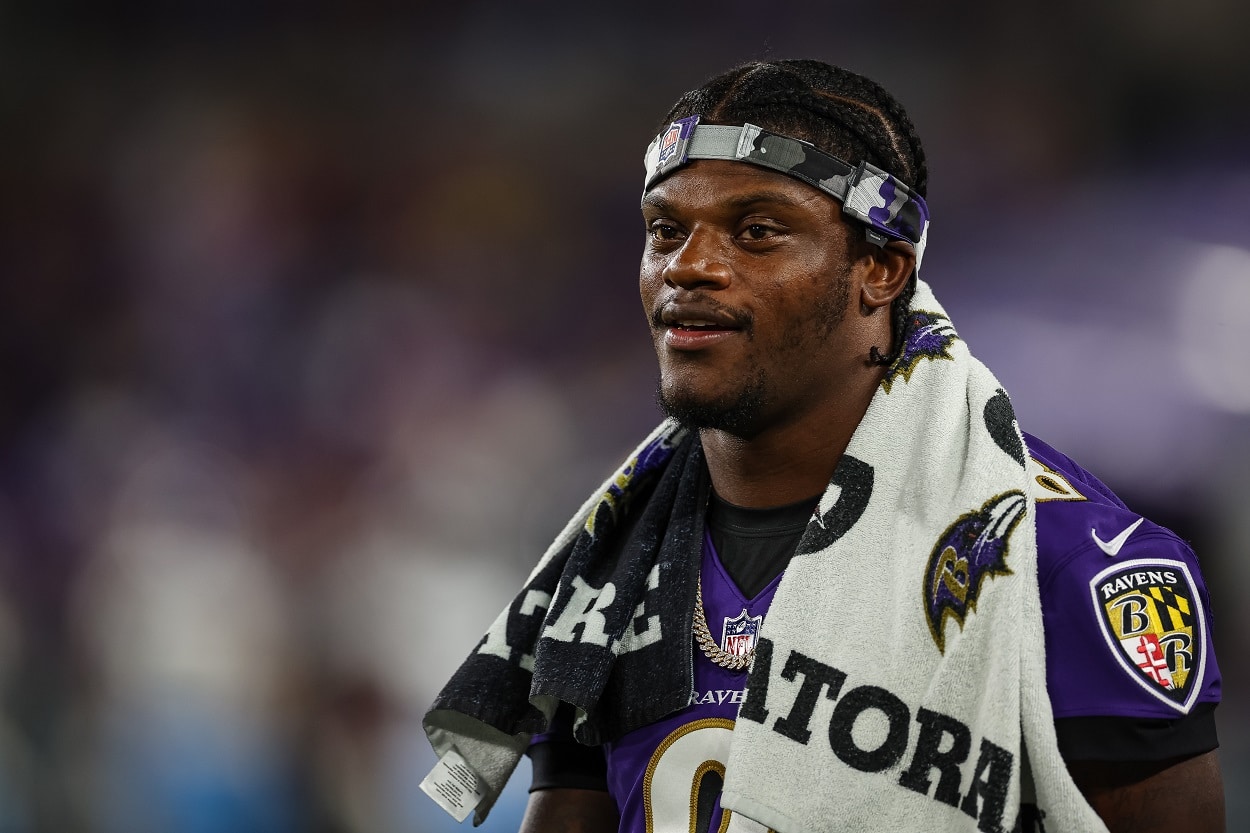 One thing Jackson has yet to accomplish this offseason? Securing his financial future. 
Despite being a former league MVP, the 25-year-old is in the rare position of being an established star quarterback without a long-term deal. Obviously, Baltimore would be foolish to let such a unique player and well-respected leader walk, and by all accounts, it seems like both sides want to remain together.
Still, even though Jackson stands to make $23 million this season after earning less than $10 million from 2018-21, he could fetch more than five times that amount in guaranteed money on a multi-year extension. 
Just don't be surprised if that number goes up. 
By making it clear he will halt contract talks once the regular season begins, Jackson has seemingly put the ball in Baltimore's court to take care of business. Will the front office arrive at a figure it can swallow before Week 1? Considering the situation has dragged on for this long, it will be interesting to see if general manager Eric DeCosta allows the team's biggest star to enter the season without a new deal. 
If that occurs, though, the Ravens may regret not paying their QB1 now. 
Given Jackson's penchant for making plays with his legs, a stronger, more explosive version stands to make life even more challenging for defenders. With two 1,000-yard rushing seasons on his resume, it wouldn't be a surprise if he adds a third–especially if he wants to prove he deserves to become one of the highest-paid players in the league.
If Jackson stays healthy and puts up stats as he did in 2019 (3,127 passing yards, 1,206 rushing yards, and 43 total touchdowns), why shouldn't he ask for a record-setting deal? 
Obviously, there's an element of risk on the player's part to suit up without any financial security. At the same time, letting Jackson play out the final year of his deal could come back to bite the Ravens if his physique changes make him more challenging to defend.
An MVP-caliber 2022 would give him increased leverage over the team to ask for $50 million a year on an extension.
Setting expectations for Jackson and the Ravens
Coming off their first losing season since 2015, the Ravens appear primed for a bounceback campaign. Not only did DeCosta make upgrades on the offensive side of the ball, but he also added pieces to a defense that plummeted from second to 19th in points allowed in 2021. 
After trading Marquise "Hollywood" Brown to the Arizona Cardinals on opening night of the 2022 NFL Draft, the Ravens will depend on 2021 first-rounder Rashod Bateman to step up as Jackson's top pass-catching option.
An excellent route-runner with a solid frame, he has the skills to put up 1,000 yards as the team's WR1. Baltimore also needs a pair of 2020 picks (third-rounder Devin Duvernay and sixth-rounder James Proche II) to become consistent playmakers. 
Luckily for Jackson, the Ravens utilized one of their first-rounders on the best center in the draft (Tyler Lindenbaum), and talented left tackle Ronnie Stanley should be back at some point to protect No. 8's blind side.
Plus, if J.K. Dobbins returns to pre-injury form, Baltimore should be one of the best rushing teams in the league. 
What makes the Ravens a viable contender to represent the AFC in Super Bowl 57 is their potential to be the NFL's best defense.
They boast a veteran-laden unit that includes familiar names like Calais Campbell, Marcus Peters, and Marlon Humphrey, and they also have exciting young players like 2021 first-rounder Odafe Oweh, 2020 first-round linebacker Patrick Queen, and rookie safety Kyle Hamilton.
If longtime Ravens assistant Mike Macdonald can make all those pieces work, he could very well command the league's No. 1 scoring defense in his first year as an NFL defensive coordinator. 
Perhaps the only thing standing in the Ravens' way is the one element that ruined their 2021 season: injuries. 
Nobody can predict whether the team's key players will stay healthy. But with added bulk and plenty of motivation to light it up on a weekly basis, Lamar Jackson looks capable of achieving new heights in what will be the most pivotal year of his pro football career.
Stats courtesy of Pro Football Reference, Contract info courtesy of Spotrac
Like Sportscasting on Facebook. Follow us on Twitter @sportscasting19 and subscribe to our YouTube channel.