The Key to a Green Bay Packers' Playoff Run Went From Controversial Pick to Fan Favorite
Green Bay Packers running back A.J. Dillon has the key to Door County. Ironically, he also holds the key to a playoff run for his team.
With the Packers currently on a bye week and boasting a 9-3 record, the expectations for the rest of this season are high for Green Bay. A Super Bowl win is all that will be acceptable, especially in what's been billed as a "last dance" scenario.
In order to pull it off, the Packers will need a heavy dose of the man they call "The Quadfather."
A.J. Dillon was a controversial draft pick for the Green Bay Packers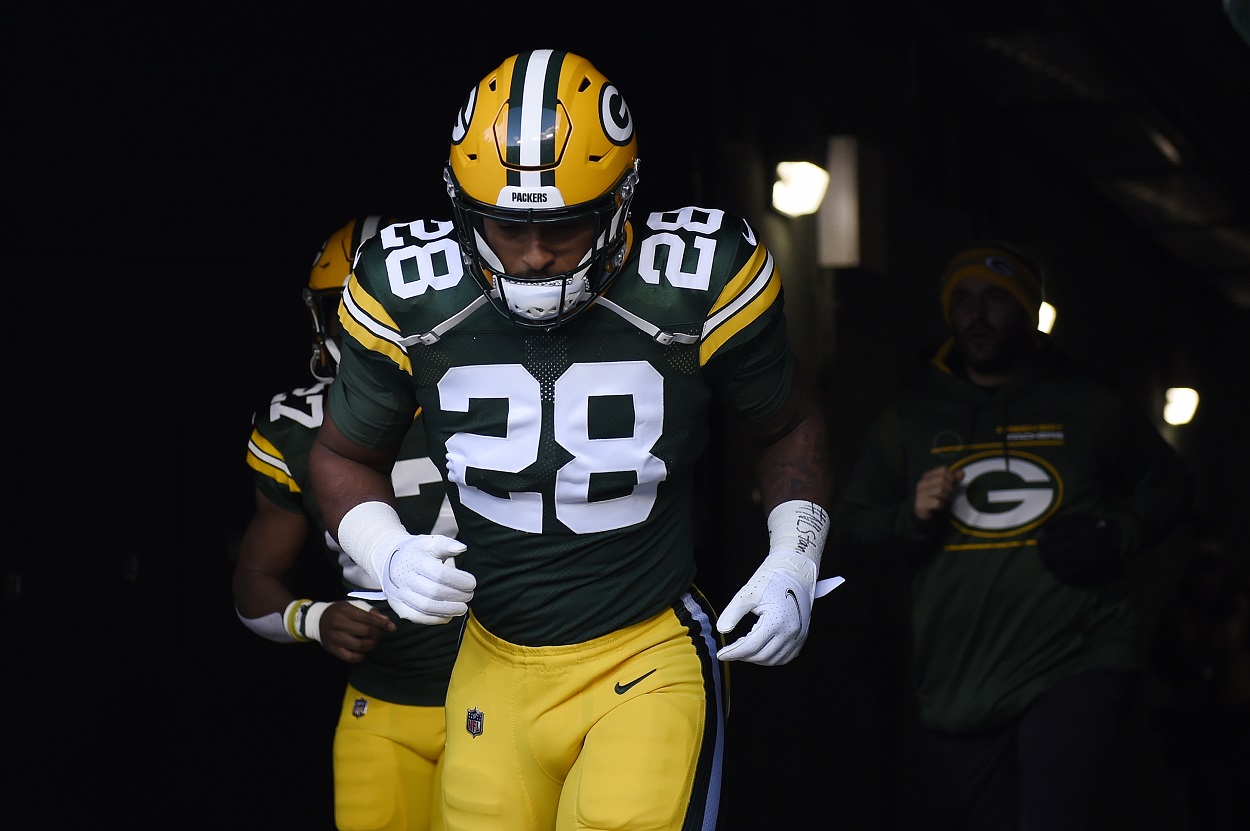 In his second season out of Boston College, Dillon has become an integral part of Matt LaFleur's Green Bay offense. The Packers drafted him No. 62 overall in the 2020 draft, but at the time, he was quite a controversial pick amongst fans.
Context is critical when looking back at that draft. Green Bay had just shocked the NFL world by trading up and drafting quarterback Jordan Love in the first round. Fans were clamoring for a wide receiver or at the very least a linebacker high in that draft, but general manager Brian Gutekunst had a different, long-term vision for his team.
At the time, Dillon was really seen as a mid-round running back. The Packers also had Aaron Jones and Jamaal Williams on the roster, though both were heading into a contract season. Running back, on paper, didn't make a ton of sense in the second round. The fact that Green Bay first took Love and then followed that up with Dillon was also a significant point of controversy.
Gutekunst was seemingly reading a script that even the NFL Draft experts couldn't figure out.
The Love pick is still questionable, especially after his spot-start against the Kansas City Chiefs this season, but Gutekunst has to be feeling great about his projection for Dillon.
As it turns out, Brian Gutekunst read the tea leaves perfectly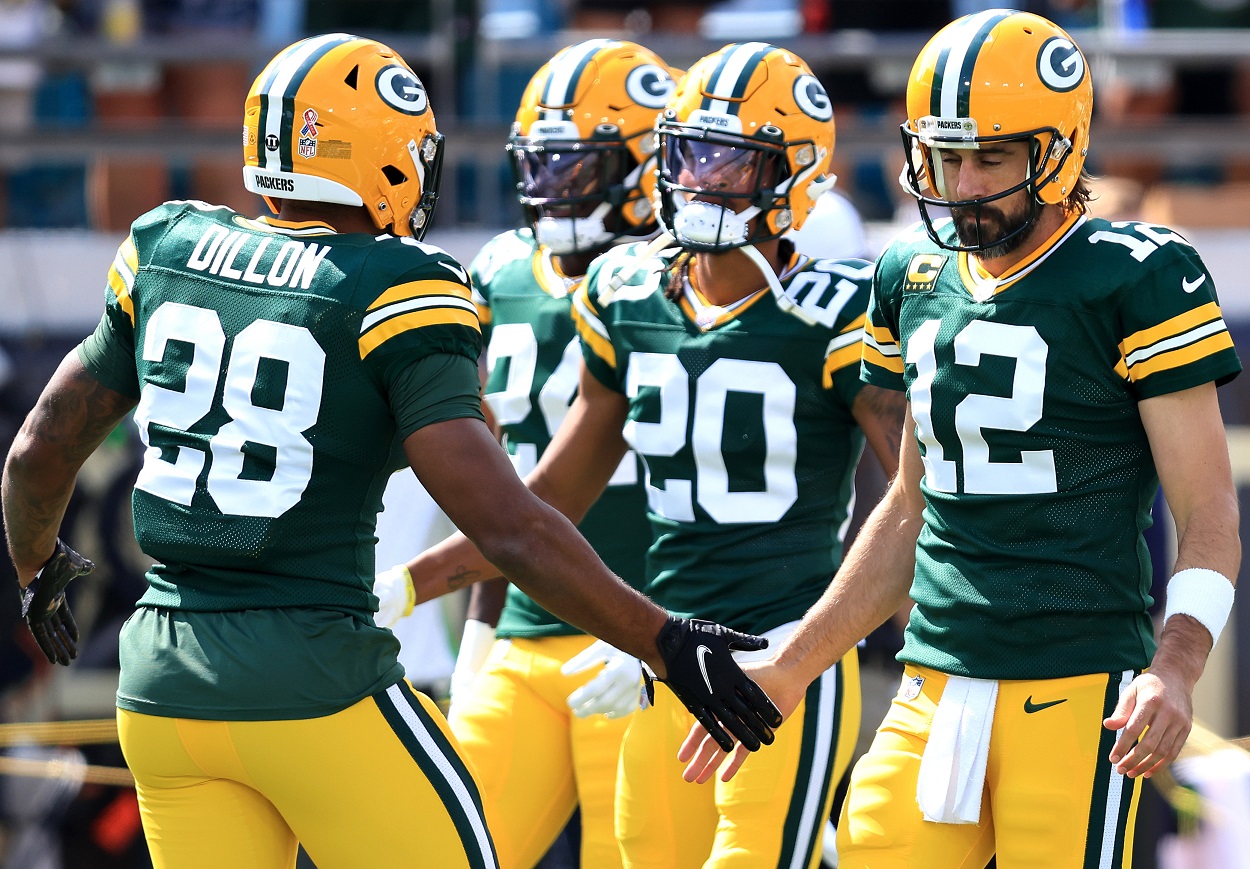 Dillon wasn't used much during his rookie season, and that made sense because he was third on the depth chart behind Jones and Williams.
The chances he did get, though, he used to show off his bruising running style and 247-pound frame. On a snowy playoff-like game at Lambeau Field in late December, Dillon was given the ball 21 times in an effort to wear down a physical Tennessee Titans team and keep Derrick Henry on the other sideline and off the field.
Dillon rushed for 124 yards and two touchdowns that game, picking up a tough 5.9 yards per carry. In total, he rushed just 46 times for 242 yards and the aforementioned two touchdowns his rookie season, but he showed enough in that Tennessee game that Green Bay trusted him with the backup running back duties heading into 2021.
Jones was given a big contract, Williams walked and ended up in Detroit, and Dillon has become the perfect compliment in Green Bay's backfield. The thunder to Jones' lightening, as they say.
Dillon is the key to a playoff run for the Green Bay Packers
Dillon brings an element to the game that few running backs can. Henry has proven to be that type of player in Tennessee, and Dillon is nowhere near his level (yet), but they're the same type of running back.
When LaFleur decides to take the ball out of Aaron Rodgers' hands and control the clock a bit, the thing that makes the most sense to do is to have him turn around and hand the ball off to Dillon. He's a bruising runner who's always falling forward, and even NFL defenses can't tackle him with just one player.
He's averaging 4.2 yards per carry this season and has already rushed 128 times for 543 yards and two touchdowns. He's also added a valuable element to his game as a pass-catcher. He's not on Jones' level yet, but Dillon has caught 27-of-29 targets for 261 yards and two touchdowns. He's become a trusted outlet for Rodgers, which is incredible to say about a running back in only his second season with the veteran quarterback.
Green Bay's offense still runs through Rodgers, a three-time MVP, for obvious reasons, and there's no doubting the fact that Jones has big-play explosion as a running back that few others in the league possess. There's also Davante Adams to consider, who's the best wideout in the NFL and needs to get his touches in order for Green Bay's offense to click.
In terms of being an x-factor for the offense, though, Dillon's running style can absolutely change the game for the Packers late in the season.
One of the biggest criticisms of Green Bay's play in the Rodgers-era is that the Packers have lacked that grit to punch back when they're hit in the mouth by a strong defense. That's not the case anymore with Dillon running the ball. He's a punisher out there for the Packers, and he's proven to be much more than a time-management tool.
Sure, it helps to rely on Dillon to burn some clock with a lead in the fourth quarter, but he's the type of player who can absolutely set a tone for the Packers on the very first drive of the game, and that tone doesn't go away.
As winter quickly approaches and with it, playoff football, how ironic is it that the key to Green Bay's playoff success lies in a player that not many wanted wearing the green and gold, to begin with?
Stats courtesy of ESPN and Pro Football Reference.