Keyshawn Johnson Brutally Roasts Ben Roethlisberger Whose Struggles Prove the Pittsburgh Steelers Are in Trouble
Ben Roethlisberger has been the face of the Pittsburgh Steelers since 2004. You could make a case that he's now hindering the franchise. His struggles have been on full display in the first two weeks of the 2021 NFL season. ESPN's Keyshawn Johnson pointed out Big Ben's struggles and didn't hold back.
Johnson's brutally honest take proves why the Steelers are in big trouble.
Ben Roethlisberger is in his 18th NFL season
The Pittsburgh Steelers selected Ben Roethlisberger with the No. 11 pick in the 2004 NFL Draft. That draft class was memorable, as it also featured New York Giants legend Eli Manning and Chargers great Philip Rivers.
Roethlisberger has enjoyed a successful career in Pittsburgh, and the Steelers have been consistently relevant with him under center. The Lima, Ohio native has thrown for 60,831 yards and 398 touchdowns in his tenure.
Big Ben won the 2004 AP Offensive Rookie of the Year Award after Bill Cowher's Steelers finished with a 15-1 regular season record, good for the No. 1 seed in the AFC. The former first-rounder has earned six Pro Bowl selections as well.
Roethlisberger has played in 22 playoff games as the Steelers' starting quarterback and has a 13-9 career postseason record. He's also led the franchise to two Super Bowl victories.
Big Ben has left a lasting imprint on the Steelers organization. However, his time appears to be coming to an end sooner rather than later.
Keyshawn Johnson says Big Ben is 'cooked'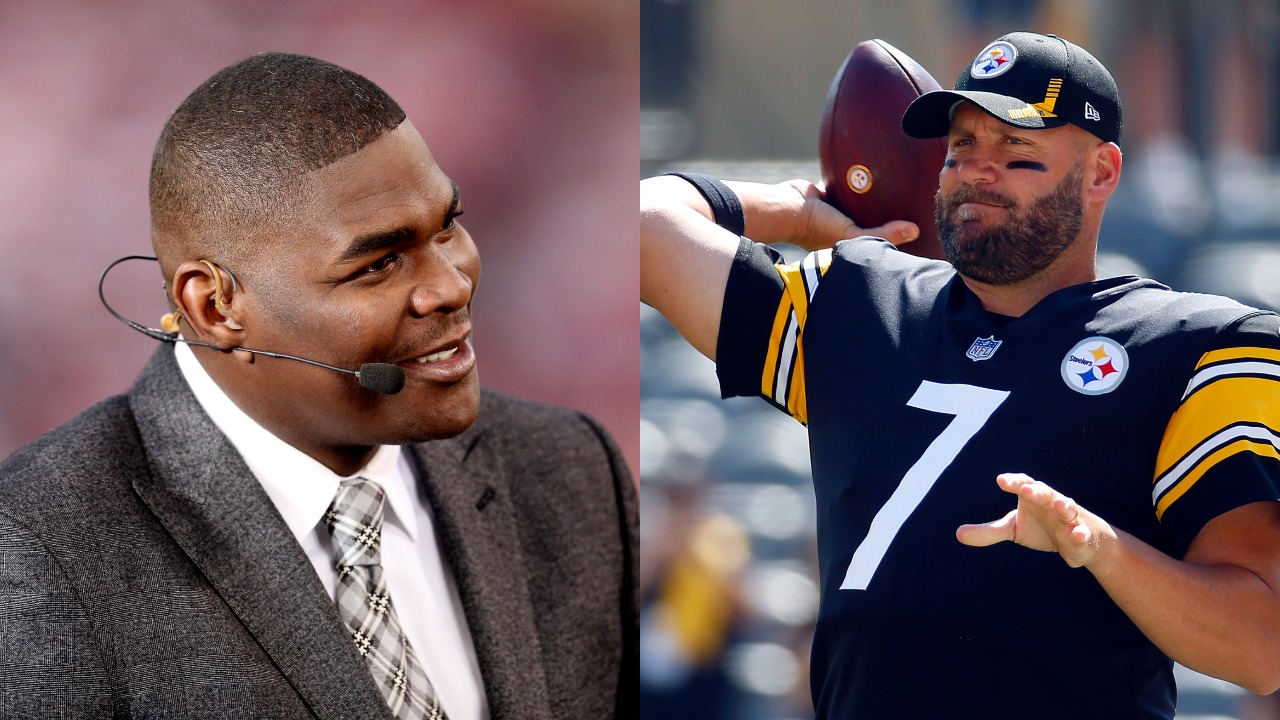 While Father Time has granted Buccaneers quarterback Tom Brady immunity at age 44, Ben Roethlisberger's time is running out.
The Steelers' signal-caller's struggles are no secret for those watching the team regularly. He's a shell of himself. Former NFL wide receiver Keyshawn Johnson took aim at Big Ben on ESPN's Keyshawn, Jay, and Max morning show.
Johnson minced no words when roasting the Steelers QB. "He's cooked. He's toast," he said.
The show's co-host argued that Pittsburgh didn't expect to have to rely on Big Ben this much in 2021. "They misjudged it," he added. Clearly, the team overestimated the impact of rookie running back Najee Harris and the defense.
Roethlisberger has been mediocre through the first two weeks of the 2021 season, by his standards. He has thrown for 483 yards and two touchdowns while completing 62.5% of his passes. He also threw an interception in a Week 2 loss to the Las Vegas Raiders.
If the 39-year-old can't turn things around, this team is in trouble.
It's time for the Steelers to look for Ben Roethlisberger's successor
The Pittsburgh Steelers' front office has a bit of a dilemma on its hands. There's a longtime franchise quarterback under center who may not be able to get the job done anymore.
Although Ben Roethlisberger played well for most of the 2020 season, he's been showing signs of wear and tear. As he gets older, the problems are only going to get worse.
After scanning the team's depth chart, it's not difficult to see why the answer to their problem is not currently on the roster.
"Mason Rudolph ain't it," said ESPN's Max Kellerman. He never was, to be honest. Dwayne Haskins doesn't solve Pittsburgh's problem either. He's been a disappointment since Washington drafted him No. 15 overall in 2019.
General manager Kevin Colbert must find a replacement and fast. It would be unfathomable for the Steelers not to draft a quarterback in 2022 or make a move for one in the offseason.
The Steelers need to know when to hold them and when to fold them. Big Ben's reign shouldn't last much longer.
Stats courtesy of Pro Football Reference
RELATED: The Pittsburgh Steelers Made a Desperate Move by Signing a Disappointing Former 1st Round Draft Bust