Keyshawn Johnson Had to Conduct an Awkward and Personal Interview During His First NFL Draft Broadcast
Keyshawn Johnson had an opportunity to begin his broadcasting career while he still played in the NFL. Little did he know that opportunity foreshadowed what was to come.
Johnson looked forward to another season with Steve Smith and the Carolina Panthers in April 2007. As a guest analyst on ESPN's NFL draft coverage, though, Johnson had to conduct an extremely awkward and personal interview.
Keyshawn Johnson had a standout career with several teams
Quarterbacks or impactful linemen on either side of the trenches are almost always the top selections in the NFL draft.
Keyshawn Johnson, a standout receiver at USC, bucked that trend in 1996 when the New York Jets used the No.1 overall pick on him.
Although he won't enter the Hall of Fame anytime soon, Johnson had an excellent 11-season career. Johnson totaled 814 passes, 10,571 receiving yards, and 64 receiving touchdowns with four teams.
He made two Pro Bowls with the Jets and won a Super Bowl with the Buccaneers after the 2002 season.
Johnson's personality clashed with his teams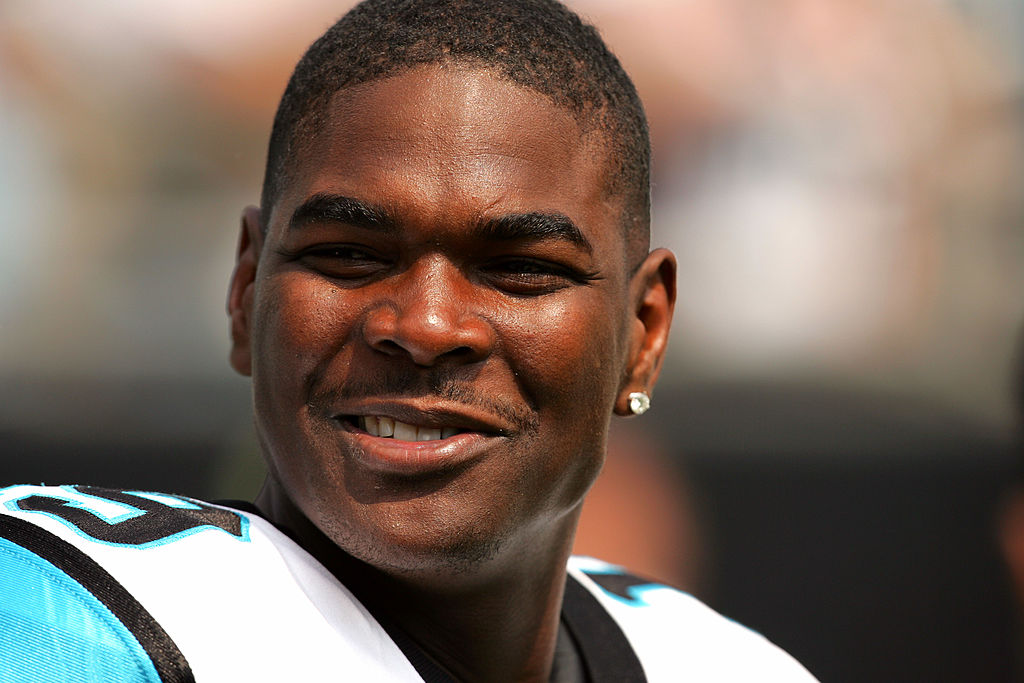 Keyshawn Johnson, put kindly, had a "diva" personality. His attitude clashed with teammates and coaches alike.
Johnson co-authored a book, Just Give Me the Damn Ball, after his rookie season. He had a public dispute with Buccaneers coach Jon Gruden that ended in Tampa trading Johnson to the Dallas Cowboys.
After the trade, Johnson ripped Buccaneers star defensive back Ronde Barber and called him an "Uncle Tom," a discriminatory remark toward African Americans.
Keyshawn Johnson had to conduct an extremely awkward interview in 2007
Keyshawn Johnson wanted to get into broadcasting whenever his career ended. By April 2007, he thought had a few more years left in him. 
When ESPN asked Johnson if he wanted to work that year's NFL draft, though, Johnson happily accepted. 
Johnson joined the likes of Chris Berman, Mel Kiper, and others in analyzing picks and trades. Johnson brought a unique aspect as an active player discussing what certain moves meant for teams. 
In the second round, Johnson had to discuss his own future. The Carolina Panthers used a second-round pick on USC receiver Dwayne Jarrett. 
The writing immediately appeared on the wall: Johnson's time in Carolina was limited and Jarrett was his replacement. 
Interestingly, Johnson already had a pre-existing relationship with Jarrett and had mentored him throughout the draft process. Johnson spoke glowingly of his new teammate and said he'd mentor him on the field, too. 
Then came the other awkward part. Johnson interviewed Jarrett, his successor, on live TV. 
Everything considered, the interview went fine. Johnson remained professional and he was clearly happy for Jarrett. 
The two never played together, though. Carolina released Johnson three days after the draft. 
Keyshawn Johnson signed with ESPN in May 2007 and never played an NFL down again. He stayed with ESPN until January 2016. 
As for Jarrett, the second-round pick caught 35 passes for 428 yards and a touchdown across four seasons. His career ended after the 2010 campaign.