Keyshawn Johnson Has a Massive Net Worth Even Before the Start of His New Show on ESPN
Keyshawn Johnson had a successful NFL career with four different teams. However, many people might know him more for his work on ESPN. Johnson has been on the network for over a decade, but he is now getting more responsibilities as he will soon have a new morning radio show. Since Johnson has had success in the NFL and on ESPN, he has made a lot of money. We took a look at his net worth.
Keyshawn Johnson was a star wide receiver in the NFL
RELATED: Mike Golic's Future at ESPN Is Unknown but He Has Racked up a Massive Net Worth During His Career
After finding success at USC in college, Johnson went to the New York Jets with the first overall pick in the 1996 NFL draft.
Johnson found success with the Jets in his first two seasons. He caught 63 passes for 844 yards and eight touchdowns as a rookie, and then 70 passes for 963 yards and five touchdowns in his second season. However, he became really productive during his third season in 1998.
Catching 83 passes for 1,131 yards that season, Johnson earned his first Pro Bowl selection. He then earned a second consecutive Pro Bowl selection in 1999 with 89 catches, 1,170 yards, and eight touchdowns.
In 2000, Johnson started playing for the Tampa Bay Buccaneers. After catching 71 passes for 874 yards and eight touchdowns in his first season in Tampa Bay, Johnson earned his third Pro Bowl selection in 2001. He caught 106 passes that season for 1,266 yards — both career highs.
Johnson then gained over 1,000 receiving yards again in 2002 with the Buccaneers. He helped lead them to a Super Bowl win that season too. He caught six passes for 69 yards in the 2003 Super Bowl win over the Oakland Raiders.
In the 2003 season, Johnson spent his last season with the Buccaneers, but he only played in 10 games. Johnson then spent two seasons with the Dallas Cowboys in 2004 and 2005, catching 141 passes for 1,820 yards in those two seasons. He then caught 70 passes for 815 yards and four touchdowns in 2006 with the Carolina Panthers. That was his last season in the NFL.
Johnson has had a successful career at ESPN
RELATED: Jerry Jones Just Got Another Stern Message From a Star Player on the Dallas Cowboys
In 2007, Johnson joined ESPN as an analyst on the same day he announced his retirement from the NFL, according to ESPN Press Room.
He was on Sunday NFL Countdown and Monday Night Countdown from 2007 to 2015 and contributed to the network's coverage during Super Bowl week. Since 2016, though, Johnson has been a daily host for ESPNLA. 
However, the New York Post reported that with Golic & Wingo being cut in the morning, Johnson will have a new morning radio show with Jay Williams and Zubin Mehenti. The show should begin in mid-August. 
That is not all, though, as ESPN announced in June 2020 that it will relaunch NFL Live in August. The show will have Laura Rutledge as its host. Marcus Spears, Dan Orlovsky, Mina Kimes — and Johnson — will serve as analysts on the show. 
"Laura, Marcus, Dan, Mina and Keyshawn have all excelled in their respective roles across ESPN platforms – and have already worked closely together," said ESPN's vice president of production, Seth Markman, according to ESPN Press Room. "The daily conversations they will have about the NFL is something we hope fans will really learn from and enjoy."
What is Keyshawn Johnson's net worth?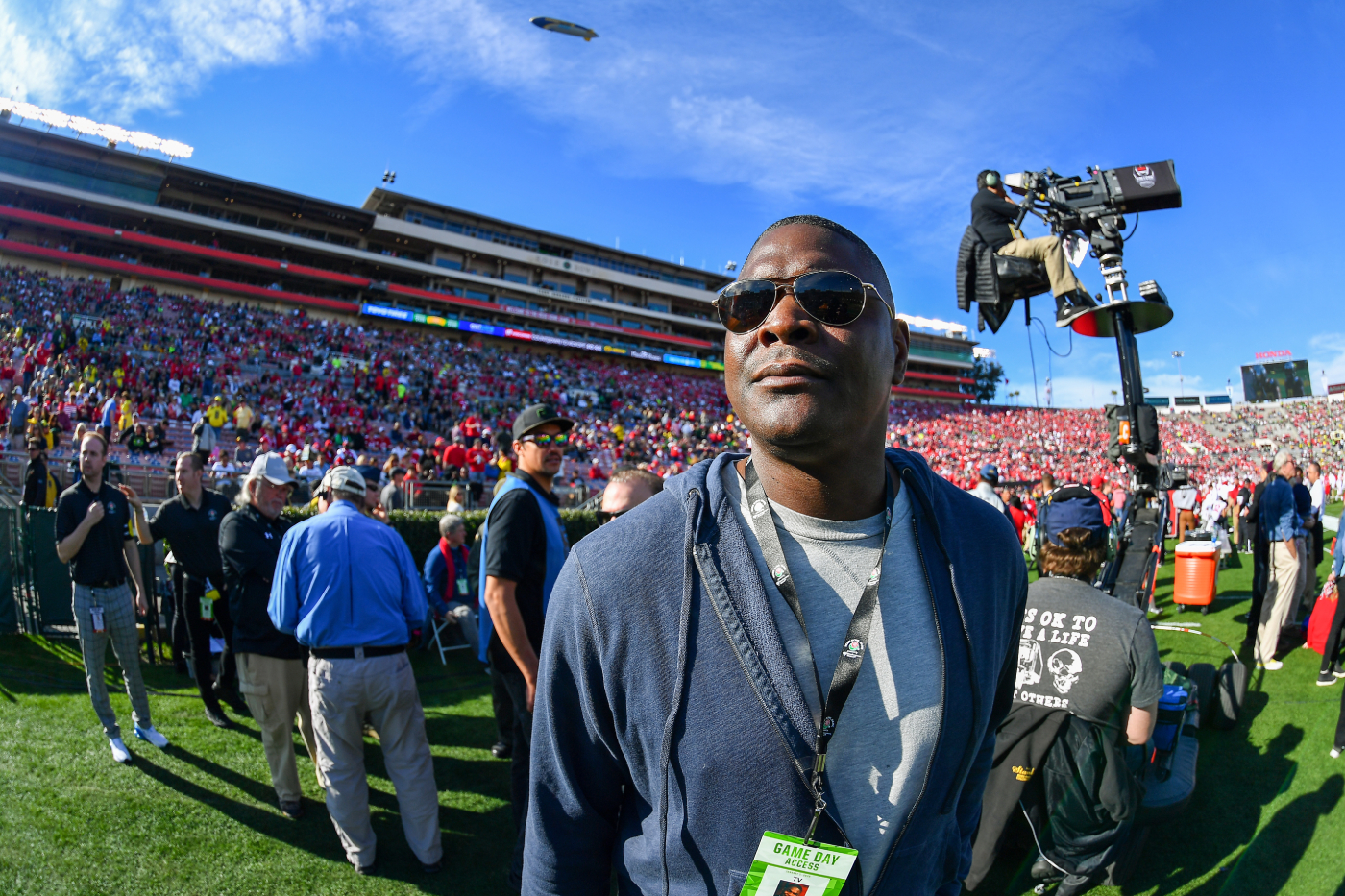 RELATED: Colin Kaepernick and Nessa: Who Has a Higher Net Worth?
Johnson has had about as much success a former NFL player can have after a successful football career. This has helped him make a lot of money over the years.
Because of all of the money Johnson has made, Celebrity Net Worth estimates that Johnson is worth $20 million.
Johnson's careers in the NFL and on ESPN have certainly paid off for him.
Stats courtesy of Pro Football Reference