Khabib Nurmagomedov and Jon Jones Have Next Fights Set in Early 2020
Khabib Nurmagomedov and Jon Jones are two of the best pound-for-pound fighters in UFC history. Nurmagomedov is a perfect 28-0 as a professional and 12-0 in the UFC while Jones is 25-1 with a 19-1 record in the UFC, and his only career loss came due to disqualification for throwing illegal downward elbows. Neither of these men has ever been defeated in the octagon, and both will look to keep it that way in 2020 when they defend their respective titles against new contenders.
Jon Jones will face Dominick Reyes in February
Jon Jones's win over Thiago Santos at UFC 239 last July was the 10th successful defense of the UFC Light Heavyweight Championship of his career. The fight was far from Jones's best effort as the 32-year-old only narrowly edged out the win by split-decision over Santos. Speculation has swarmed around the fight ever since, with some UFC fans wondering if Jon Jones is on the decline or if this was just an off-night for the all-time great.
Dominick Reyes has been chosen for a title shot against Jones on February 8, 2020. The 29-year-old Reyes had his first professional fight in December of 2014, and he compiled a 6-0 record as a professional before joining the UFC in 2017. Reyes has gone 6-0 in the promotion, most recently defeating Chris Weidman in the main event of UFC on ESPN 6 to earn this title shot.
Jones is going off as a -300 (bet $300 to win $100) betting favorite in this matchup. Dominick Reyes is a +240 (bet $100 to win $240) betting underdog in the championship fight. This will be Reyes's first stint as an underdog in his young career.
Khabib Nurmagomedov is set to take on Tony Ferguson in April
While the fight hasn't officially been set, Dana White and the UFC are planning to have the fight between Khabib Nurmagomedov and Tony Ferguson on April 18 at the Barclays Center in Brooklyn, New York. Nurmagomedov has signed the bout agreement and is waiting for Ferguson to do so as he negotiates his terms for the UFC Lightweight Championship bout.
Khabib Nurmagomedov is arguably the best MMA fighter in the world at the moment. Nurmagomedov picked up a submission win over Dustin Poirier at UFC 242 after returning from his suspension following the post-fight brawl he had with Conor McGregor and his team at UFC 229. The undefeated 31-year-old has thoroughly dominated virtually every fight he has been in with his dominant ground game.
Tony Ferguson is hoping to be the one to end Nurmagomedov's reign of dominance. Ferguson has had a long stretch of dominance of his own; since picking up the third loss of his professional career back in May of 2012, Tony Ferguson is a perfect 12-0 over his last 12 fights. Five of his last six fights have been the Fight of the Night, and there's a good chance that this title match will continue that trend.
Ferguson is opening as a +190 betting underdog against Nurmagomedov as a -240 favorite.
At some point, Jon Jones may need to move up to heavyweight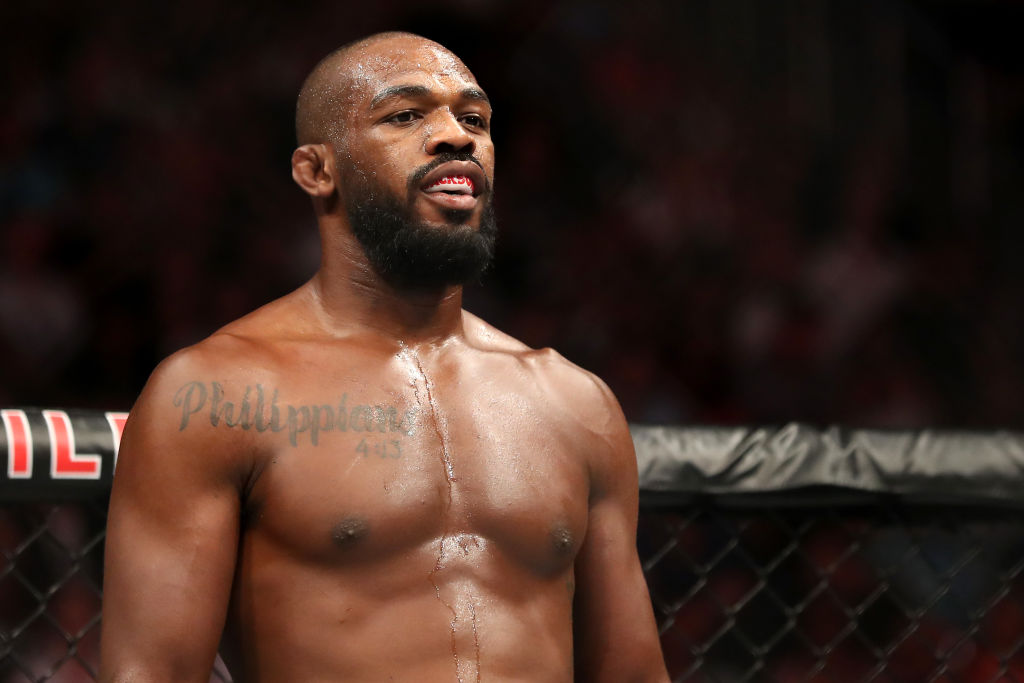 The Nurmagomedov vs. Ferguson fight is a legitimate super fight. UFC fans have been clamoring for this fight between two of the best in the world.
Dominick Reyes has earned this title fight, but to many, he doesn't feel like a legitimate threat to dethrone Jon Jones. Jones has dominated the light heavyweight division for his entire career, and there just aren't many compelling fights to book for him. If he defeats Reyes as expected, fan buzz around him moving up to heavyweight will only continue to intensify.