Khabib Nurmagomedov Doesn't Sound Too Hopeful He'll Ever Fight Tony Ferguson
Khabib Nurmagomedov versus Tony Ferguson are the words that almost every UFC fan wants to hear, but something always happens to stop it from happening. And unfortunately, after Ferguson's last fight, the chance for this fight to happen just got lower. In fact, the chances are now so low that even Khabib Nurmagomedov doesn't think it'll ever happen.
A brief history of Khabib Nurmagomedov vs. Tony Ferguson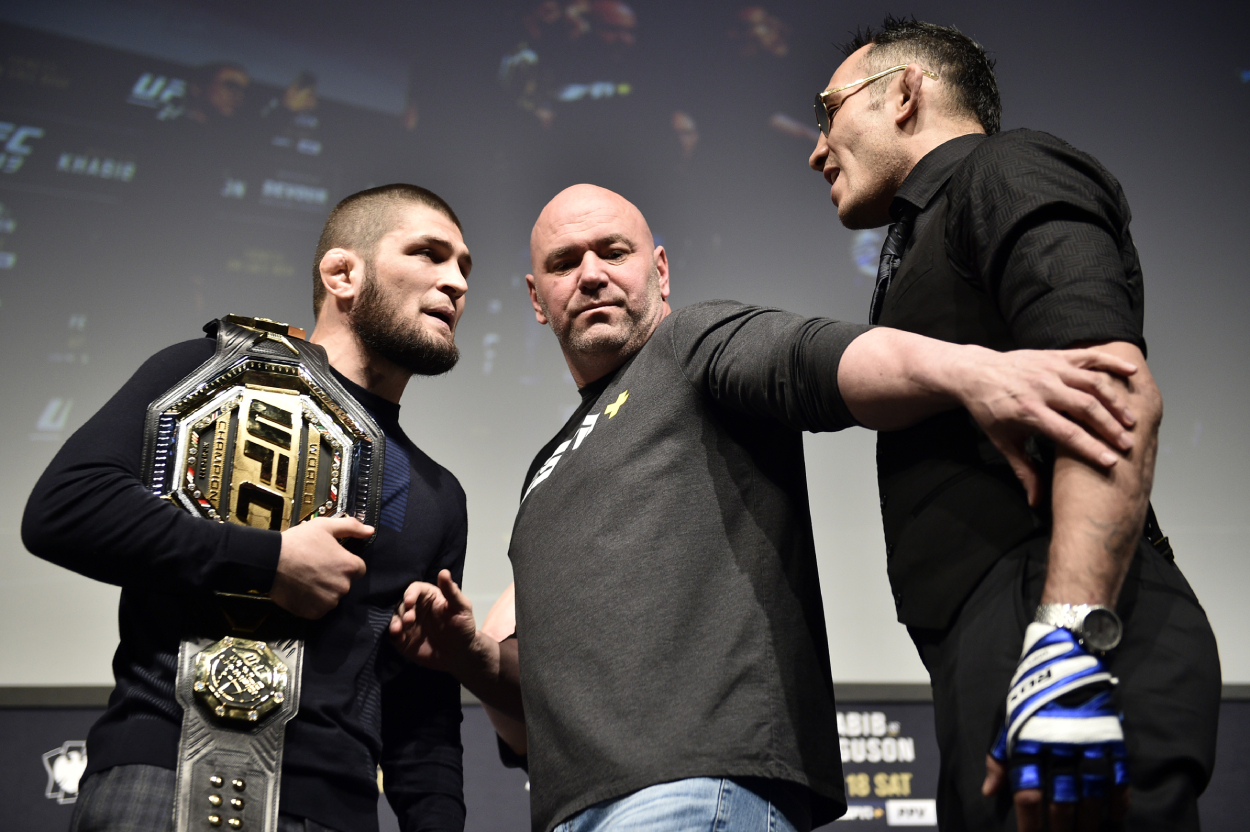 This fight is the white whale for UFC fans. It's been booked five times now across five years, and each time, something happened that prevented the fight from going forward. The first two times the UFC tried to make this fight, the fights were ultimately canceled because both fighters got injured.
The third time the UFC tried to make the fight, everything was going well until Nurmagomedov got sick while cutting weight on the day of the weigh-ins. The fourth time the UFC tried to make the fight, Ferguson had a freak accident where he tripped over a cable and it injured his knee severely, forcing the fight to get canceled once again.
The fifth time that the UFC tried this, a global pandemic happened and obviously, it got canceled. That said, both fighters were fighting other people and winning those fights between each and every cancellation. However, after this fifth cancellation, Ferguson decided to fight Justin Gaethje for the interim title. This time, Ferguson lost.
Why Khabib Nurmagomedov doesn't ever expect to fight Tony Ferguson
RELATED: UFC Referee Herb Dean Revealed Khabib Nurmagomedov Trash Talks the Entire Time He's Fighting
As Nurmagomedov explained in an interview with ESPN, he doesn't think he'll ever fight Ferguson because Ferguson is no longer the same fighter that he had almost fought five times in the past.
He said, "Nobody can be the same for a long time. One day you're going to go down and his day come. It was May. Tony Ferguson is finished now." 
Ferguson's fight with Gaethje was a bloody and brutal one, like most of their fights are. While Ferguson had some good moments, the fight was largely dominated by Gaethje, who landed punch after punch on Ferguson's face.
Near the end of the fifth and final round, a bloodied Ferguson took one punch to the face from Gaethje, shook his head, and started retreating. Gaethje landed one more clean shot, and the ref had seen enough.
Even though Ferguson never fell down, the ref could tell that Ferguson was done. He called the fight off, and afterward, Nurmagomedov thought that Ferguson had changed. "When you take damage like this, you'll never going to be the same. Never. Even if you're Tony Ferguson," he said, according to ESPN. 
How Tony Ferguson can rebound
RELATED: Justin Gaethje Backed Up UFC President Dana White in His Beef With Conor Mcgregor
Khabib Nurmagomedov is pessimistic about Ferguson's future. According to ESPN, he thinks that Ferguson will lose his next fight, simply because he's taken too much damage from the Gaethje fight.
That said, Nurmagomedov also thinks that the only way that a fight between him and Ferguson can happen is if Ferguson wins his next fight, and that's why he's encouraging Ferguson to take up a fight against Islam Makhachev, who's Nurmagomedov's friend.
If Ferguson takes this fight and beats Makhachev, Nurmagomedov thinks that Ferguson may have earned another shot at him. This is what most UFC fans think too, as Ferguson, even after his loss to Gaethje, is still a high-level fighter.
He hasn't fought again since that loss, but many fans are expecting him to beat his next opponent. With another win under his belt, he could easily make his case for a title shot against Nurmagomedov.
However, Ferguson doesn't have a fight scheduled, so Nurmagomedov's prediction may be right. Ferguson is 36 right now, and he's not getting any younger. Unfortunately, time may have sunk this fabled fight for good.