Khabib Nurmagomedov Hit a Major Religious Milestone When He Joined the UFC
Khabib Nurmagomedov is the current undefeated lightweight champ of the UFC, but he's much more than that. He's also a devout Muslim hailing from Dagestan, Russia, and he's helped break religious barriers in the UFC. Here's how Khabib Nurmagomedov is the first of potentially many Muslim UFC champs.
Khabib Nurmagomedov's intense Russian training
While it's true that Nurmagomedov is primarily a wrestler who's interested in taking down his opponents and beating them up, he's much more than that. Like Al Araby reports, Nurmagomedov grew up training under his dad, Abdulmanap. Not only was Abdulmanap a veteran of the Soviet Army, but also a practitioner of various martial arts. 
Abdulmanap taught his son how to wrestle. He also taught him Sambo, a martial art developed to improve the hand-to-hand combat abilities of Soviet troops. Nowadays, Sambo is best-known as a competitive martial art. Nurmagomedov is actually a two-time world champ in Combat Sambo, according to Al Araby. 
Sambo is not that different from MMA, since Sambo incorporates many aspects of different martial arts. As a result, Nurmagomedov's transition from Sambo into MMA went very smoothly. However, he's not the only Sambo practitioner making waves in the UFC. Many of his Russian compatriots have also successfully made the jump into the UFC.
Khabib Nurmagomedov breaking religious milestones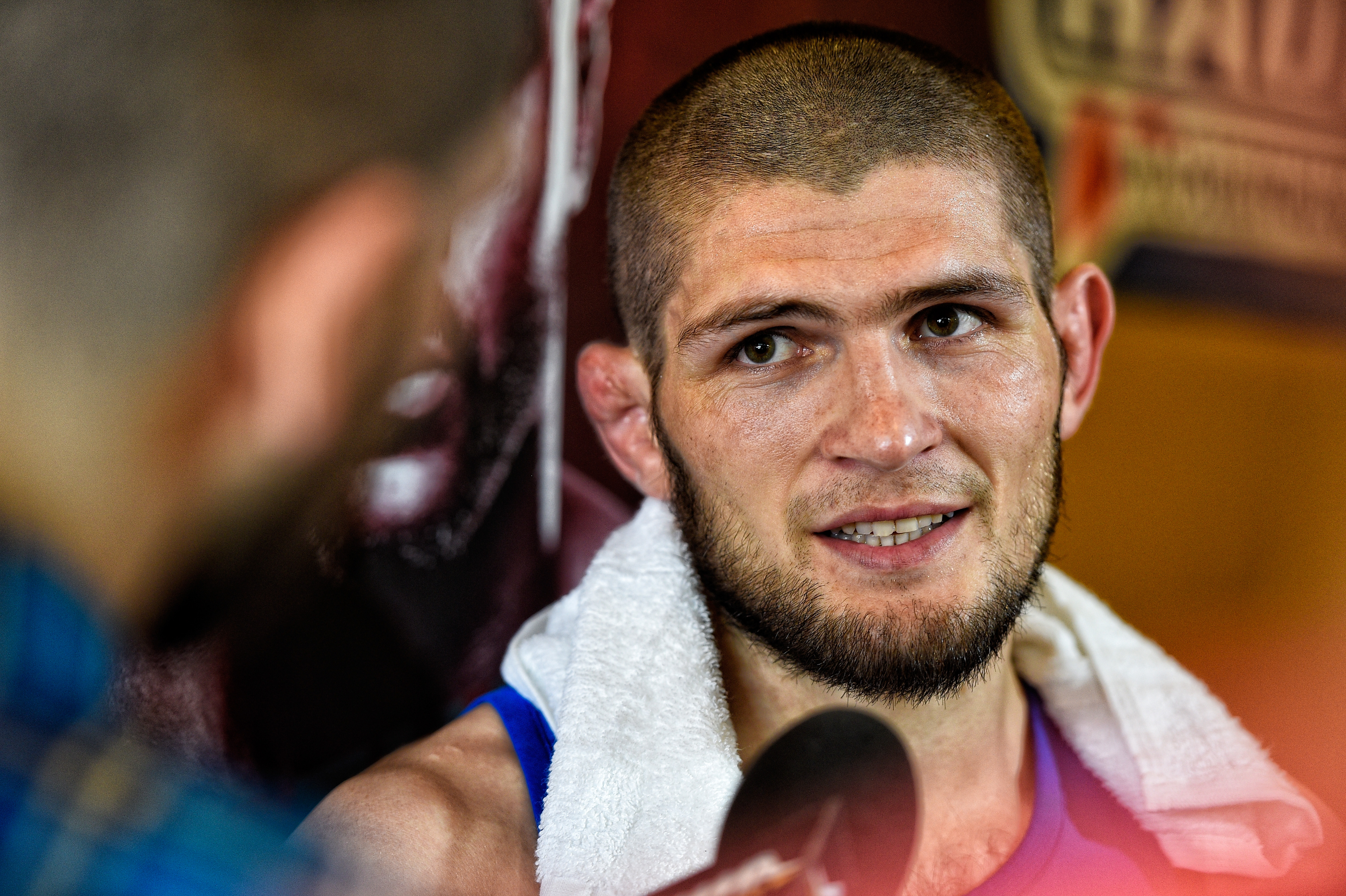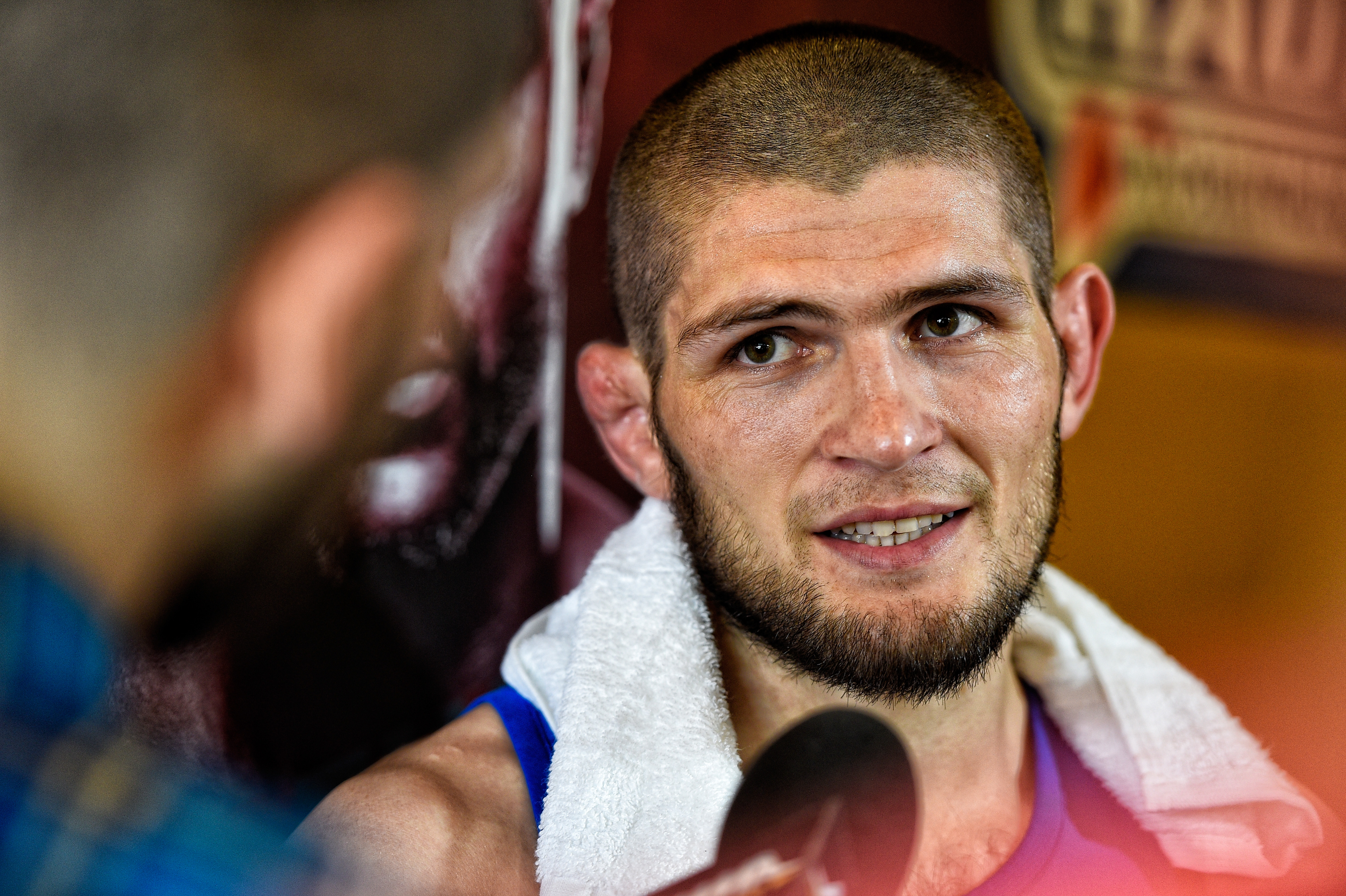 Sambo, as well as many other martial arts, have become popular in the Muslim-dominated areas of Russia, including the autonomous republics of Dagestan and Chechnya. Nurmagomedov is from Dagestan. Not long after he made a name for himself in the UFC, many of his close friends and family members also joined the UFC. 
However, when he finally won the lightweight title at UFC 223 in 2018, he broke a religious milestone and became the UFC's first Muslim champ, according to Al Araby. This instantly made him a star in Russia and Muslim communities around the world. It undoubtedly encouraged many to follow in his footsteps. 
Many Russian Muslims have already done just that, and many of them aren't related to Nurmagomedov whatsoever. For example, Zabit Magomedsharipov is a highly-ranked fighter in the UFC, and while he's from Dagestan, he doesn't train with Nurmagomedov. Another rising star in the UFC is Khamzat Chimaev, who's from Chechnya, and he's already dominating all of his UFC opponents. 
Faith is important to Khabib Nurmagomedov
Nurmagomedov is now the most famous Russian MMA fighter since Fedor Emelianenko. He has a lot on his shoulders. Due to his massive following, Nurmagomedov tries to put his best foot forward when it comes to religion. He often quotes the Quran on his social media posts. He'll often talk about how important faith is to him in interviews.
Nurmagomedov's faith isn't just talk, either. He takes Ramadan so seriously that he refuses to schedule any fights on or near Ramadan. On top of that, he's a critic of any socially liberal reforms in Dagestan, according to Al Araby. Furthermore, he encourages others to respect his religion. For example, according to The Independent, EA Sports inadvertently gave his character in the UFC 2 game a sign of the cross gesture. 
Nurmagomedov, as well as other Muslims, protested this, as he isn't a Christian, and he'd prefer if they changed that gesture. EA Sports acknowledged the mistake, apologized to Nurmagomedov directly, and then fixed it. This wasn't the only example of how seriously Nurmagomedov takes his faith, but it was one of the more visible examples.