Khabib Nurmagomedov Remains 1 of the Most Humble Fighters in the UFC
Everyone in combat sports hopes they'll go out undefeated, but even the best fighters usually fall at least once or twice. This isn't the case with UFC fighter Khabib Nurmagomedov. The Russian lightweight has entered the octagon 29 times and left it as victor every time. Despite this domination, you won't find Nurmagomedov talking trash. He prides himself on being humble amidst his international success. 
Khabib Numagomedov's UFC career
RELATED: Khabib Nurmagomedov's Net Worth Is Only Getting Stronger Thanks to His UFC Dominance
Nurmagomedov has been fighting professionally for 12 years, reports ESPN. Starting in the Russian circuit, his first triumph was a submission against Vusal Bayramov. With each of the next 15 wins, his star grew brighter. By 2012, he was fighting on the biggest stage in sports, the UFC. After beating Kamal Shalorus, he proved he could hang with the locals, too. 
While it took Nurmagomedov several years to become a title fighter, he left all of his competition on the mat along the way. From Gleison Tibau to Edson Barboza, He knocked opponents out, forced the judges' hand, and made them tap out with his signature triangle choke en-route to becoming one of the most exciting up-and-comers in the sport. 
Finally, in April of 2018, Nurmagomedov got his first lightweight title after beating Al Iaquinta. From there, he got one of the biggest names in the sport, Conor McGregor, to step into the ring with him. The result was a win by submission. His 2019 bout with Dustin Poirier kept up the tradition of victory after forcing yet another submission. 
Nurmagomedov's talent is undeniable. If he rubbed it in the opponents' faces, it would not matter. Despite all of this success, however, the lightweight champion remains even-keeled when discussing his success with others. 
Nurmagomedov's humility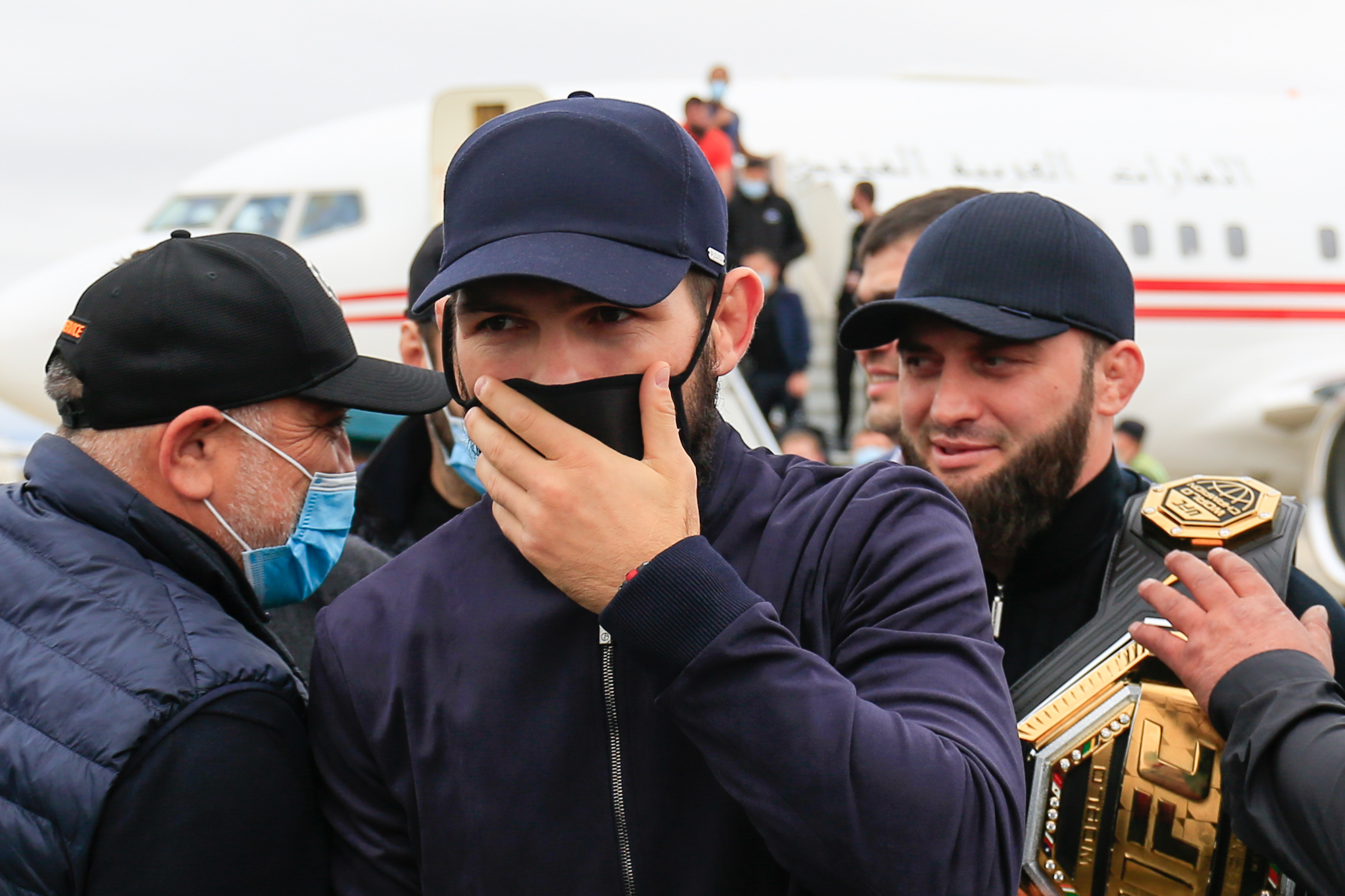 RELATED: Khabib Nurmagomedov Hit a Major Religious Milestone When He Joined the UFC
Few fighters boast the undefeated streak Nurmagomedov has. Save for Floyd Mayweather in boxing, few combat sports athletes make it anywhere close to his record. This shows that he's one of the best.
After 12 years of wins, it'd be easy for a fighter like Nurmagomedov to expect victories, but he tries to keep an even head. He spoke about this with ESPN MMA: "Nobody [can] be the same [for a] long time," Nurmagomedov told Brett Okamoto. "Nobody. No Tony Ferguson, no Khabib, Nobody. And, one day, someone's going to beat you, or something's going to happen."
While this might not be as inevitable as Nurmagomedov claims it is, he is realistic, nonetheless. No fighter is guaranteed defeat until the first time that they submit, get knocked out, or lose via decision. It comes with the job a vast majority of the time. However, with such humility about his prospects, Nurmagomedov's humility might be what keeps him on the right side of this record. 
Keeping up the greatness
Nobody comes close to Nurmagomedov when it comes to being undefeated. The next-best fighter in terms of the record isn't even in the UFC, but Bellator. According to Bellator, Yaroslav Amosov has won all 24 of his fights, with nine decisions, 10 submissions, and only five forced decisions. It's safe to say that Nurmagomedov has a comfortable lead, and with no signs of slowing down, he might extend this significantly. 
His next fight, against Justin Gaethje, aired on October 24. There, Nurmagomedov extended his impressive winning streak. However, when and if he eventually loses his perfect record, it won't diminish his legacy. If he continues to bypass any losses, Nurmagomedov will do what few before him ever dreamed of while keeping his humility close at hand.