Khabib Nurmagomedov Says Conor McGregor Cannot Beat Dustin Poirier: 'If They Fight 100 Times, Dustin Is Gonna Beat Him 100 Times'
Former UFC lightweight champion Khabib Nurmagomedov does not believe Conor McGregor would have defeated Dustin Poirier at UFC 264 even if he hadn't suffered a devastating injury. In fact, "The Eagle" doesn't believe McGregor can beat Poirier at all.
Nurmagomedov recently sat down for an interview with ESPN's Brett Okamoto to discuss some of McGregor's comments about his legacy. He also spoke about the Irishman's recent defeat at the hands of "The Diamond" and provided some telling comments about the matchup.
Khabib Nurmagomedov thinks Conor McGregor is over the hill
Nurmagomedov did not shy away in his criticisms of the "Notorious One."
McGregor previously chastised Nurmagomedov as having a weak legacy and leaving the fight game early during an interview with ESPN's Stephen A. Smith. The undefeated champion retired following his win over Justin Gaethje at UFC 254.
Now a spectator of the sport, Nurmagomedov told Okamoto he felt the "Notorious One" is just trying to make "noise." He also said McGregor expended too much energy in the buildup to the fight and failed to get into Poirier's head.
Nurmagomedov noted that the two fighters appeared to be friendly ahead of their second fight at UFC 257 in January. However, McGregor was far more vicious during this fight week, even bringing Poirier's wife, Jolie, into some of the trash talk.
The Dagestani star appears to hint at McGregor being desperate to gain a psychological edge. Maybe McGregor sought a return to his roots as the guy who was once a two-division UFC champion, rather than a fighter who has now lost three of his last four bouts.
Nurmagomedov does not believe McGregor can beat Dustin Poirier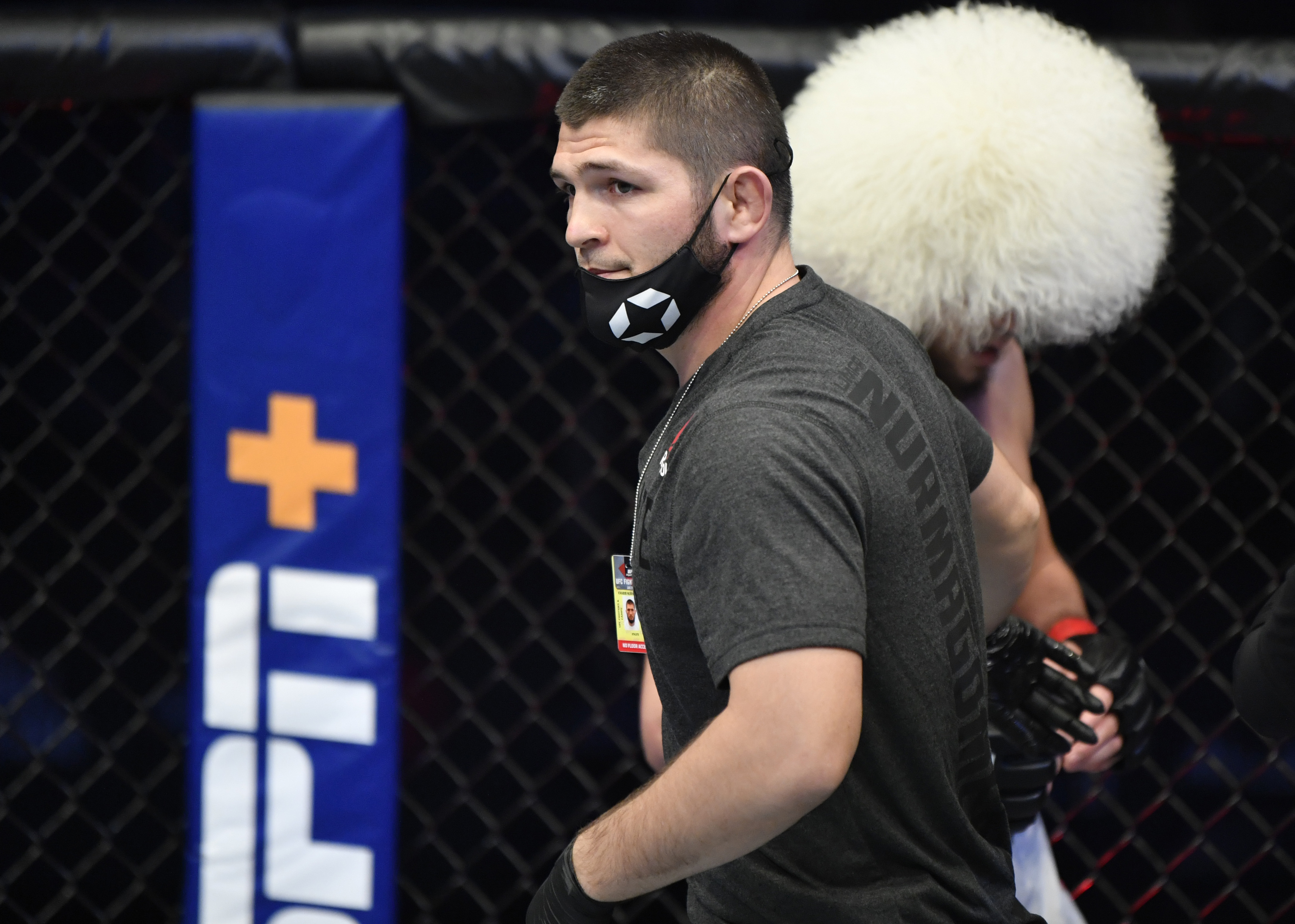 Not only did Nurmagomedov praise Poirier for being unfazed by McGregor's trash talk, but he also said Poirier presents an unwinnable matchup for McGregor.
Okamoto asked Nurmagomedov about what might have happened had McGregor not suffered a broken tibia at the end of the first round. "The Eagle" indicated the rest of the fight would have gone like much of the first round: with Poirier controlling the fight and hitting McGregor with hard shots.
"What's is gonna happen?" Nurmagomedov asked Okamoto, via ESPN MMA. "I don't think something's gonna happen. The judges gave Dustin Poirier a 10-8. He mauled [Conor McGregor] in [the first] round. If they fight 100 times, Dustin is gonna beat him 100 times."
The fight was off to a rapid pace right from the start, with McGregor and Poirier exchanging blows on the feet. The momentum swung to Poirier after the fight went to the ground, though, as he escaped a guillotine chokehold and began landing huge elbow strikes to McGregor's head.
That was all just before McGregor suffered the broken tibia as the two threw punches after the fight returned to a standing position.
Is McGregor-Poirier 4 a realistic possibility?
Despite the first round clearly going in Poirier's favor, McGregor insisted that the fight would have swung back in his direction had he not gotten injured.
McGregor sent out a message to his followers after undergoing surgery to repair the tibia, stating Poirier's win was "illegitimate" and claiming, "The second round would have shown all."
Fight fans will never know if the second round would have gone differently. Still, Poirier showed he might be too well-rounded and resilient for McGregor.
"The Diamond" displayed superior grappling and walked through some of McGregor's best shots. He got to a favorable position and established ground control. McGregor was practically helpless to make adjustments other than throwing upkicks.
Will McGregor and Poirier fight for the fourth time? That remains to be seen. "The Diamond" is likely to be pitted against current lightweight champion Charles Oliveira. Meanwhile, there is no telling what McGregor's timeline for recovery will look like.
RELATED: Floyd Mayweather Won a Nice Chunk of 'Easy Money' Betting Big on Dustin Poirier to Beat Conor McGregor at UFC 264
Perhaps UFC president Dana White feels McGregor-Poirier 4 is still the fight to make. Regardless, Nurmagomedov does not seem to think another bout between the lightweight contenders will play out differently.
Like Sportscasting on Facebook. Follow us on Twitter @sportscasting19.