Khabib Nurmagomedov Shut Down Any Possibility of Him Coaching on 'The Ultimate Fighter'
There isn't a more talented UFC fighter than Khabib Nurmagomedov. This is not hyperbole. At 29-0, he's the most successful undefeated fighter in MMA. Because of this, he has sway that no other fighter does. However, while others may embrace the idea of coaching The Ultimate Fighter against rival Conor McGregor, the lightweight champion doesn't see a point in reigniting their rivalry.
Khabib Nurmagomedov's UFC career
Nurmagomedov was already building a healthy resume long before he started with the UFC. While other legendary fighters like Jon Jones only needed months to go from small-time pro to UFC fighter, the Russian champion made slower work of defeating his opponents at a lower level before entering the biggest stage that the sport has to offer. 
On the smaller circuit, Nurmagomedov was relentless. According to ESPN, he once defeated three men on the same day in his second, third, and fourth fights as a professional at the 2008 Pankration Atrium Cup. From there, he struck down every opponent between him and his UFC debut in January of 2012 against Kamal Shalorus. 
While many might assume that a series of wins for the undefeated fighter would make for a quick title bout, Nurmagomedov had to wait six years before getting a chance to hoist the lightweight title, details Insider. After bringing down Al Iaquinta in April of 2018, however, he finally had his wish.
Nurmagomedov defended the title six months later after defeating Conor McGregor in the fourth round and backed it up in 2019 with a defeat over Dustin Poirier. Now over a year later, Nurmagomedov just won his 29th fight, against Justin Gaethje at UFC 254.
Nurmagomedov vs. Conor McGregor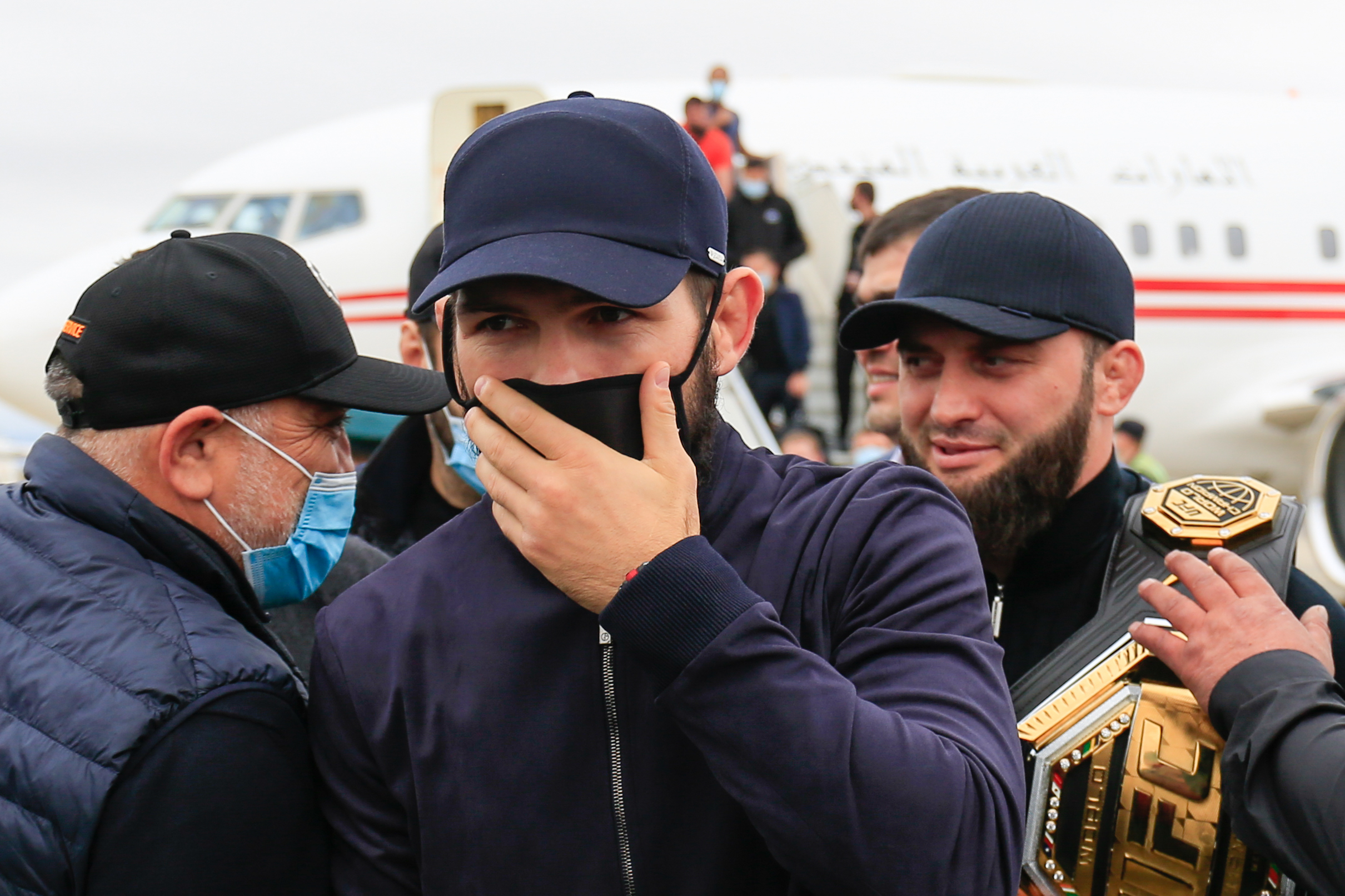 RELATED: The UFC Refuses to Acknowledge Its Sketchy Connection to Russian Through Khabib Nurmagomedov
Although the McGregor fight went into the fourth round, the undefeated Russian dominated it. Despite McGregor having a greater reach in terms of fame, he was no match for the balanced attack that Nurmagomedov offers. The fight was another humbling loss for McGregor in a recent history filled with them. 
Despite this, many want a rematch. While Nurmagomedov hasn't completely ruled out stepping into the octagon with the Irish sensation again, he's given him an ultimatum. He wants McGregor to beat his last opponent, Poirier, within the lightweight division. Otherwise, in his mind, it would be fools gold if they fought at welterweight. 
"If he beats [Poirier] at 155, it makes sense, but if they fight at 170, how can you fight at 170 and next fight you can fight at 155? They want to make everything easy," Nurmagomedov told the Quick with Mike Swick Podcast per Insider. In another arena, however, he says he isn't going to consider going against McGregor at all. 
A McGregor-vs-Nurmagomedov coaching battle? 
RELATED: Khabib Nurmagomedov Hit a Major Religious Milestone When He Joined the UFC
One place where the UFC could get the duo fighting in a different way is on the wildly popular Ultimate Fighter. The company reportedly wanted the undefeated fighter to pit off against his rival as a coach on the program. This, according to Nurmagomedov, is not a possibility.
"This Ultimate Fighter with him … it's good attention for him," he said to ESPN's Brett Okamoto. "I don't want to give him this. I would never do this for him … Even if they give me $5 billion, even if they gave me UFC, I would never do this. This is good attention for him … It's done. Everything is done. October 6 I finished him and I finished everything about him."
Time will tell if the two meet in the octagon again, but as long as Nurmagomedov keeps winning, he will always have the upper hand on McGregor. Now, the oft-retired McGregor will have to prove himself if he wants to take on Nurmagomedov again.