Khabib Nurmagomedov's 1st MMA Opponent Was a Bear and PETA Won't Let Him Forget It
Khabib Nurmagomedov is probably one of the best wrestlers in the UFC. He's had to work hard to get there. Fortunately, his late father, Abdulmanap, was a wrestling coach, so Nurmagomedov had a lot of help. That said, one of Nurmagomedov's first training partners was a bear, and PETA hasn't forgotten about it.
Khabib Nurmagomedov's early years
Born a few years before the collapse of the Soviet Union, Nurmagomedov grew up in very volatile times. Not only that, but he was born in Dagestan, an autonomous republic in Russia, and according to Al Araby, Dagestan, as well as its neighbors, had a lot of violence during the time. In Chechnya, a neighboring autonomous republic, two devastating wars broke out between the Chechens and the Russians. 
Dagestan was more peaceful, but there were still terrorist attacks here and there. This was the backdrop for how Nurmagomedov grew up. His father, Abdulmanap, a Soviet Army veteran, wanted to keep the peace in Dagestan. Abdulmanap did that by starting a small gym to teach local kids martial arts. This helped build confidence in those kids, but Al Araby also said that it helped prepare them for the military.
Nurmagomedov learned a lot about wrestling and other martial arts from his father. In fact, according to Al Araby, Abdulmanap said that Khabib learned how to walk on one of his wrestling mats. It didn't take long before his father gave him a harder challenge.
Nurmagomedov wrestles a bear
When he was nine years old, Nurmagomedov wrestled a bear. While this seems kind of reckless, it isn't as bad as it seems. According to Al Araby, the bear was chained up and probably declawed as well. On top of that, the bear was a young bear, which meant that the young Nurmagomedov wasn't wrestling a massive full-grown bear by any means. 
Regardless of the nuance, PETA objected to the treatment of that bear, according to USA Today. A spokesperson for PETA said that it wanted the UFC to, "evaluate its relationship with Mr. Nurmagomedov until he shows a clear change in attitude and a commitment to showing animals the respect that they deserve."
Although the video has been deleted from a lot of places, it's still easy to find and in fact, neither the UFC nor Nurmagomedov have made any moves in regard to it. Nurmagomedov even wrestled a bit with the same bear in 2014 and 2019, according to USA Today, and he called it "an old friend."
Khabib Nurmagomedov's wrestling training paid off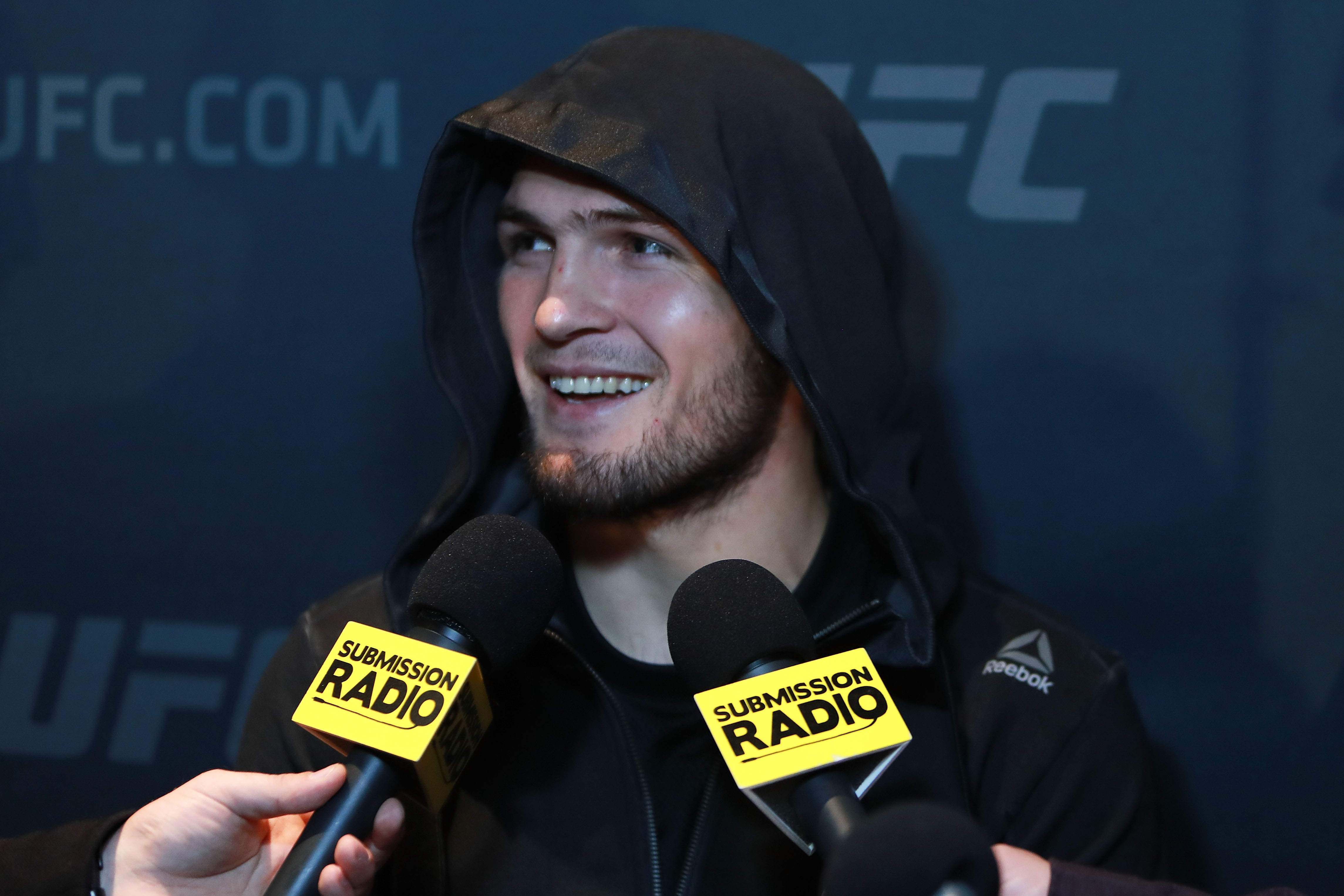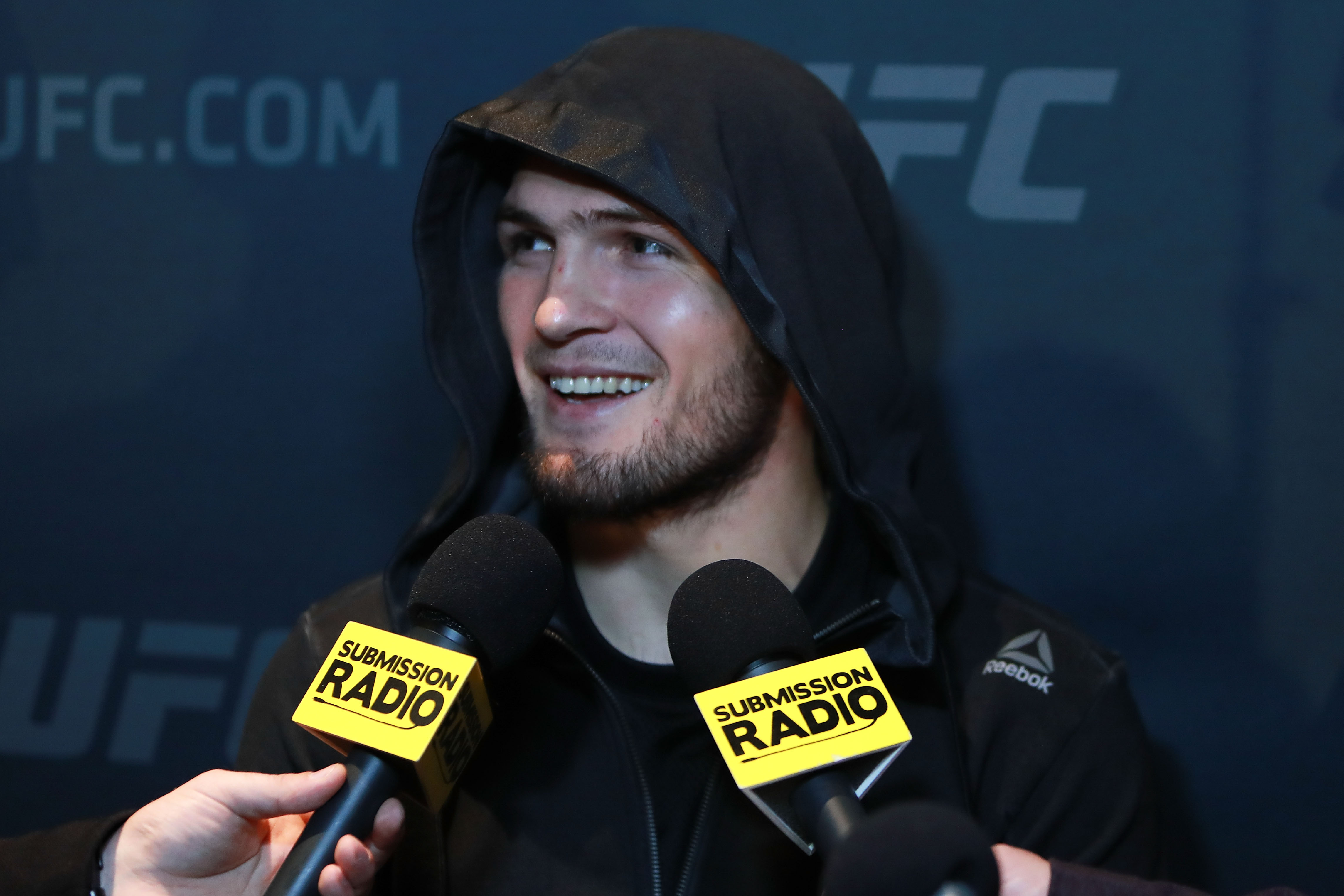 Regardless, it's clear that his father's training regimen has paid off. Al Araby said that Nurmagomedov credits his father for his success in MMA. His father not only trained him in wrestling, but also in other martial arts that he continues to use to this day. And, before Abdulmanap tragically died from COVID-19, he almost always coached and cornered his son whenever he fought.
While Abdulmanap is no longer in his son's corner, his training is still paying dividends. Nurmagomedov continues to use every technique that his father taught him in order to dominate his opponents. He's been able to take down almost every single one of his foes, and few people have been able to deal with his wrestling attacks. 
Not only that but after he retires, Nurmagomedov plans on passing down his knowledge and experience to others. There are already many great Dagestani and Chechen fighters in the UFC, and if Nurmagomedov is as good of a coach as he is a fighter, then there may be many more Dagestani and Chechen UFC fighters to come.