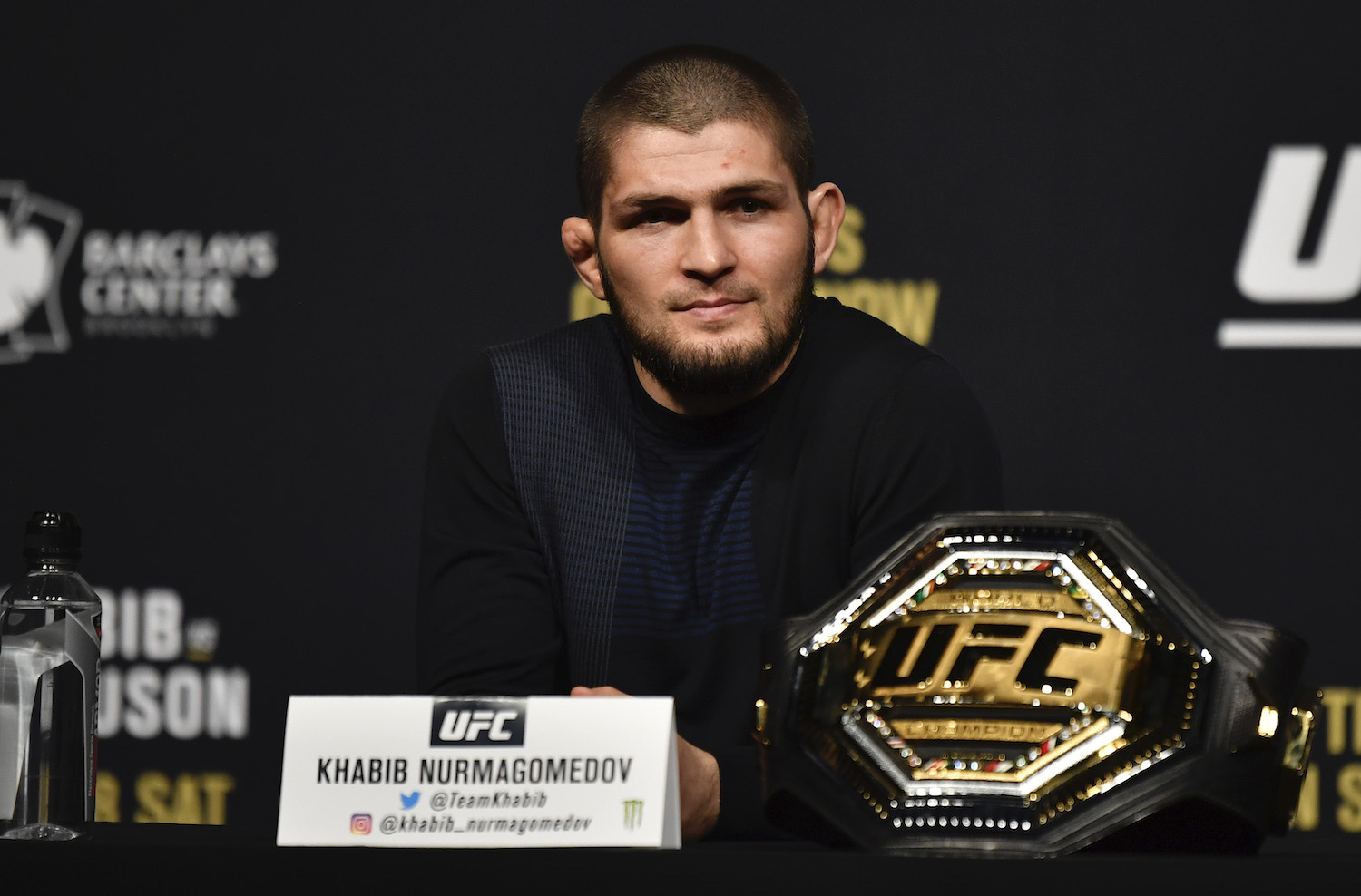 Khabib Nurmagomedov's Return to Octagon Set for October Against Justin Gaethje
The pandemic has personally affected Khabib Nurmagomedov delaying his fight and tragically taking his father's life. The UFC lightweight champ is moving forward and returning to the cage in October against Justin Gaethje.
Khabib Nurmagomedov hasn't fought since last September. Like everyone else, the worldwide pandemic has dramatically affected the UFC lightweight champion's life, including a delay of his return to the Octagon and a defense of his title. Unfortunately, the disease affected Nurmagomedov on a much more personal level when it claimed the life of his father and trainer in early July.  
After dealing with multiple setbacks, the UFC's No. 2 pound-for-pound fighter appears ready for a return to action. And according to the UFC's Dana White, that will happen on October 24 against interim champion Justin Gaethje. 
Khabib Nurmagomedov's last fight
When Khabib Nurmagomedov last stepped into the Octagon, he stepped out of it following a third-round submission of Dustin Poirier. In the process, he successfully defended his lightweight title belt a second time and improved his overall record to an unblemished 28-0, including 12 straight wins in the UFC. 
Following the fight, everyone expected Nurmagmedov's next bout to feature an opponent everyone has been waiting for in Tony Ferguson. The pair of fighters have been on a collision course since 2015, when they were initially scheduled to fight. 
Since that time, injuries and illness have delayed a matchup featuring two of the best lightweights. The first delay happened when Nurmagomedov suffered a broken rib. That was followed by a Ferguson lung ailment, which was then followed by the most controversial of delays when Nurmagomedov bailed on the scheduled fight a day before when he was hospitalized due to weight-management issues.
In April 2018, the pair was scheduled to fight for a fourth time, but Ferguson suffered a knee injury that required surgery. Two years later, it appeared the fight would finally happen in April 2020, then a worldwide pandemic struck and Nurmagomedov was unable to travel. The fight has been called "cursed" for a reason. 
Justin Gaethje defeats Tony Ferguson
With Khabib Nurmagomedov unable to travel and fight Tony Ferguson, Justin Gaethje stepped in as a last-minute replacement. While it wasn't the fight fans had wanted, it turned out to be a fight that fans wouldn't soon forget. 
Both fighters had a feeling out process in the first round, Ferguson landing several solid shots, while Gaethje countered with a few punches and thunderous leg kicks. The second round picked up and Gaethje went on the attack. He landed multiple power shots, but Ferguson never slowed coming forward.
In the third round, Gaethje took control of the fight, landing back-to-back shots that left Ferguson stunned. In the fourth, Ferguson tried to assert himself and pick up the pace. Gaethje was prepared and responded with more power, and once again rocked the No. 1 contender. 
Trailing on the scorecards, a battered and bloodied Ferguson pushed the pace in the fifth. It was no match for Gaethje, who unloaded a couple of minutes into the round, staggering Ferguson. Gaethje pounced and continued the assault, only to have referee Herb Dean intervene and stop the fight. And once again, fans were denied a Ferguson-Nurmagomedov matchup. 
Khabib Nurmagomedov's father dies and a return to UFC
Just days after Khabib Nurmagomedov watched Gaethje take down Ferguson, the Russian reported his father and trainer, Abdulmanap was hospitalized due to COVID-19. Some reports indicated he was in a medically-induced coma.
Nurmagomedov said more than 20 members of his family had contracted the virus, and several had died. On July 3, his father died from the disease. Speculation swirled in the following days that the champion was considering retirement after his father's death. Those rumors were quelled in a Dana White interview on CNN. 
"It's been very rough on him," White said. "His father was a hero to him, he loved his father, they had a very close relationship and it was very hard on him."
White said Nurmagomedov is ready to return and he will fight on October 24 against Gathje from a yet-to-be-determined location. "It's going to happen, tell you right here right now. That fight is going to happen," White assured.
While Nurmagomedov's much-anticipated fight with Tony Ferguson never happened, it will just be nice to see the champ return to the Octagon after more than a year off. And based on Gaethje's last performance against Ferguson, it should be a competitive fight with a deserving winner hoisting the belt when it's over.