Khalil Mack Will Have $90.1 Million Reasons to Smile on Thanksgiving Even If His Bears Suffer a Humiliating Turkey Day Loss
Article Highlights:
All-Pro linebacker Khalil Mack may have played his final down for the Chicago Bears
The 30-year-old pass-rusher will miss the rest of the 2021 season with a foot injury
Mack can at least smile about having earned $90 million in four seasons with the Bears
When the Chicago Bears traded multiple draft picks to the then-Oakland Raiders for All-Pro linebacker Khalil Mack in September 2018, the franchise understandably envisioned the move would elevate them to Super Bowl contenders.
Unfortunately for the Bears, they forgot to realize that they were still the Bears. 
Although Mack had a dominant first season and earned Pro Bowl honors every year from 2018-20, he's yet to experience a playoff win. Now, the struggling Bears might need to consider moving on from their star pass-rusher, who will miss the rest of the 2021 season after undergoing foot surgery.
Khalil Mack has made over $90 million despite the Bears' underwhelming performance in his tenure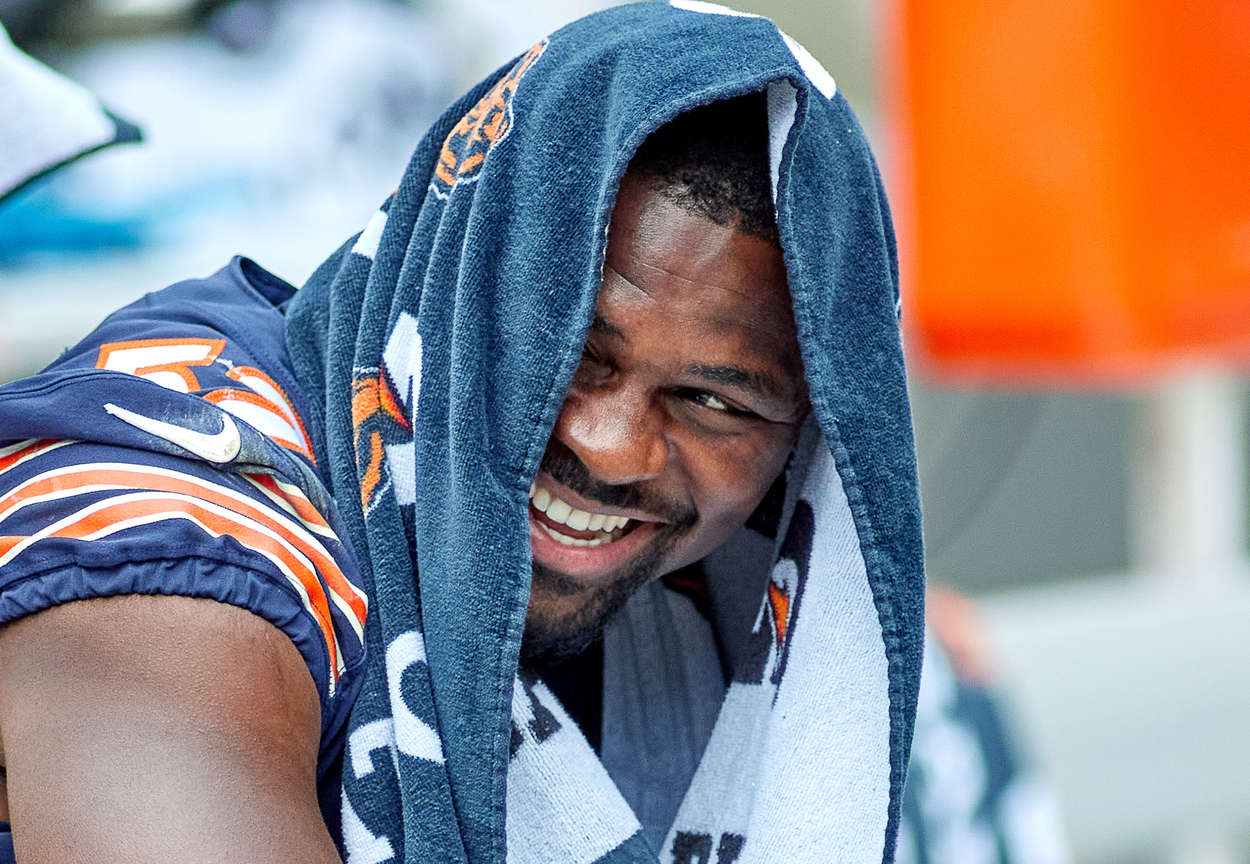 In his first 53 games with the Bears, Mack tallied 36 sacks, forced 14 fumbles, intercepted two passes, and recovered six fumbles. Considering the Bears immediately gave him a six-year, $141 million extension upon his arrival, it feels safe to say he's done his part.
However, we can't say the same for the Bears organization as a whole. Embattled head coach Matt Nagy repeatedly botched Chicago's quarterback situation and failed to develop Mitchell Trubisky, the second overall pick in 2017. Earlier this year, he rightfully took heat for continuously giving first-team snaps to veteran Andy Dalton instead of first-round pick Justin Fields.
Since going 12-4 largely because of a stellar defense in 2018, the Bears are a disappointing 19-23 over the last three years. Although they snuck into the 2020 NFL Playoffs as a wild-card team, the Bears were outclassed in a first-round loss to the New Orleans Saints.
How much worse can things get for the Bears? Well, they have a road game against the 0-9-1 Detroit Lions on Thanksgiving, and don't be surprised to see Tim Boyle — yes, Tim Boyle — shock the world on national television.
If there's one thing Mack can smile about, it's that he earned $90.1 million in his first four seasons with the Bears. On average, he's received $1.7 million per game on a middling franchise. Who would pass that up?
In hindsight, did anyone really win the Bears-Raiders trade?
Let's go back to September 2018 for a second. The Raiders sent Mack, a 2020 second-rounder and a 2020 seventh-rounder, to the Bears. In return, the Raiders received Chicago's first-round picks in 2019 and 2020, a 2019 sixth-round pick, and a 2020 third-round pick.
Chicago used the two draft picks on tight end Cole Kmet (57 career catches for 539 yards and two touchdowns as of Nov. 23, 2021) and backup offensive lineman Arlington Hambright. Obviously, Mack's value speaks for itself, while Kmet has taken strides in his first full year as a starter.
Then, there's the Raiders' haul. While still in Oakland, the team used the 24th overall pick in 2019 on Alabama running back Josh Jacobs, who earned Pro Bowl honors in 2020. Although he's still only 23, the former Crimson Tide standout's yards per carry dropped from 4.8 as a rookie to 3.7 in 2021. The Raiders traded the sixth-round pick to the New York Jets, who selected Rutgers cornerback Blessuan Austin.
As for the 2020 draft? The now-Las Vegas Raiders drafted Ohio State cornerback Damon Arnette and receiver Bryan Edwards. Arnette lasted 13 games across two years and struggled on the field. The Raiders waived him on Nov. 8 after a video surfaced of him brandishing several guns and threatening to kill someone.
Edwards, at least, averaged 20.7 yards per catch in the Raiders' first 10 games this season. He's hauled in 32 catches for 627 yards and three touchdowns across 22 games and is still developing, so we won't close the door on him yet.
ProFootballTalk's Michael David Smith recently put things best on Twitter. The Bears gave up far too much for a player who, ultimately, wasn't the missing link between them and a Super Bowl appearance. Conversely, the Raiders haven't gotten enough return on their investments right now.
With respect to Jacobs and Edwards, who have done their part, they'll still need to do plenty to make up for the Arnette mistake.
The Bears might need to finally end the Mack era after this season
The end of an era is quickly approaching in Chicago. Patch, a Chicago news outlet, reported the Bears are expected to fire Nagy after the Thanksgiving game. Nagy told reporters on Tuesday, Nov. 23, that the report is "not accurate."
The Bears also could part ways with oft-criticized general manager Ryan Pace in the coming weeks. A new regime would inherit Fields, running back David Montgomery, and linebacker Roquan Smith, among others.
Technically, the new regime would also inherit Mack, but the Bears might want to move in another direction. According to NBC Sports, the Bears can create $6 million in cap space if they trade the veteran pass-rusher, who turns 31 in February and had six sacks in seven games before his injury.
Any team that trades for Mack would owe him roughly $17.5 million in 2022, but they could reportedly move on after next season and not owe him anything over the contract's final two years. For teams that have the cap space and are eager to take a chance, that might be a move worth pursuing.
As for the Bears? Well, defeating the woeful Lions on Thanksgiving would be an excellent place to start. At this point in the year, no one wants to be the Lions' first victory.
Like Sportscasting on Facebook. Follow us on Twitter @sportscasting19.