Khris Middleton Continues His Ascent From Second-Round Afterthought to Undeniable Star After Shattering a Record Held by One of the Most Prolific 3-Point Shooters in NBA History
Considering he was originally a second-round pick of the Detroit Pistons, Khris Middleton's stats as a member of the Milwaukee Bucks are pretty staggering. Khash was tossed into a trade that netted the Bucks point guard Brandon Knight. He's improved steadily throughout his career and has turned into a multiple-time All-Star and an NBA champion.
Middleton has been a solid Robin to Giannis Antetokounmpo's Batman. The most significant question mark heading into last season for the Bucks was whether or not the Texas A&M product was good enough to be the second-best player on a championship team. The answer, as we found out in July, was yes.
Now, the sharpshooting wing is beginning to move up Milwaukee's statistical leaderboard. In a Bucks win over the Oklahoma City Thunder, Middleton shot past Hall of Famer Ray Allen to become the franchise's leader in 3-point makes.
Khash has become one of the NBA's most consistent shooters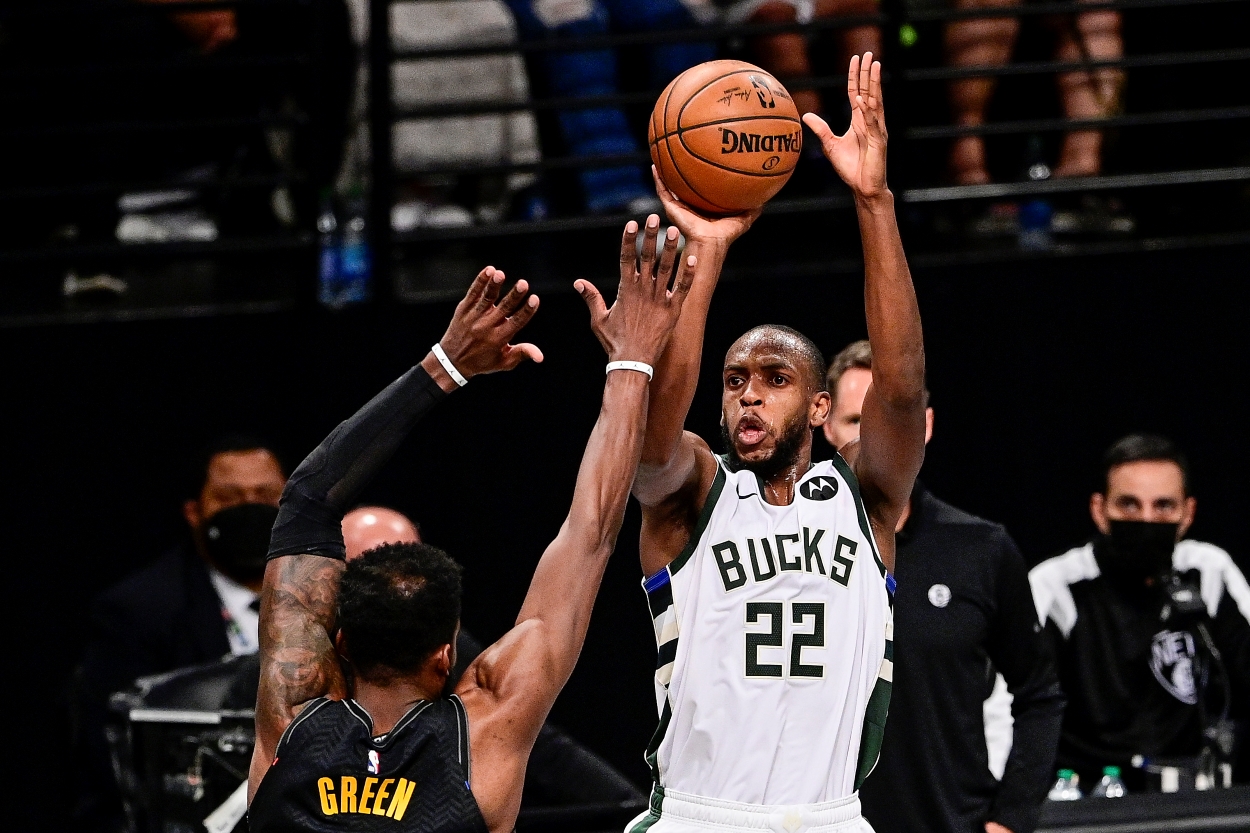 Middleton was drafted No. 39 overall in the 2012 NBA Draft by the Pistons. He was selected chiefly for his shooting — he's not blessed with incredible leaping ability, quickness, or speed. But he was a good one-on-one isolation scorer with the Aggies.
Middleton arrived in Milwaukee via a trade with Detroit that involved point guards Brandon Knight and Brandon Jennings. According to NBA.com, the official trade was:
Bucks receive: Knight, Middleton, Viachleslav Kravtsov
Pistons receive: Brandon Jennings
The two Brandons went on to have decent careers but weren't spectacular at any point. The biggest piece was K-Mid.
Khris stepped in as an immediate deep threat for the Bucks. He shot 41.4% from three his first season in Milwaukee and hasn't shot below 35.9% in any one season. (That year could even be considered an outlier — he doesn't have another season below 37.8%).
The Bucks were the No. 1 seed in the Eastern Conference during the 2018-19 and 2019-20 seasons. Antetokounmpo was named the NBA's MVP both years, but Middleton was a massive part of Milwaukee's success.
He shot 37.8% from deep during the '18-'19 season on 474 attempts — the 21st most in the league. Only six players shot a better percentage on as many attempts that season.
Khash shot 41.5% the next season and 41.4% last year to help the Bucks win a title. But he's not done yet.
Khris Middleton just bypassed Ray Allen in one key NBA stat
Over the last decade, the league's offenses have extended further and further away from the basket. Three-pointers have become more important, and knockdown shooters a bigger priority.
Middleton is one of those guys.
The 6-foot-7 forward raised many a pair of eyebrows when the Bucks gave him a five-year, $177.5 million max contract in June of 2019.
It was a surprising amount of money, but not necessarily an exorbitant sum for one of the league's most underrated stars. Middleton was coming off an All-Star appearance and was 27 years old.
Fast forward to this year, and Middleton is now a two-time All-Star and an NBA champion. And in the win against the Thunder on Nov. 19, Khash Money became the franchise's all-time leader in regular-season 3-point makes.
Allen hit 1,051 threes in 494 games between 1996 and 2003, according to NBA.com.
Middleton's No. 1,052 (he had 1,054 by the end of the night) came in game 566. It was a culmination of nine years of work, according to the 30-year-old via Bucks.com:
To be number one, to pass Ray Allen, one of the best shooters of all time … to be No. 1 in the franchise is pretty cool. I told Giannis 'Just let me have one record,' I'm happy about it. To be with this organization for nine years, came in as just a 3-point shooter but I was able to expand my game over the years, but to have one of my goals achieved here is extremely cool.

Khris Middleton on passing Ray Allen on the Bucks all-time leaderboard
It feels like a safe bet that Giannis will let Middleton keep this record. The Greek Freak is 658 off Khris's pace and shoots a slightly lower percentage.
Khris Middleton should continue to rocket up the NBA's 3-point leaderboard
Allen is No. 1 all-time in threes made with 2,973. Not sure Middleton is going to hit that mark — but there's a legitimate shot he vaults into the top 50, at least, by the end of his career.
From 2018-2021, WD-40 has averaged 155.75 3-pointers made per season. At age 30, assuming he stays healthy, Middleton could play, say, another six years, just for the sake of the thought experiment. Including this season and keeping with his average, Khash would be up to 2,146 career 3-point makes through his age-36 campaign.
There are dozens of active players ahead of him on the list, but if Middleton finishes with 2,000 threes, he should land somewhere between 25-35 all-time.
Now that he's healthy, the Bucks sure could use some of Khris's dead-eye shooting. His team is 8-8 and has been struggling with injuries all year. A Middleton hot streak would add a few numbers to the win column.
Last year, Khris proved he was capable of being the second banana on a title-winning team. He continues to fly under the radar, but that's the way he likes it. Another quiet All-Star campaign and a few more clutch playoff performances from Middleton and Milwaukee could be looking at back-to-back championships.
All statistics courtesy of Basketball Reference.