NBA: Is Kings Guard Buddy Hield Worth the $94 Million the Kings Gave Him?
He's only been playing in the NBA since 2017, but Buddy Hield established his dominance early and recently signed a very lucrative contract extension. Born in the Bahamas, Chavano Rainer "Buddy" Hield was recruited in the United States by the Kansas basketball prep school, Sunrise Christian Academy. Various colleges wanted him; he chose to attend and play for the Oklahoma Sooners rather Kansas' Jayhawks, while the NBA was watching.

He's come a long way on his basketball path, but is Buddy Hield worth the $94 million the Sacramento Kings gave him?

From the Pelicans to the Kings to a $94 million extension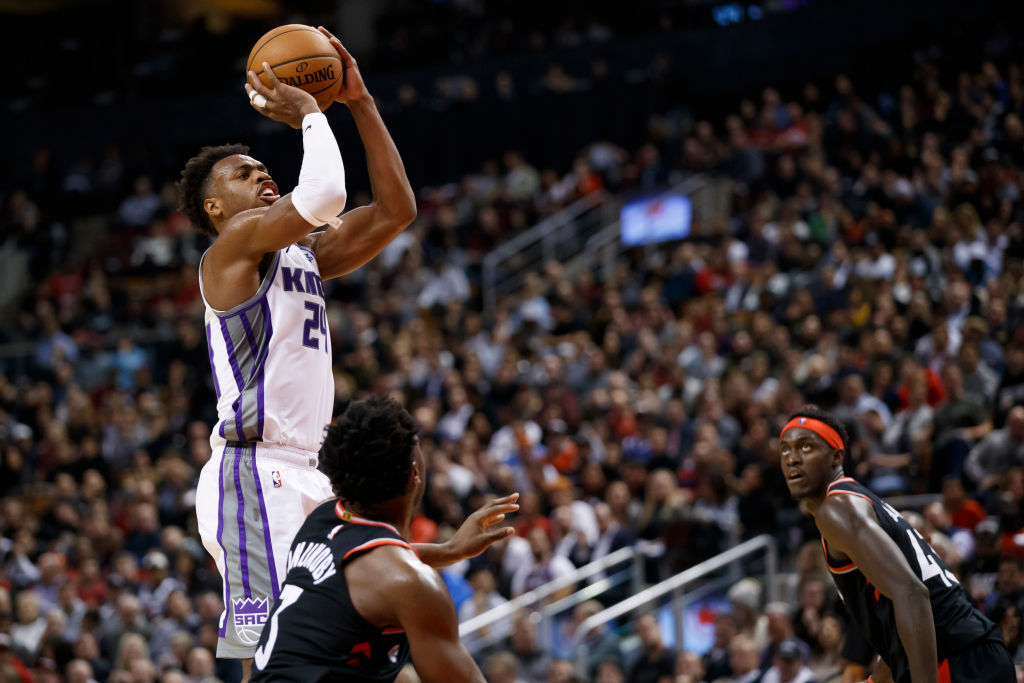 Hield went in the first round of the 2016 draft at No. 6 overall to the New Orleans Pelicans. The Pelicans traded him to the Sacramento Kings a year later for DeMarcus Cousins, and his stardom quickly began to rise. In his final 25 games of the 2016-17 season, Hield averaged 15.1 points with 4.1 rebounds per game.

This year, at 26, the shooting guard is earning a mere $4.9 million. His recently signed extension awards him $94 million over the upcoming four years with incentives and bonuses, which could enlarge his total income to $106 million during that time.

How Buddy Hield's salary compares to the stars
For the 2020-21 season, Hield is expected to make $26.4 million without any incentives or bonuses, which could ultimately increase his pay.

Stephen Curry will make just over $40.2 million this season. Russell Westbrook and Chris Paul are earning $38.5 million each. And, James Harden, Kevin Durant, and John Wall are each earning $38.2 million for this season. All of these guys are 29 years old or older, each with at least three years more seasoning than Hield.

Hield's salary is scheduled to decrease by a couple of million each year from 2021-22 through 2024. Those incentives and bonuses could alter his earnings, though. His overall extension wasn't quite where he wanted it to be but obviously was acceptable to him.

A few days before the official agreement, Hield told The Sacramento Bee of an offer that had come in from the Kings that was an "insult" and that he felt "underrated" by the team. That was a four-year, $90 million offer. Apparently, just a tad more and some potentially large incentives made him feel more appreciated.

Is Hield worth the money?
The big question NBA fans have is, is Buddy Hield worth $94 million. Some say yes, some say no, and some fans are still dumbfounded that any players earn that kind of money while ticket prices continue to rise. A pair of tickets to a Kings game, depending upon the date and seating, can range from $100-700, and that doesn't include parking or food.

However, Mike Prada of SBNation feels the Kings made a good deal.

"[C]onsidering the season Hield had last year, the fact the contract decreases over time, and the timely resolution to a potentially messy saga, this is a huge win for Sacramento," he wrote. "Ultimately, the Kings couldn't really afford to bungle this. De'Aaron Fox is the young star of the future, but Hield was the Kings' best offensive player last year."

The Kings took Fox, now a 21-year-old point guard, in the 2017 draft with the No. 5 pick overall.

Last season as a starter, Hield upped his scoring average to 20.7 a game, and he set a new 3-pointer average record for the Kings with 278 for the season. He is one of only five NBA players in history with 275 or higher, 3-pointers in a single season.

This season, Hield's stats are pretty consistent. His field goal (43.1) and 3-point (40.5) percentages are down about a point each, but his free throws are up a bit at 88.9 percent, and his effective field goal percentage matches his career thus far at 15.1. He is leading the Kings with points per game so far this season with 19.3.