The Kings Must Trade De'Aaron Fox to Avoid Getting Stuck in a Limitless Black Hole
Sacramento Kings point guard De'Aaron Fox showed admirable loyalty to the franchise earlier this summer. But the NBA is a business, and the desperate Kings likely hope to avoid getting caught in an endless cycle of mediocrity.
That means it's prudent to sell high on Fox.
The Kings certainly aren't obligated to move the 24-year-old, who is in the first season of a max extension he signed last November. However, Sacramento's backcourt depth and the continued emergence of Tyrese Haliburton might be enough to convince decision-makers in the front office to deal Fox and stockpile assets for the future or make a splash for a marquee star.
The Kings could be open to trading De'Aaron Fox
Before the start of the season, De'Aaron Fox looked like a cornerstone player for the Sacramento Kings. He only just signed his max rookie extension and responded with arguably the best offensive season of his career during the 2020-21 campaign.
However, Sacramento could be more willing to trade its star point guard.
Tim MacMahon and Brian Windhorst of ESPN discussed Fox's trade prospects on a recent edition of the Hoop Collective podcast. MacMahon reported the Kings no longer consider the former Kentucky star "untouchable," while Windhorst reported that Fox came to camp a bit heavier than anticipated.
It's not necessarily that Fox is having a poor season. He's averaging 21.0 points, 5.0 assists, and 3.7 rebounds. However, he's shooting just 26.3% from beyond the arc and is a defensive liability.
Fox often leaves himself and his team exposed for blow-by drives. He doesn't engage with the screener in pick-and-roll, either getting taken entirely out of plays or lending too much to ball-handlers space by going around screens. The Kings give up a whopping 117.9 points per 100 possessions when Fox plays, compared to 106.5 when he sits. Yikes.
It should be said that Fox still has the tools to be a good defender. But his current limitations on that end, paired with his inability to make real, consistent strides as a perimeter shooter, are becoming exhausting.
Tyrese Haliburton might be the Kings point guard of the future
Fox entered health and safety protocols on Dec. 17. Second-year guard Tyrese Haliburton immediately showed he could be Sacramento's point guard of the future.
Haliburton averaged 24 points, 10.3 assists, and 4.7 rebounds in three games without Fox on the floor. He shot 50.9% from the field, including over 57% from beyond the arc.
Haliburton's numbers are not an aberration. He made All-Rookie First Team after averaging 13.0 points, 5.3 assists, and 3.0 rebounds in 2020-21. This season, Haliburton is averaging 12.8 points, 6.2 assists, 4.1 rebounds, and 1.8 steals. He's shooting over 45% from the field and above 41% from beyond the arc.
Sacramento is nearly four points better per 100 possessions with Haliburton on the floor. His efficiency and playmaking are evident, and he has the size, length, and athleticism to be a tremendous on-ball defender.
Perhaps the Kings should entrust the position to Haliburton and place more stock in a backcourt with him and Davion Mitchell, who, despite his offensive struggles, remains one of the stronger young defenders in the game.
Or, perhaps Sacramento uses Fox as a means of adding Ben Simmons to the fold. They're reportedly among the three finalists for the polarizing Philadelphia 76ers star. Though the Kings would be replacing Fox with another guard who can't shoot, Simmons gives Sacramento far more in the way of defense and rebounding.
Regardless, trading Fox would be akin to hitting the reset button, which the Kings desperately need.
A De'Aaron Fox trade gives the Kings a crucial organizational reset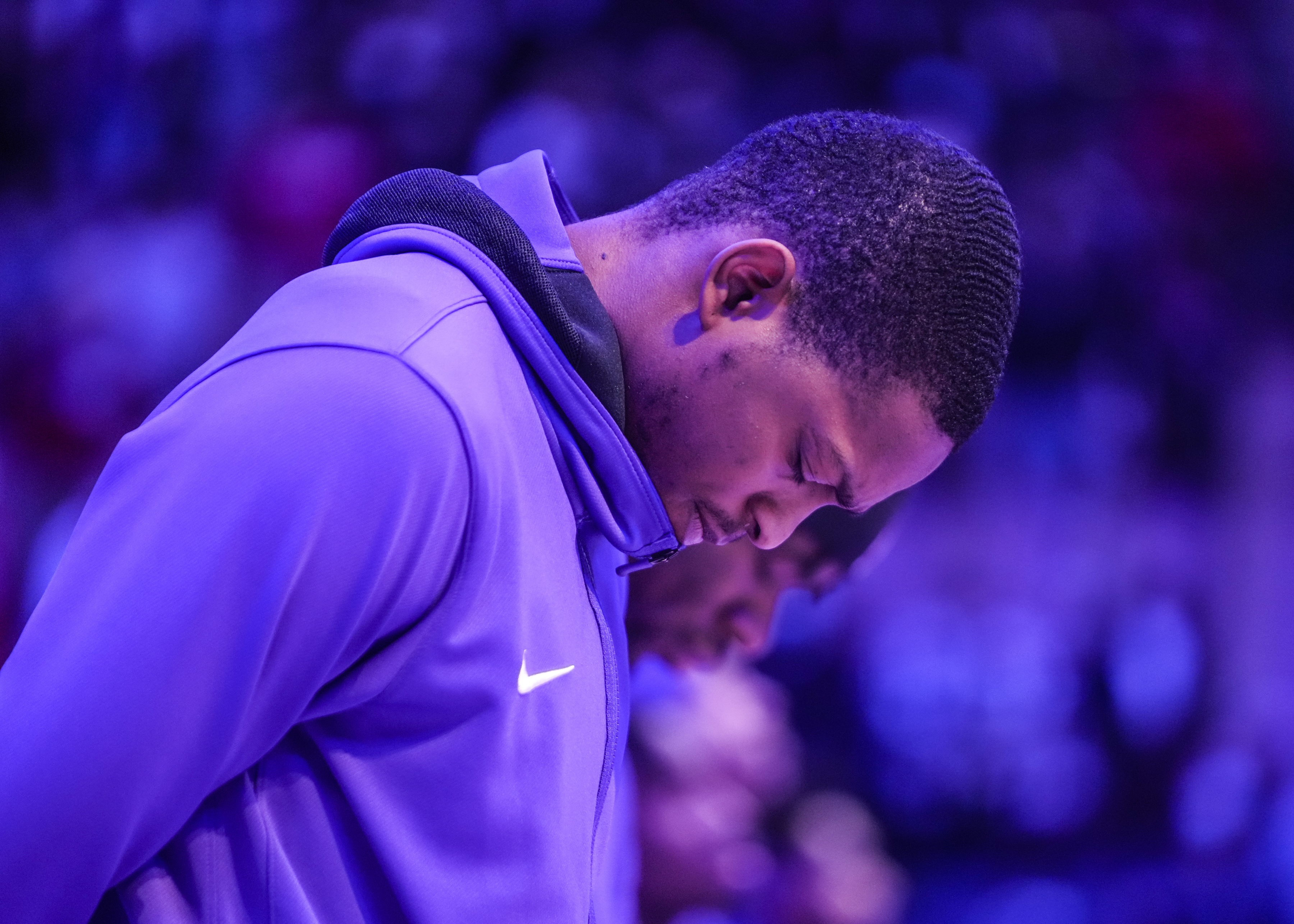 Though De'Aaron Fox is still just 24, he hasn't developed quite as quickly as the Kings might have liked, and he's Sacramento's most valuable trade chip.
The Kings have an excess of backcourt and wing players. Buddy Hield is not nearly as tradable as he might have been before the season began, and Harrison Barnes probably won't net the same kind of return as Fox.
Sacramento needs to shake things up. The organization has banged its head against the wall for too long. Some might argue that it's questionable for the Kings to develop a star such as Fox just to trade him early in his new contract extension. Plus, the team could just as easily try to deal him in the offseason or the years to come.
However, the Kings are well-positioned to move Fox now, likely for an impact player or sizable draft capital. That kind of move sets Sacramento up for a brighter future, rather than merely keeping Fox and expecting that he'll eventually contribute to winning.
Stats courtesy of Basketball Reference.