Kirby Smart and the Georgia Bulldogs Try to Manage Expectations Coming Into the 2021 Season
If you are a Georgia Bulldogs fan, you are familiar with the saying "this is our year." It has been the Bulldogs' year every year since 1980, when they won their last national championship.
Coming into the 2021 season, this could be the year of the Bulldogs. But first, they have to conquer some old demons if they want to live up to those expectations.
This could be Georgia's year
Bulldogs fans have high expectations coming into every football season, but this year is different. Georgia finally has the tools in place to win not only the SEC but also the national championship.
For one, the Bulldogs finally have a quarterback. JT Daniels made quite a splash in the second half of 2020, throwing 10 touchdowns and passing for over 1,200 yards.
Daniels's play in the second half of the season was exciting to see, and it may have given fans an indication of what's to come.
It doesn't hurt that Georgia also has 14 returning starters, including senior linebacker Adam Anderson and sophomore running back Kendall Milton, who helped this team win eight games last season, including a bowl game. 
So, fans have every reason to believe that finally, this may be the Bulldogs year.
The schedule favors Georgia
Although the Bulldogs kick off the season in a critical top-10 matchup versus Clemson, one person they don't have to face is former Tigers quarterback Trevor Lawrence. He's gone to the NFL, so they don't have to worry about him.
However, this is still Clemson, and if Georgia wants to make some noise early on, it can start by knocking off the Tigers. 
The Bulldogs also don't have to face Alabama in the regular season, which is helpful when you are trying to run the table and get to the national championship.
Besides facing Clemson, the Bulldogs' road to the national championship should be fairly easy. Both Florida and Auburn, who are on the schedule, are in rebuilding mold — especially the Gators, who lost several key players like quarterback Kyle Trask and tight end Kyle Pitts.
Kirby Smart plays down expectations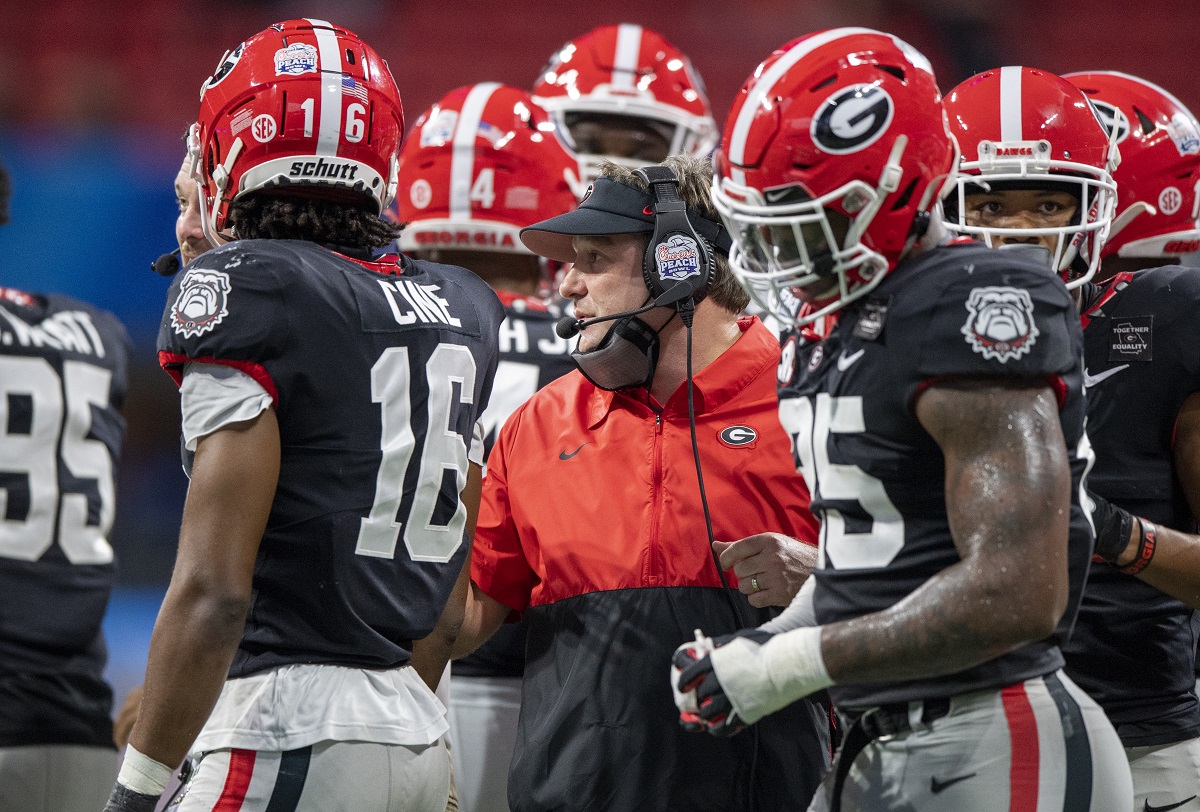 While fan's expectations are extremely high, it will be up to Bulldogs head coach Kirby Smart to tamper them down and try not to let his team get too high or too low during the season.
Smart seems to have a handle on this for now and is taking everything in stride. 
"Success comes to those who are too busy to be looking for it," he said at SEC Media Days on July 19. "That's Henry David Thoreau. For me, that's it. I'm too busy working. I'm too busy trying to do that next thing. I'm too busy trying to take the next step to give our team a competitive advantage to really worry about expectations."
One thing Smart has learned over the years is that you can have all the expectations you want, but it never prepares you for the reality that anything can happen and you can't control the future.
If this Bulldogs team can handle that, this may be the year that everything falls into place and they finally end that national championship drought.