Kirk Cousins Being Openly Bashed by Mike Zimmer Is Proof the Vikings Need a New QB
The Minnesota Vikings' 2022 NFL offseason is off to quite the start. Upon missing the playoffs with an 8-9 record, Vikings ownership wasted little time instilling significant change. They fired longtime general manager and head coach duo Rick Spielman and Mike Zimmer, opening the door for a new era of Minnesota football to take place.
The Vikings acted swiftly, hiring a new GM and HC duo just a few weeks after cleaning house. Of course, with so much change taking place all at once, many Vikings fans began speculating whether this meant veteran quarterback Kirk Cousins was on the way out as well.
Cousins has been an above-average passer during his four-year Vikings career. However, his lack of profound postseason success has left a lot to be desired.
The Vikings' new GM/HC duo is seemingly sticking with Kirk Cousins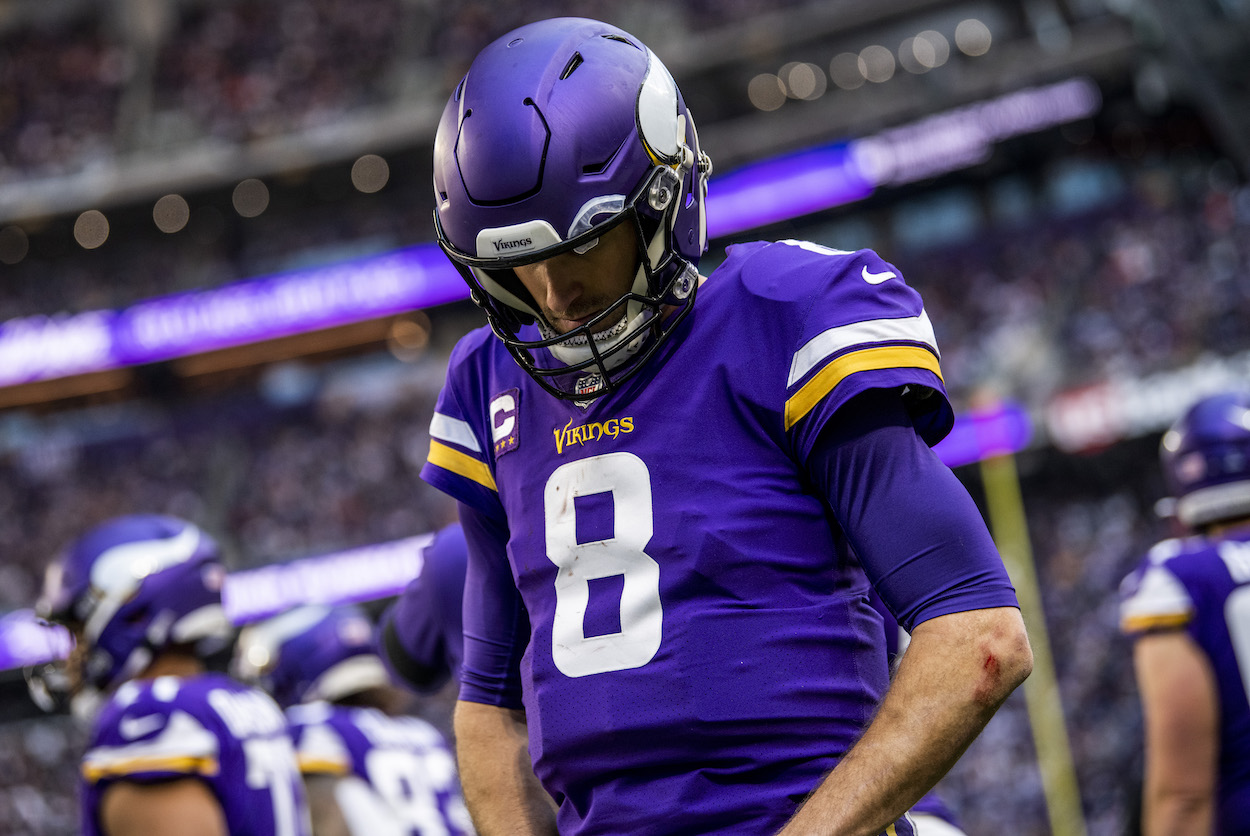 The front office that initially acquired Cousins back in 2018 is no longer in the building. However, the Vikings are still committed to Cousins on paper.
They hired former Los Angeles Rams offensive coordinator Kevin O'Connell as their new head coach, who worked with Cousins in Washington. O'Connell has done nothing but rave about Cousins and his effectiveness since taking the Minnesota job, laying the foundation for him to remain the Vikings' starting quarterback through at least 2022.
There have even been rumors of Cousins working with Minnesota on a new, extremely lucrative contract extension. This could potentially guarantee Cousins remaining the Vikings' QB1 for another several seasons.
For most Vikings fans, this is a bleak hypothetical. Cousins is solid, but he's far from an elite passer. One can reasonably argue his lack of elite traits is the number one thing holding Minnesota back. If you were to ask former head coach Mike Zimmer, he would agree.
Mike Zimmer used to 'openly complain' about Kirk Cousins
Zimmer was the Vikings' head coach from 2014 to 2021. While he failed to deliver Minnesota a Lombardi Trophy during these eight years, he did have a lot of regular-season success. He finished his Vikings career with a 72-56 record and two NFC North titles.
Zimmer and Cousins won a playoff game together during the 2019 season. However, it's becoming increasingly clear the two sides were never on excellent terms, mainly due to Zimmer's lack of belief in Cousins as an elite quarterback.
According to Pro Football Talk's Mike Florio and The Athletic's Chad Graff, Zimmer concluded his Minnesota career by openly complaining about Cousins during the 2021 NFL season.
It's becoming increasingly clear that the former coach and the current quarterback had reached the limit of their relationship.

Via Chad Graff of TheAthletic.com, Mike Zimmer "complained openly in coaching meetings about [Kirk] Cousins" last season. Graff adds that "some of Zimmer's top lieutenants echoed the sentiment."

The problem, per Graff, was that Zimmer didn't believe Cousins made enough "winning plays," that he didn't elevate teammates, and he didn't take the chances that were necessary to secure victories.

Mike Florio, Pro Football Talk
What next for the Vikings?
Whether you love or hate Cousins, it's impossible to ignore the argument Zimmer makes. Cousins has always been a reasonably consistent passer. However, he's never been an elite one.
In a league that's slowly becoming dominated by the likes of Josh Allen, Patrick Mahomes, Justin Herbert, and Joe Burrow, teams need a guy under center who can make all the throws, and then some.
By hiring O'Connell, the Vikings are clearly doubling down on the idea Cousins still has some juice left in him. Yet, they need to take heed of Zimmer's warning. He knew Cousins wasn't good enough to win a Super Bowl, and the rest of the NFL feels the same way.
If Cousins can't prove he's an elite QB under O'Connell's guidance, Minnesota should rapidly start looking for a new franchise quarterback.
All stats courtesy of Pro Football Reference.
RELATED: The Dolphins Shutting the Door on Deshaun Watson Reveals Their True Feelings About Tua Tagovailoa