Kirk Cousins, Brian Hoyer, and Le'Veon Bell: Michigan State Spartans Making an Impact in the NFL Today
Michigan State University has a historically great college football program. In fact, ESPN analyst Bill Connelly recently ranked the Spartans as the 17th greatest team in all of college football. Unsurprisingly, over the years Michigan State has seen plenty of its players enter the NFL.
The program has always been especially good at developing talented linebackers, although they've also produced stars at nearly every other position. Today's NFL boasts 18 active players from MSU. Let's look at three of the most talented Spartans playing in the NFL today: Kirk Cousins, Brian Hoyer, and Le'Veon Bell.
Kirk Cousins' football career
Cousins spent four years quarterbacking for the Spartans, from 2008 to 2011. After backing up Brian Hoyer during his rookie season, he took over starting duties as a sophomore. That year he threw 198 complete passes for 2,680 yards and 19 touchdowns, with a 60.4% completion rate. Those numbers would continue to improve in the following two seasons.
Cousins' final year at Michigan State was his most productive. He threw 267 completions for 3,316 yards and 25 touchdowns while connecting on 63.7% of his passes. In 2010, Cousins helped the Spartans to an 11-2 record. The next year, the team went 11-3 behind Cousins' stellar play. They narrowly lost to the Wisconsin Badgers in the 2011 Big Ten Football Championship.
The Washington Football Team chose Cousins with the 102nd pick of the 2012 NFL Draft. Now in his ninth NFL year, Cousins has racked up some impressive accomplishments. He has thrown for 24,479 total yards and 157 touchdowns, with a stellar 66.8 completion rate. He's made two Pro Bowl teams and led the NFL in completion rate during the 2015 season.  
Brian Hoyer's football career
Hoyer was Cousins' predecessor as the Spartans' quarterback, playing from 2005 to 2008. He took over full-time quarterbacking duties in 2007 and threw 223 completions for 2,725 yards, with a 59.3 completion rate. Hoyer's numbers dipped somewhat as a senior — particularly with his accuracy — although he still racked up 2,404 passing yards.
Hoyer went unselected in the 2009 NFL draft, though the New England Patriots quickly signed him to a deal after the draft. For the next three seasons, Hoyer was the main backup to star quarterback Tom Brady. He then left to begin a journeyman career, playing for six different teams before returning to the Patriots in 2018.
Hoyer and Brady made headlines that year for a friendly college football bet. Hoyer, of course, was a proud Michigan State alum. Brady, meanwhile, played for his rivals at the University of Michigan. When the Wolverines beat the Spartans that year, Hoyer had to spend a day wearing Michigan gear in the Patriots' locker room.
Le'Veon Bell's football career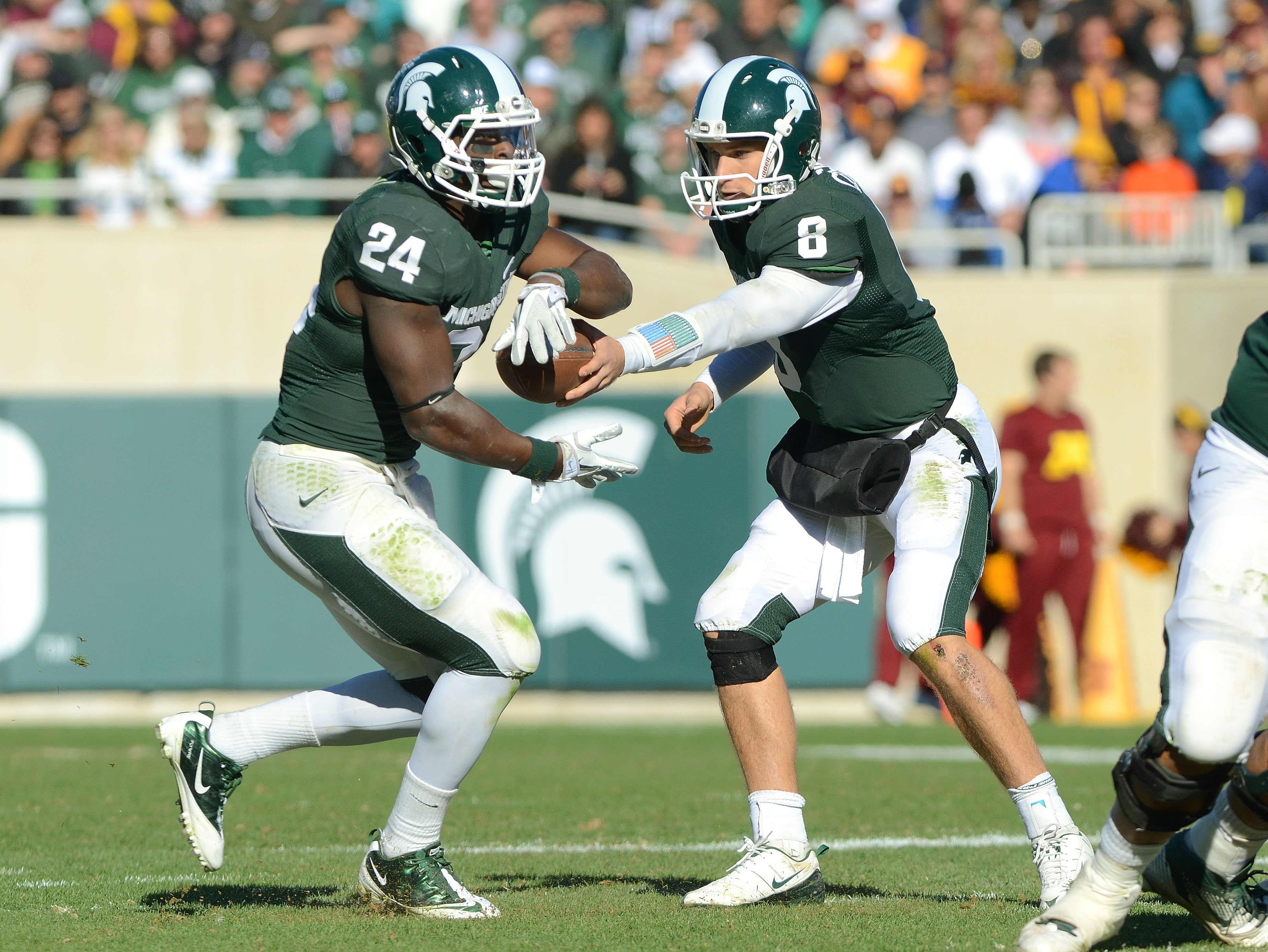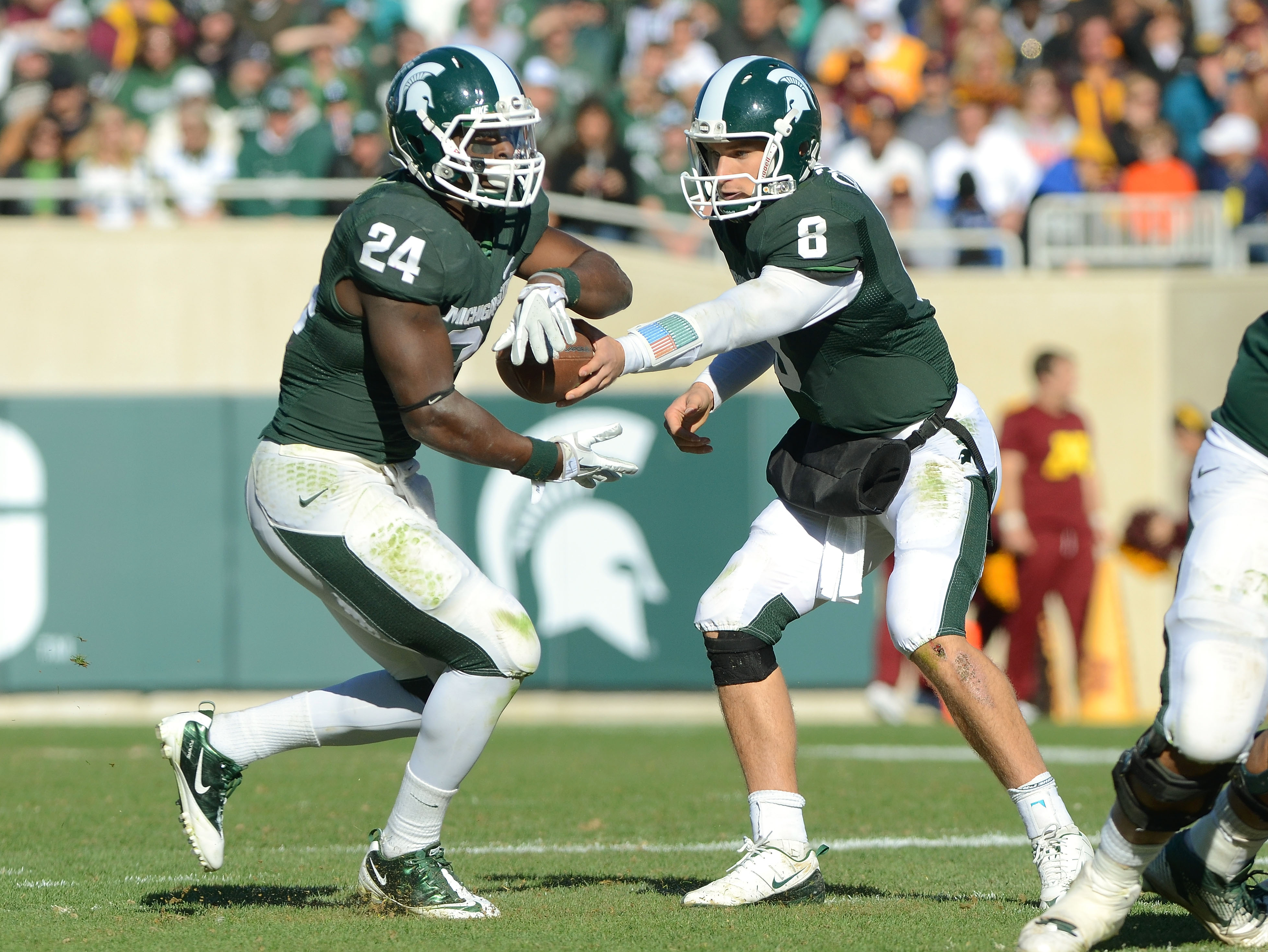 Bell spent three years playing running back for Michigan State. During his freshman season, he rushed for 605 yards and eight touchdowns, while averaging 5.7 yards per attempt. He also helped the Spartans with the Big Ten championship. As a sophomore, Bell's numbers improved considerably. He amassed 948 rushing yards and 13 touchdowns on 182 attempts.
He made yet another leap as a senior, nearly doubling his total rushing yards with 1,793, good for second-best in the Big Ten Conference. That performance also earned Bell a spot on the First Team All-Big Ten team. Bell chose to opt out of his senior year and instead enter the draft, where the Pittsburgh Steelers took him with the 48th overall pick.
Bell has found even more success at the NFL level than he did as a Spartan. In the seven seasons he's played, Bell has made three Pro Bowl teams while earning two First-team All-Pro selections. Now playing for the New York Jets, Bell has career totals of 6,319 rushing yards on 1,480 attempts, with 38 touchdowns. Most analysts still consider Bell one of the most elite running backs in the league.